Design
As far as overall build and design is concerned, the AW510K gaming keyboard is very different from different from many other keyboard products in Alienware's catalog. For starters, not only is it largely unassuming but it's also manufactured using plain plastic as well. It shares a few sci-fi sensibilities with its Aurora R9 cousin because of its flared bottom, however, its not as expensive-looking or as noisy as you would expect from a gaming keyboard product that costs this much.
The AW510K is a full-size gaming keyboard device that features a useful volume roller at the top-right corner and a numpad. It's incredibly tactile with a ribbed surface that allows for a satisfying and solid overall grip. Next to its mute key you'll find several other media control features lined above the function keys, which means you won't have to take your hands off the board when you want to control your media. Pretty cool, no? Unfortunately, though, the keyboard connects to the computer through a sturdy and thick braided USB Type-A cord. It's a mystery why in 2019 manufacturers are still using USB-C interfaces on their keyboards and mice. Anyway, the bundled cord splits into 2 USB heads. One enables USB passthrough while the other powers the keyboard.
Keys
The main attraction on the AW510K keyboard are the Cherry MX Red low-profile switches on it. These keys are quick to depress and have an incredibly light touch. With a 1.2mm actuation travel distance with 3.2mm for a full press, which slightly lower than what you'll find in standard Cherry MX Red switches, the distance difference is actually on that much. That being said, if you have ever used a mechanical keyboard before, then you're bound to notice that it can sometimes feel like the keys are stopping short on the AW510K.
With that said, when compared to most of the low-profile mechanical gaming keyboards on the market, low-pro Cherry MX Reds are slightly a little better than the originals. Why? Because unlike your standard Cherry MX Red, the keys on the aw510k aren't shaky and don't have that "hair-trigger" feel, where keys depress completely at the slightest touch. The keys, however, still require an actuation of 45cN, meaning that the shallower travel is what helps give rise to a more balanced, comfortable press.
Features
The AW510K keyboard relies on the Alienware Command Center, which is Alienware's general configuration application, for creating macros, remapping keys as well as customizing the board's RGB backlighting. The Command Center is relatively competent in these basic functions, however, there are some minor ways in which the overall feature set is limited. For instance, you can come up with several profiles, but each one can only be attached to a single app or game. Furthermore, as much as the Command Center has a generally polished look, it can prove a little difficult to navigate sometimes.
Some sections haven't been clearly marked nor is there a clear path between buttons so the user can reach various controls. In some instances, buttons do appear, however, they only work in certain circumstances. For example, the AW510K keyboard allows the user to store up to 5 profiles on its onboard memory. Profiles can't be uploaded until after they've been both created and saved.
The AW510K device is a streamlined gaming keyboard, in terms of both the technology that powers it as well as its overall look. The features on it are optimized to provide ultimate performance. The features we're talking about here is its ergonomic floating-key structure, programmable macros, per-key RGB lighting and low-pro Cherry MX Reds.
Performance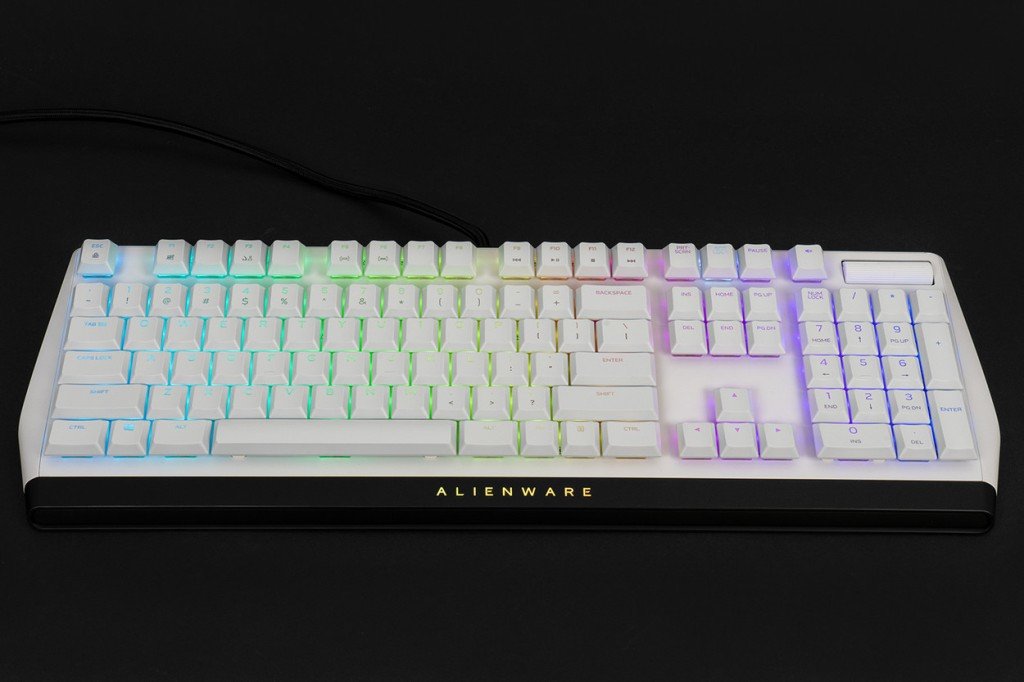 When it comes to performance, the quality this keyboard provides is quite evident from the start. Of course, this is in large part due to the fact that employs the use of the low-pro Cherry MX Reds. These keys have a lively, delightful bounce because of their low actuation force and shorter travel time, and this allows the user to almost effortlessly jump from key to key. This is very useful is shooter games such as the Division which require the player to have swift reactions as they ran to cover. It's also useful in MMO titles as well like World of Warcraft where one needs to be able to manage their special abilities under pressure. But, that's not all. It also provides gamers with satisfying flows, regardless of whether their organizing pincer movements in Total War battles or giving commands in DOTA.
That snappy responsiveness of the keys carries over to day-to-day tasks as well. It's a joy to use as far as typing is concerned too. Its muted design style means that it can also be used in office environments as well. All in all, this wonderful performance it offers in both scenarios is what actually really matters the most. Though, it's USB pass-through functionality is also fantastic too. A keyboard's worth is often decided when it comes to gaming and typing, and the Alienware AW510K mechanical keyboard certainly passes with flying colors.
Verdict
Many will argue that the Alienware's AW510K mechanical keyboard is somewhat a tad bit expensive, however, it does and offers a lot to try and justify this hefty price-tag. It's a very satisfying keyboard to use and is definitely worthwhile, especially if you're looking to create a complete Alienware setup. You can wait for the price to go down a bit, however, even though you do decide to get it right away, we can tell you it won't disappoint.