Design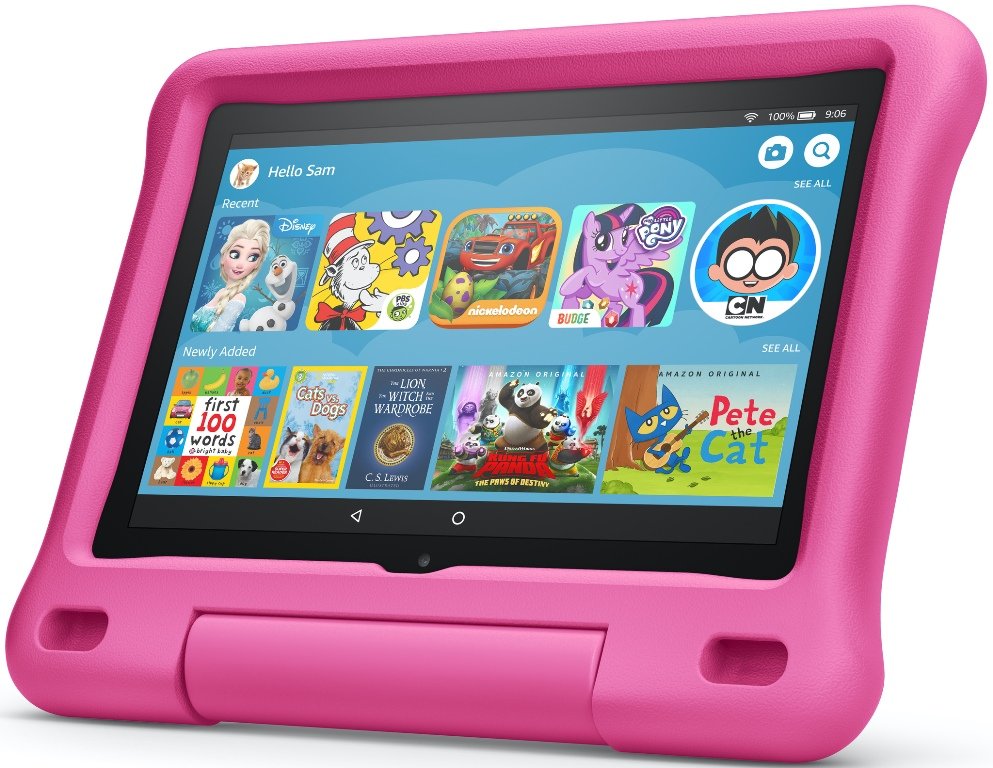 At first glance, the most noticeable thing about the Amazon Fire 7 KE is its bright rubber outer casing it comes with. While it definitely has a very rugged overall design, it's also designed in a way that makes in ergonomic for the smaller hands (the tiny children hands). Coming in 3 bright color schemes; Yellow, Magenta and Blue, it's a device that shouldn't be too hard to find when it's hiding behind your kid's plush toys or when it has been tucked behind the couch cushions. Amazon claims that this Fire 7 installment was specifically designed for kids aged between 3 to 12 years of age. This is where the tab's bumper is such a major downside for older kids, because this feature makes the whole thing look a bit to childish for kids older than 12.
Above the tab's 1024×600 IPS screen you'll find a front-facing VGA cam and on the back-side there's a 2MP cam that has 720p HD recording capability. This might come in useful given that almost all children become budding videographers and photographers at some point in this digital age we live in. Its front-facing VGA camera is a bit grainy, however, perfectly adequate for the requirements of most under 10s. You can say the same for the rear cam as well. Although, this one has much better resolution and it's the one that'll most likely be used to capture the more complex pics. The rubber outer casing sits perfectly out of view ensuring the user can take unobstructed videos and photos.   
However, it's a bit surprising Amazon didn't include a screen protector in the package. Considering the extra scratch that this tab is likely to undergo, you might want to consider buying some display amour. But, despite the lack of a screen protector, the rubber casing does an excellent job at keeping the display safe should the device fall and land face down. Furthermore, should anything go awry you have that two-year warranty you can fall back on. The Amazon Fire 7 KE also comes with a meager 16GB of storage (which isn't too bad for a kid's device), but there's a microSD port that can allow you to extend storage up to 256GB
Features
The Fire For Kids application which offers a child-friendly overlay that gives you access to lots of decent ebooks, games and videos as well as having very many useful parental controls is a premium you'll have to pay for. In essence, this feature is basically a simplified Fire OS overlay that gives you access to loads of age-appropriate content. You open this application just like you would any other application and it gives users the option of adding profiles for every individual, or kid, who will be using the device. You'll need to, first, let it know the child's gender, age, name and picture they want to use. It'll also give you the ability to decide whether a regular Fire For Kids account to be assigned to them or whether you want them to use a Teen Profile, for the kids who are 11 years and older that is.
Once the child is signed in, they'll have many content types to choose from; Characters, Apps, Videos, Books and (if you've granted them permission to do so) Web. All categories are filled to the brim with different types of content, and unlike many other kiddy tabs out there, you'll recognize most of the content that's been made available to them. Though some programs might take a while to download. Additionally, its progress bar is far from obvious, which means your kids might whine a little about the tab being unresponsive when that's not the case. Books, on the other hand, download much faster, and video content also streams almost instantly, although you'll need a constant and reliable WiFi connection for the latter.
Amazon also provides you with a custom web browser which you can use to display as set of bookmarks that are Amazon-approved. Any other sites will have to be placed manually on the approved list. However, when it comes to the YouTube platform only specific videos can be approved rather than the entire website, which is kind of both a curse and a blessing at the same time.
Performance
While the performance of a kiddy tablet isn't necessarily a main priority for a child, nobody likes having to wait a long time for things to load, even kids. Luckily, the Fire 7 KE tab doesn't disappoint on this front. The version 5 of Amazon's Fire OS makes loading applications and programs slick, which is rather quite impressive considering that the tab has probably on 1GB of RAM. Furthermore, its dual-band WiFi connectivity will ensure it allows you to make the most out of broadband connection as far as downloading content is concerned.
While the Amazon app store might not have as much going on and might not be as populated as Google's is, with the Kids Edition Fire 7 you'll get Amazon Freetime Unlimited that's free for one-year. Basically, this is an app store that has content designed for children of different age ranges. Given that this particular feature costs slightly over $35 a year, this helps make the value of the tab even more appealing.
Verdict
Children, let's face it, see their parents, us, using technology all the time. They're bound to have the strong urge to emulate what they see in us. But, handing over to them our precious tab or smartphone knowing that they'll probably wipe their sticky fingers all over it and keep us anxious, hoping that they don't break anything isn't easy. In this respect, providing your little ones with their very own tab to play with that's been designed and created around their specific requirements, has a robust overall design-style and 2-year warranty that means you won't have to be too concerned about breakage for the next 2 years is one incredibly attractive proposition don't you think?
Amazon is very fond of giving their products away at dirt-cheap prices with the goal of getting users hooked to their services and it looks like this Kids Edition Fire 7 is no different. Access to Amazon's Freetime Unlimited feature will cost you around three bucks a month after year one, however, with the range or streamed content, games and books you'll have access to it's safe to say that this device is ideal for the parents that have 3 to 8-year-old children.
When it comes to the pre-teens, the Fire 7 KE might not be what the 9-year olds will be scrambling for, in large part because it has the word "kids" in the title. Also, the camera quality of both cams won't keep them looking at their best on their social media handles which is also a major no-no for them. While this tab is perfect for the kids 8 and under, the pre-teens might want something a little more "grown up"
Is Amazon For Kids free?
Fire for Kids is not free, however, when you buy the 4th generation Fire 7 KE you'll get one year free. After that, you'll have to pay about $3 per month to get access to this feature.
Can the Fire 7 be used without an Amazon account?
No. To use the Fire 7 you'll need a general Amazon account. It's almost useless without. When buying and Amazon tab for the first time, you will be forced to create a new Amazon account during initial setup.