In this article we will draw a soft comparision between Bose SoundLink 2 vs On-Ear. So, let's get started.
DESIGN
Bose SoundLink 2
With a few exceptions, the Bose SoundLink 2 looks quite similar to the SoundTrue Around-Ear II and the QuietComfort 25. They all have the same sleek and basic design that looks amazing and comes in various colour choices. They're well-made, and the suede-like cushioning on the headband adds to the quality, eye-catching appearance of these headphones. The Bose SoundLink 2 is well-constructed. These appear to be strong enough to withstand a few falls without breaking. The ear cups are relatively dense and will not readily break or split. They are, however, largely constructed of plastic and do not feel as sturdy as some better-built over-ear headphones. The metal frame that reinforces the headband is weak, and the swivel joints appear brittle when subjected to mild physical stress.
Bose SoundLink On-Ear
The Bose SoundLink On-Ear is similar to the Bose QuietComfort 25 but in a smaller package. They have the same fabric-covered padding and a two-tone black and blue colour scheme. They have a sleek and attractive appearance and are well-crafted headphones. The Bose SoundLink On-Ear have a solid build quality and is strong enough to withstand a few drops without major harm. For an on-ear design, the headband is relatively thick, and the ear cups are composed of hard plastic. Their largely plastic design and many hinges are weak points that can be destroyed by normal wear and tear and physical force.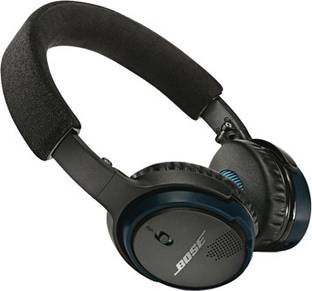 COMFORT
Bose SoundLink 2
The Bose SoundLink Around-Ear 2 headphones are comfy. They don't put too much strain on your head, and the ear cup padding is nice. This, paired with their lightweight design, makes you forget you're wearing headphones. The headband might need some more padding, and the ear cups may be a touch smaller than some other over-ear headphones, but you won't be dissatisfied with the amount of comfort these headphones provide. The SoundLink AE 2, like most closed-back headphones, is not very breathable.
They provide a good seal around your ears, preventing a lot of air flows and keeping your ears pretty warm during extended listening sessions. These are not the best choice for rigorous training regimens, but they should do for more casual listening. The Bose SoundLink AE II headphones are above-average in terms of stability. During casual listening sessions, they will easily hold their position. They are wireless, which prevents the headphones from being ripped off your head if the audio cord becomes entangled in something. However, they are not sports headphones and do not fit snugly enough on your head to prevent the ear cups from swinging and falling out of your ears while running.
Bose SoundLink On-Ear
The SoundLink On-Ear headphones are comfy, especially for an on-ear design. They're light, and the padding on the ear cups is plush and cushions the ear effectively without placing too much strain. The headband is also well-padded and does not press against your head. Unfortunately, the narrow ear cups make achieving a comfortable fit a little more difficult. For certain listeners who do not find the on-ear fit as comfortable, the SoundLink Over-Ear may be a better option. These headphones are stable. They can keep their position and fit throughout casual listening sessions. Their wireless design also aids stability because there are no cables that can become entangled in the environment and yank the headphones from your head. They are not, however, suited for athletics and will begin to fall out of your ears during high-intensity exercises such as leaping and sprinting.
CONTROL AND PORTABILITY
Bose SoundLink 2
The control scheme for the Bose SoundLink AE 2 Wireless II is effective. They have controls for call/music, track skipping, and volume. The buttons provide a nice tactile sensation and are simple to use. They do, however, feel a little cramped on the ear cup. These headphones are lightweight and portable. These do not fold up as small as the Bose QuietComfort 25 and 35, but the earcups lay flat to take up less room. They are medium-sized over-ear headphones that are not too heavy or bulky, but they will not fit into any pockets and may need to be carried in a bag.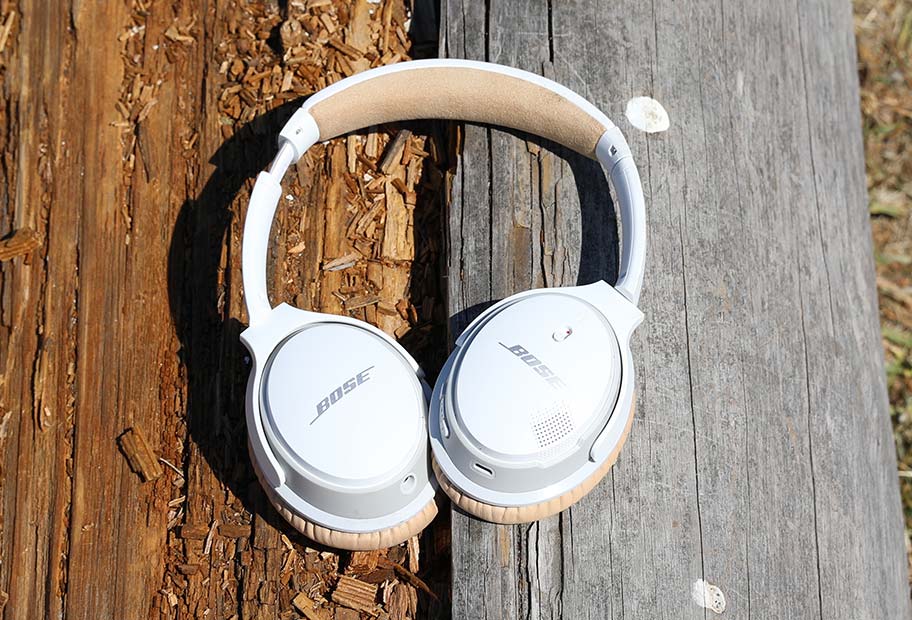 The Bose SoundLink II headphones come with a good soft case that is only slightly larger than the headphones themselves. The case is stylish and protects the headphones from scratches and damage. Unfortunately, it does not provide as much protection from drops and impacts as the case of the Quiet Comfort 35 II.
Bose SoundLink On-Ear
The button arrangement and functionality are above-average, although the layout feels tight. Track-skipping, call/music, and volume controls are available, and the associated buttons provide a strong tactile sensation. Sadly, due to the headphones' small size, the buttons on the right ear cup seem a touch tight, which is a little disappointing. The Soundlink On-Ear headphones are above-average for portable headphones.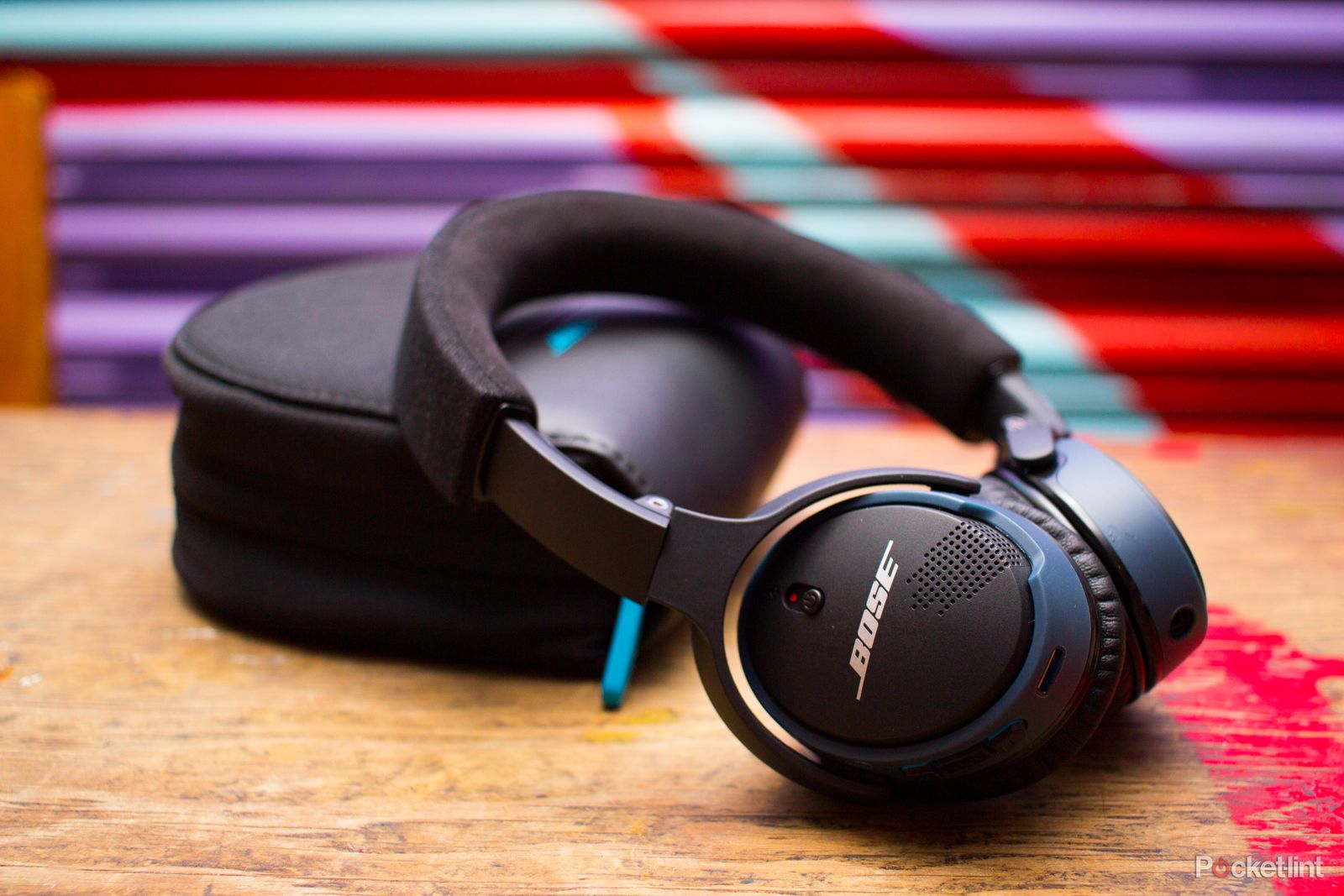 They fold up into a small package that takes up little room in a bag and may even fit into a jacket pocket. Unfortunately, they are not as tiny as other on-ear models and will not fit in a jeans pocket or purse like an in-ear model. It has a protective case that protects the headphones from scratches and increases the volume. The case's durable fabric will protect you from minor falls. It will not, however, absorb larger impacts like a hard case.
SOUND ISOLATION
Bose SoundLink 2
The SoundLink 2's isolation performance is mediocre. They don't provide any isolation in the bass range, where the rumbling of airline and bus engines can be heard. Also, they reach 14dB of isolation in the mid-range, which is useful for blocking out speech. They lower outside noise by more than 32dB in the treble band, populated by sharp sounds like S and Ts. The SoundLink II has a good leakage performance. The majority of their leakage occurs between 400Hz and 2KHz, which is a pretty broad frequency band. Yet, the total degree of leaking is not particularly loud. When the music is turned up to 100dB SPL, the leakage at one foot away averages 40dB SPL and peaks at around 55dB SPL, which is barely above the noise level of most businesses.
Bose SoundLink On-Ear
Inadequate isolation. Nonetheless, given their passive, on-ear design, the performance of these headphones is rather good. The ear cups' passive isolation begins to kick in at roughly 200Hz, which is above average. The overall isolation attained in the mid-range is mediocre, but these headphones perform admirably in the treble range. At 20KHz, the isolation reaches a maximum of 42dB decrease. Excellent performance. The bulk of the leakage occurs between 1KHz and 3KHz, resulting in somewhat narrow-band leakage. However, the overall amount of leakage is moderate and may become audible at high volumes.
ACTIVE FEATURES
Bose SoundLink 2
The battery life of the Bose SoundLink Around-Ear II is roughly 20 hours. This means you won't have to charge them as frequently throughout the day, making them ideal for long flights or road trips. They also have an adjustable timer, which helps to extend battery life. However, they, like the SoundLink On-Ear, cannot be used while charging and require a long time to charge.
If your battery runs out, you'll only be able to use the headphones for roughly 2.6 hours. The Bose Connect app looks nice but has a limited set of functionality. It allows you to connect, rename, and update your headphones; it lacks an equaliser and other sound-enhancing capabilities. On the plus side, you get the battery level status, an auto-off timer you can set at different intervals, and an in-app player with playback control, but that's about it.
Bose SoundLink On-Ear
At normal volumes, the SoundLink OE can provide up to 21 hours of continuous playtime. This makes them good headphones for long flights or road journeys because you won't have to charge the battery as frequently. They also include an auto-off timer, which helps to extend battery life. Sadly, you cannot use them while charging, which takes a long time. If your battery runs out, you'll only be able to use the headphones for roughly 2.5 hours. No app is compatible.
CONCLUSION
Good for neutral listening. They're comfortable for long listening sessions and feature a well-balanced sound with adequate but not overpowering bass. They boast a well-balanced and neutral-sounding midrange and treble that works well with many music genres. Regrettably, due to their closed-back design, they do not have the most spacious stage, but they should sound well enough for most and even more neutral listeners. Excellent for workplace use.
These are comfy headphones that may be used for extended periods. They also boast a well-balanced audio system and a long battery life. Unfortunately, they do not block as much noise, so you may be able to hear ambient noise in a noisy office environment, and they leak a little at high volumes, making them mildly disturbing to people around you. Good for neutral listening. They are comfortable for extended listening sessions and have good sound quality. Unfortunately, due to its closed-back design, the soundstage is somewhat limited. For office use, it's adequate. These won't muffle office noise and will leak quite a bit at higher volumes.