INTRODUCTION
Corsair K57 RGB
Most wireless gaming keyboards are pretty expensive, mostly due to their mechanical switch features and the like, but the Corsair K57 wireless keyboard really tries to split this difference. This wireless peripheral provides its user with both Bluetooth and USB connectivity, a full media bar, full RGB lighting and a row of macro keys, all fo a fraction of the price. Sadly, though, the K57 XT uses membrane key switches, which feel a bit insensitive and mushy. Don't expect a smooth typing experience.
Cooler Master SK621
The Cooler Master SK621 keyboard, on the other hand, is a 60-percent wireless peripheral that strikes a balance between function and form. If you don't mind flat keycaps and are okay with weirdly placed keys designed for extreme portability, then this is the gaming keyboard for you.
Now you know a little bit about both of the products we're going to look at today. So, let's go a step further and look at what really makes them different.
DESIGN
Corsair K57 RGB
The first thing one notices about the Corsair K57 wireless peripheral is that it's a pretty big keyboard. Measuring in at 19.0×9.0 inches, accompanied by a 19.0×6.5 inch wrist rest, the Corsair K57 XT is nearly two inches longer than most other full-size gaming keyboards. This is in large part because of the extra macro keys column it has, so you'll need to know how much desk space you have to spare before getting this keyboard. Other than that, it has a pretty simple design. Its chassis is made up of a black plastic material and, at the top, you'll find a glossy bar designed to collect fingerprints.
The extra button column on the Corsair has six buttons and on the top right is where you'll find the discrete media keys (which are seven buttons in total). The discrete media keys include the skip forward, skip backward, play/pause, stop, volume up, volume down and mute buttons. The keyboard also has extra keys at the top for brightness adjustment, macro recording and the lock feature so as to avoid accidentally logging you out of games. Furthermore, there are keyboard shortcuts that give you the ability to switch between Bluetooth and USB dongle options. It basically has everything you can think of.
Cooler Master SK621
Measuring in at about 11.5×1.1 inches, the Cool Master SK621 keyboard is both light and small enough to comfortably fling into almost any backpack or laptop bag. But, of course, this portability has a trade-off. In order to come up with this compact, 60-percent aesthetic, designers of this device were forced to remove the numpad as well as other interesting landmarks you'd find on a full-size gaming keyboard. Most of the dedicated key functions such as Page Up/Down and Home, and multimedia keys as well, have been placed in the alphanumeric keys. Others have been allocated new positions and reduced in size.
It looks like Cool Master has really concentrated on the SK621's overall aesthetic. The peripheral features floating keycaps, a chassis with a gold trim around it, RGB backlighting and an aluminum top plate (brushed no less). But it doesn't stop there. This attention to detail is also seen on the keyboard's accessories as well; a velvet tote sleeve and a braided USB-C connection for wired connectivity and battery charging. Nonetheless, despite this focus on eye-appeal, the Cool Master SK621 still feels like it's been built to last and happens to be quite sturdy.
KEYS
Corsair K57 RGB
Where the Corsair K57 XT keyboard falls short is when it comes to its keys. It's a membrane-based keyboard, similar to the cheap Microsoft and Dell computer models most middle managers often prefer. Such keyboards will help make you realize how valuable mechanical key switches are, especially when it comes down to gaming. Yes, membrane keyboards are a good choice when you only have something like $25 or $35 to spare, however, it's difficult to justify one that'll set you $100 or more.
Anyway, at least Corsair has tried to make them feel a little better than your standard membrane key, but the attempt can't really be considered 100-percent successful. The keys still feel a bit resistant and stiff. When typing, it feels like the keys are trying the user's fingers away. Granted, this isn't so noticeable during gaming, but when you're dropping a considerable amount of cash on a keyboard, you probably want it to be able to double up as a productivity tool as well, and not just be a gaming accessory.
Cooler Master SK621
Like many compact gaming keyboards, typing on the Cool Master SK621 will certainly take some getting used to. However, the keys themselves feel great, with a springy rebound and decent travel. They offer that audio and tactile feedback those folks that adore mechanical switches usually love. It uses low-profile Cherry MX switches to come up with the reduced 3.2mm key trave and 1.2mm actuation point smaller gaming peripherals require. Furthermore, its extra slim keys have that square, flat shape found on chiclet-style keyboards but with contours in the center.
FEATURES
Corsair K57 RGB
The K57 XT uses the extremely limited but robust Utility Engine (iCUE) software created by Corsair themselves. This software allows you to customize the keyboard's RGB lighting settings, create profiles for individual apps and games, reassign certain keys as well as reprogram macros. As much as this iCUE software usually works like a charm, it, sadly, doesn't gel that well with the  K57 XT. Key reprogramming is way more complicated than one would expect, and, when setting up macro key shortcuts, you'll need to use a very annoying macro recording menu.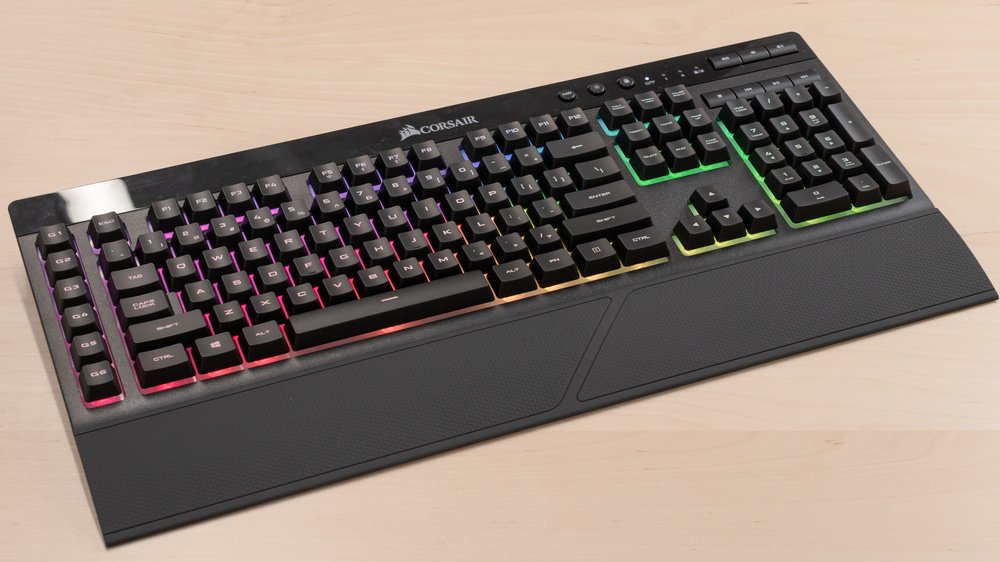 However, arguably the most annoying thing about this Corsair keyboard is that it lacks those deep RGB lighting options that are found in most of the several other Corsair gaming keyboards. It's a bit of a bummer considering the fact that Corsair is well-known to offer their users ridiculously deep lighting choices. Instead, with the K57 XT keyboard, you only get 9 color patterns. Yes, some are pretty awesome, however, it's still nowhere near to what you'd expect to get from a Corsair gaming keyboard.
Cooler Master SK621
Cool Master has some interesting keyboard software available for the SK621 keyboard, though you'll have to pick the right one to install. You can actually customize RGB illumination and change most of the other settings on the keyboard via keyboard combinations known as "On-the-fly" Shortcuts. However, if you want to use a software interface to detail Macros or change color setups, then Cool Master's Portal software is what you'll need to download. Keep in mind, though, that even if this device is relatively new, it still requires the V1.01 version and not the V1.5.7 one.
The Cool Master connects wirelessly through Bluetooth 4.0 or directly via a USB cable. In Bluetooth mode, the device can connect with up to 3 devices, and this can be done by flipping a switch found on the side, and then pressing and holding down, for 3 seconds, the Fn + C/X/Z keys to enter pairing mode.
PERFORMANCE
Corsair K57 RGB
The Corsair K57 XT keyboard runs most of the popular gaming titles pretty well. You won't get that stiff feeling that much during gameplay. It handles games like Final Fantasy XIV, Age of Mythology and Overwatch extremely well. You can expect it to perform equally as well across all other game genres. You'll be able to easily and accurately scroll through skill rotations in Final Fantasy XIV and navigate Overwatch maps without any issues. However, it might not be the most ideal choice for high-level tournament play because hitting keys in quick succession is a little hard to do on this keyboard.
Cooler Master SK621
Seeing as how the Cool Master SK621 is a 60-percent keyboard, you can expect typing on it to be a bit difficult. One of the main downsides of the Cool Master's layout, as far as typing is concerned, is its small right Shift key that has one constantly hitting the up arrow key accidentally. But, this is not all though. There's the linear red switch and flat-chiclet style keycaps issue, a combo which not many people will care for too much. The flat key design makes it a lot harder to orient fingers by feel. Additionally, the 3.2mm key travel and 1.2mm actuation point is much shallower than what you'll find on bigger mechanical peripherals.
As far as gaming is concerned, the switch feel and key layout is much less of an issue in this department, especially when gaming using the Cherry MX Reds. With that said, if you intend on using the Cool Master for intense gaming sessions and you're looking lessen the chances of you pressing the wrong key and accidentally killing your character because the keyboard you're using is a little cramped, then you might want to consider the full-sized gaming keyboard option.
VERDICT
The Corsair K57 XT keyboard has very many good things going on for it. It has all the buttons you need, it's absolutely adorable and it has flawless wireless functions. However, the tasteless, stiff diaphragm button features help take things down a notch, for both gaming as well as typing. It's really hard to justify the keyboard's price tag when if you add just a few more dollars you can get a top-of-the-line wireless mechanical Logitech keyboard. If you happen to be one of those people looking for a wireless, colorful gaming peripheral that has many extra keys, then this option is definitely for you.
However, if you're into flat, chiclet-style keycaps and prioritize portability and a compact size over accuracy, speed and typing comfort, then look no further than the Cool Master SK621 device. As much as the SK621 keyboard is well-built and is aesthetically pleasing, you'll have to determine how much productivity you are willing to sacrifice for a compact layout and portability. There's no way around it, this option will take a lot of getting used to, especially for those that are accustomed to using full-size gaming keyboards.
All in all, having to pick between the two options highlighted is no small fete. On the one hand, the Corsair K57 is a full-sized keyboard that's membrane-based which is a slight bummer. On the other, the SK621 is a mechanical keyboard but not full-sized. It really all boils down to what you intend on using them for.