INTRODUCTION
Corsair K57 RGB Wireless
If you want a wireless keyboard, you're most likely going to have to break your bank a little to get one. The reason why most of them are so expensive is because they often use high-tech switches and top-drawer software products. However, if you want something that tries the best it can to ensure these differences are split, then the Corsair K57 RGB keyboard is what you need to be looking at. This Corsair keyboard product has Bluetooth features as well as USB pass-through functionality. But, that's not all though. It also offers full RGB illumination, a media-bar and macros key column as well. Cool, no? Anyway, there's one thing that brings it back to earth, though, and that's the fact that it uses membrane key switches.
Corsair K63 Wireless
The first-time Corsair tried to ditch wires so that they can have a cable-free desktop, they came up with the K63. This small tenkeyless board will fit comfortably into almost any setup. Furthermore, thanks to its Bluetooth functionality, it can work with almost any device. It uses Cherry MX Red mechanical switches which means it's also a good gaming board as well. And if you're the type that likes gaming in the living room, it can be slotted into Corsair's Lapboard so you can have a couch-gaming experience that's wire-free. Sadly, all this will cost you quite a bit because the board doesn't come cheap.
DESIGN
Corsair K57 RGB Wireless
The K57's size is the first thing that usually catches most people's attention because it's a considerably large keyboard. This is not one of those tiny and compact keyboard products and it measures about 19×9 inches, which is no small fete by any means. It also has a 19×6.5 inch wrist rest that accompanies it, which makes it even bigger when attached. In fact, this Corsair keyboard is roughly around 1.8 to 2 inches longer than the standard full-sized keyboard devices currently in the market. The extra keys can somewhat be blamed for this enlarged size.
Anyway, this isn't a wireless keyboard that can comfortably fit just anywhere. You'll need to make some room for it first before buying it. Anyway, even though it's one huge keyboard it still has this simplistic look going on. It features a black-colored, plastic chassis and a glossy bar at the top meant to collect fingerprints.
Six button features make up the extra keys column, while its discrete media key feature contains seven buttons in total. Its discrete media key column has a rewind button, a forward button, a pause/play button, a stop button and a volume button. It also has macro programming capability, brightness adjustment properties and Game Mode lock. You can also use shortcuts to switch from Bluetooth to USB-cord dongle and vice versa.
Corsair K63 Wireless
The one thing that Corsair has always been very good at is the keyboard layout. This is something they get right consistently and the K63 is no exception. The Corsair K63 is an exquisitely well designed wireless keyboard product with a media key column on both the right and left side, both of which can be easily activated. Although, one thing you'll miss out on when you opt for this keyboard is a volume roller. Also, being that it's a tenkeyless board, you won't have access to a numpad as well. However, everything else is where you would expect it to be.
The keyboard's body itself is very well-constructed and doesn't have any trace of flex on it. The rear kickstands work just as you'd expect them to and, unlike its K95 counterpart, it does not topple over when knocked. Sadly, though, the wrist rest isn't that great and is somewhat kind of a let-down. It feels a little flimsy and cheap. This, in turn, helps ruin what could've been a flawless overall design. Anyway, making keyboard connections is pretty easy and all you'll need access to is a USB 3.0 port to connect your dongle to. Out of the box, the battery should be able to last you around 15 hours or so. There is no RGB illumination as well which is pretty sad. The only color profiles available to you are 'Ice Blue' or 'Blue'. The only upside to this is that at least you won't have to worry about lighting eating up your battery life.
KEYS
Corsair K57 RGB Wireless
The membrane keys switches on the K57 is arguably one of the worst things about this device. Why do we say this? Well, because this type of switch is what you'll find on budget-friendly computers from Dell, Microsoft and the like, which are often adored by many middle-management workers. Membrane keys will often make one realize how valuable mechanical switches can be and it's no different from the membranes on the K57. In fact, you'll realize how just inferior they are to mechanical switches when you use the keyboard for gaming. People that want to spend less than fifty bucks are often advised to go the membrane route, however, if you're looking to drop $100 or more, then it might just be a good idea to look the other way.
On the bright side, Corsair went out of their way to try and make their keys feel a little different from the standard membrane key you'd find on a low-budget Dell computer. Sadly, though, this is not something they can say they were 100-percent successful at achieving. They still feel a bit stiff when you press them all the way and during volume typing sessions, your fingers will feel like they're literally being pushed away after every key-press. Fortunately, this isn't something you'll feel during gameplay. With that said, most people that are going to be dropping over one hundred dollars or so on a keyboard product won't want one that can't double up as a productivity device as well.
Corsair K63 Wireless
Like we mentioned earlier, the keys on this board use Cherry MX Red mechanical switches and each keycap houses one LED underneath it. You might want to know that Corsair sells hardened, double-shot caps these days as optional extras for the board. Anyway, as far as typing with these keys is concerned, they kind of produce mixed results. If you're familiar with linear switches and don't have any problems using them then the Reds shouldn't bother you too much. Additionally, that extra key travel you find on the board helps greatly improve typing experiences. That being said, tactile Blue and Brown key switches are what most people like typing with, especially if the board is being used mainly as a productivity tool. It's because of this we think it's a bit odd Corsair didn't think to offer these flavors with their K63 wireless.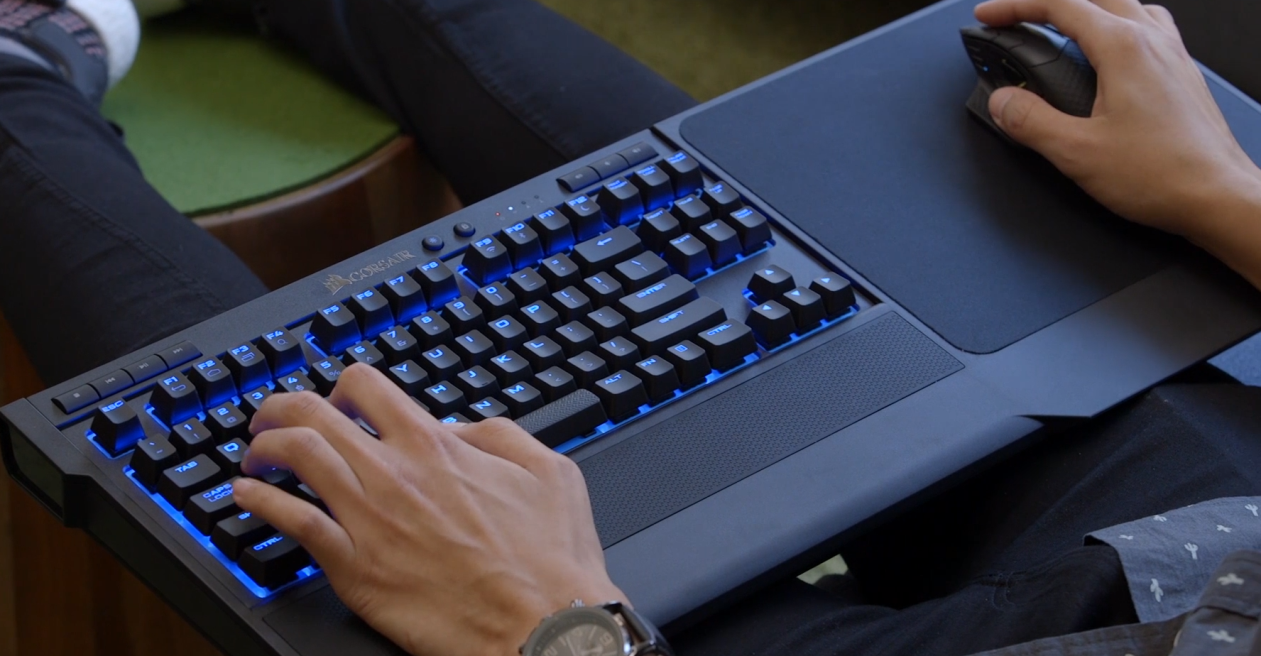 FEATURES
Corsair K57 RGB Wireless
If keyboard products from Corsair are things you're familiar with, then you probably know of Corsair's software program, the Utility Engine, as well. This robust yet slightly limited software program was developed and created in-house and it's what the K70 wireless keyboard uses. With this software product, you can create macros keys, reassign some of the board's keys, create unique presets for certain individual apps, programs and games as well as change the board's illumination settings. Truth is, even though the iCUE software is actually an above-average product, it doesn't really play well with the Corsair K57 XT. Creating simple key functions is really complicated and you'll need its macro recording menu feature if you want to program macro keyboard shortcuts, which is, sadly, an extremely tedious and cumbersome task.
Corsair K63 Wireless
The Utility Engine software by Corsair is what you'll use to reprogram keys as well as to create macro shortcuts. You can also use it to adjust several other keyboard functions too, such as the keyboard's lighting properties. It's relatively easy to use, however, while there are many lighting effects you can choose, you, unfortunately, can't pair these said lighting presets with other Corsair models when you're in wireless mode. The board also has some extra features, which include; a button to change backlighting brightness, a Windows Lock key feature to prevent the accidental minimizing of games as well as dedicated media key functions. You also have access to hotkeys that'll help you switch between your connected devices, hotkeys for navigating between mobile handsets running on an Android system and a hotkey for 'sleep'.
Like we mentioned earlier, you can connect the K63 through it's Bluetooth or its USB receiver. In fact, you can even pair the keyboard to two separate devices simultaneously if you want. Switching between the devices can be done by pressing the Fn key plus the F9/F10 keys. As you can see, making connections is pretty simple and straightforward. The Cherry MX Reds on it might require a little more force than usual to actuate, especially for a linear mechanical switch, and they also don't have that tactile feedback you'd expect from a Cherry MX Red switch but they more than get the job done. Additionally, it has a slightly higher pre-travel distance than the standard 2mm one, however, not many people will notice this.
PERFORMANCE
Corsair K57 RGB Wireless
The wireless K57 keyboard from Corsair can seamlessly run any game title you throw at it, no matter the game genre. You can play games like Tomb Raider, Final Fantasy, Age of Mythology, Overwatch, For Honor, Hitman and so on without fearing that it'll give you problems. The commands you give it will precisely, accurately and instantly parsed. This means that you won't have any issue taking down Knights with your Viking axe in For Honor or climbing up dangerous and ancient cliffs and ravines in Tomb Raider.
Corsair K63 Wireless
Fiddly and optional accessories notwithstanding, the K63 wireless by Corsair is a magnificent wireless gaming keyboard. Its 2.4GHz connection is very stable and can hold its own in wireless-saturated office environments. You also won't have any problem using it on your couch at home as you play games from a different area from where the computer itself is. Furthermore, the compact tenkeyless overall design and wireless setup help make it easily portable. That being said, it still might not be the option for those looking for a keyboard to take to big eSports competitions. Tried-and-true wired gaming keyboards might be better suited for this.
When it comes to battery life, the Corsair K63 wireless keyboard should last you around 70-75 hours when its backlighting isn't on. Having even a third of the board's backlighting brightness on will drop its run-time to about 25-hours or so. With the backlighting at full blast, all you can expect to get out of it is around 10-hours.
VERDICT
When considering what type of wireless keyboard you want, you first have to know what needs you want to fill. There usually numerous reasons why one would want a wireless gaming keyboard and some of the main ones are because of its portability and maneuverability. The K57 XT wireless is a pretty decent gaming keyboard device that has plenty to offer. Not only is it an extraordinary gaming device but it's fantastic productivity too as well. However, if you want a wireless keyboard of the tenkeyless variety, then not many come better than the K63 board. With this option, you'll be getting media keyboard shortcuts, backlit keys and real mechanical switches. Basically, everything you might possibly need.