INTRODUCTION
Corsair K70 RGB MK.2
Corsair's K70 Mk.2 mechanical keyboard is a nearly perfect keyboard product that uses the famous Cherry MX key switches. The board features several rainbow backlighting settings and has a sleek, elegant and sophisticated overall design-style. Corsair have put in years of fine-tuning to come up with this innovative and completely new product, and those years spent on fine-tuning have proved to pay off. This gaming device is not only beautiful but functional and fit for everyone as well. Yes, it'll set you back a considerable amount of cash, enough to discourage many people, however, the durable chassis and top-notch Cherry MX switches on it justify that price tag.
Creative Sound BlasterX Vanguard K08
The Sound Blaster brand first made its name with gaming mice. This is what the world knew them for. However, they decided to take things a step further and try their hand at manufacturing mechanical gaming keyboards. When you compare a gaming mouse to a mechanical keyboard, the mechanical keyboard is a much more fickle animal. Oftentimes keyboard layout is what's going to determine how popular that particular product will be. That as well as the type of key switches being used. Sound Blaster seemed to have chosen to borrow a leaf from the Logitech counterparts when it came to the overall design of the board. The Vanguard K08 keyboard looks like something you'd get from Logitech.
DESIGN
Corsair K70 RGB MK.2
The Corsair K70 Mk.2 board has the same overall design its Strafe Mk.2 cousin has Just like the Strafe, the K70 Mk.2 is a full-sized keyboard that's around 17×6 inches big, without its palm rest attached. With the wrist rest on it comes to about 17×9 inches. Corsair made sure they did not waste space on the board's aesthetically-pleasing black chassis. In fact, it's way tinier that what's there on most of the other full-body gaming keyboards on the market. Furthermore, it makes all this possible whilst still ensuring you get comfortable key spacing. But, what makes the K70 Mk.2 so different from its cousin the Strafe Mk.2 is its aluminium-based surface. Most of the Strafe's body is manufactured using plastic material.
Of course, we know that this alone still isn't enough to justify that hefty price, however, the aluminum factor definitely helps strengthen that clean, refined and durable overall look. The MK.2 can fit just fine on an office-type workstation without looking odd. Although that's not all. It's also good-looking enough for that futuristic gaming setup most players are setting up these days. The caps on its keys have been raised slightly which helps splash that little bit of flair to the overall aesthetic of the peripheral. Additionally, the board also has USB pass-through functionality, discrete media functions and extra buttons designed to control the Game Mode and brightness features. The textured caps on the keys are perfect for high-octane, competitive MOBA and FPS PC gamers. It's also a good addition for the folks that are familiar with WASD maps.
Creative Sound BlasterX Vanguard K08
This gaming keyboard product looks like a mixture of the K95 Platinum from Corsair and the Keyboard 4 Pro from Das. But, there are certain things about it that make it a little different from the two in its own way which, in turn, helps give it its own individual identity. Anyway, the Vanguard K08 is a full-bodied gaming keyboard that's only available in black and with an ANSI setup Though, things may change in the future and Creative might decide to offer more. The top-right corner is where the volume wheel feature and media key functions can be found. The Windows lock button function that confines the extra keys to one area can also be found in this area too. The keyboard's software, the Sound Blaster Connect, can be accessed via a designated button in this area.
The legends on the caps aren't the best things in the world. They should've been a little bigger than what they are. The primary legends have been plastered right at the center.and the backlight illumination comes from directly under the legend. This, in turn, leads to the off-centering of the secondary legends which eventually gives rise to a lot of wasted space on the keycaps. Also, the front part kind of looks like a confused mixture of office-like and gamer-type aesthetics, accompanied by letters that could've been a little less thick. Its non-detachable cable with 2 USB-A connectivity is clearly labeled to make sure you know where to use what.
KEYS
Corsair K70 RGB MK.2
Corsair never plays around when it comes to the switches they choose to use on their boards, and they weren't going to start with the K70 Mk.2. Cherry MX keys are what you'll find on most Corsair keyboard products, however, the options made available to the user are often very limited. Anyway, why the K70 RGB Mk.2 is such an out-of-this-world keyboard from Corsair is because in this model they decided to give you the option of choosing from five different Cherry MXs. Be it the noisy, tactile ones to the quiet, linear ones. You literally can't miss getting what best suits you. This is a factor that should never be overstated considering the fact that a lot of the keyboard products on the market, that use mechanical key switches (especially of the Cherry MX nature), often just give users the option of picking between two types.
Creative Sound BlasterX Vanguard K08
You won't find any Cherry MX switches on the Vanguard K08 keyboard. However, it does use Cherry OEM profiles. The keycaps on this board have an ABS that's considerably thick in nature accompanied by wall-thickness of around 1.18 millimeters. Oh, and the legends are laser-etched. Omron's PRE mechanical switches look just like the Romer-G's, also by Omron, that are found on most Logitech keyboard products. Like the Romer-G mechanical key switch, the PRE switches also employ the use of central lighting systems through which the RGB lighting shines through. Legends that have been centrally placed usually get very uniform backlighting, and the Sound BlasterX is no exception.
FEATURES
Corsair K70 RGB MK.2
If you're familiar with Corsair keyboard products, then you've probably come across the Utility Engine (iCUE) software, no? Well, this is Corsair's proprietary software and it's what's used to drive the K70 RGB MK.2 mechanical keyboard. Many have criticized the software's opacity however it's been equally praised for its vast feature set qualities. You won't completely figure it out right from the jump, it'll take you some time before you can say you fully understand how it works.
Truth be told, Corsair could've been a little more innovative when coming up with the overall layout. However, once you've fully grasped how to operate it, you'll have the ability to do many interesting things with peripheral's extensive RGB backlighting profiles. In addition to this, it'll also allow you to restructure and reprogram all the board's keys to your liking. The software is also what you'll use to create your own unique profiles for applications and games.
Why a lot of Corsair products stand out from the crowd is because of the iCUE software that drives it. It gives the user a lot of power over the board in general. But, where it really shines is in the RGB illumination customization.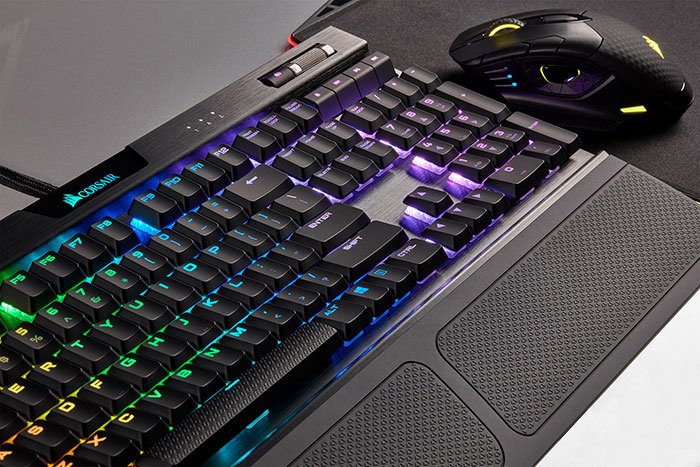 Creative Sound BlasterX Vanguard K08
The Sound Blaster Connect is what drives the Vanguard gaming board and it has a relatively straightforward installation procedure. When the board is not connected, the audio controller software takes over. Anyway, Aurora Reactive Lighting is Sound Blaster Connect's most famous feature, and it's what the board uses to help it display the flashy illumination features it does. Its "Personal" default feature is basically a rainbow color theme that shines all over the keyboard at a brisk pace. You can customize RGB illumination to fit your desired preferences. You can even customize travel speed and directions of motion.
The Performance Tab on the Vanguard has three clear options. Switch repeat rate, keyboard polling rate and the switch repeat delay. The keyboard polling rate is kind of self-explanatory. The macros section, though, honestly needs improvements, and it had the potential of being way more intuitive. That being said, the board and its features are quite simple and basic. The software doesn't hold its own against its more superior competition but it does just fine.
PERFORMANCE
Corsair K70 RGB MK.2
Overwatch, Hitman, For Honor, Fortnite, World of Warcraft and Final Fantasy XIV are all games that can be easily and seamlessly run by the Corsair K70 Mk.2 gaming keyboard. In fact, you shouldn't have a problem using it to play any game. Its mechanical switches work superbly, which is really no surprise considering the fact that they're Cherry MXs. Taking down enemy combatants and foes in For Honor and Overwatch has never been easier. Additionally, the extra discrete media key features help make it easier for users to run soundtracks and podcasts during gameplay, if you're into that kind of thing that is.
This keyboard product's lack of macros key functions means that serious MMO gamers might end up being at a disadvantage when using it. However, since the iCUE can be used to come up with macro keys and all the keys themselves can be reprogrammed, there are several ways one can bypass having to be disadvantaged in this way.
Creative Sound BlasterX Vanguard K08
The actuation distance of the PRE key switches measures about 1.5 millimeters. This is around 0.6 millimeters shorter compared to the distance found on the standard mechanical keyboard. The actuation force itself comes in at around 45 grams. Creative states that their switches, in practice, should actuate quicker and respond faster due to this short distance. Bottoming-out distances that are short in nature tend to result in quicker bounce-back responses as well. Creative has gone rouge with the mechanical key switches they've chosen to use and that alone can help it secure all the attention it'll need.
VERDICT
We can't deny the fact that K70 Mk.2 might just be a tad bit too expensive, however, not only is it accompanied by simple to use software but it also doesn't have too many disadvantages either. In fact, when you talk about gaming experiences, the Corsair is almost a perfect gaming peripheral. From its sturdy, durable design-style to the fact that you can choose between five mechanical switches, this product is both functional as well as an eye-pleaser. Find the mechanical key switches that best suit your needs and you won't have to look for a gaming keyboard again for a long time. The Vanguard K08, on the other hand, is the first mechanical keyboard by Sound Blaster and they've honestly managed to do a fantastic job. Omron PRE key switches are the main highlight followed closely by the Aurora Reactive software. Both are actually very good gaming keyboards but the better one is no doubt the K70 RGB Mk.2 by Corsair.