Design and Built
K83
A slightly unusual multimedia keyboard, the Corsair K83 Wireless Entertainment Keyboard is made to be used comfortably with a Smart TV while lounging on the couch. You can manage your PC or Smart TV while holding the keyboard in one hand thanks to the built-in track pad on the right side of the keyboard, a joystick in the top right, and left/right mouse click buttons on the back. Overall, it has a high-end feel and provides a satisfying typing experience. The keyboard includes a white back light, and the accompanying software for Windows and macOS lets you change the lighting and key macros. The K83 has excellent back lighting. While it lacks RGB controls, each key is individually back lit with white light. You can also change the brightness of the keyboard or the included software. The track pad is also surrounded by LED lights, which is a nice touch. The size of the Corsair K83 Wireless is comparable to that of most TKL keyboards or other entertainment keyboards, such as the Amazon Basics K4R. The keyboard is about 0.8″ thick, but the joystick on the upper right-hand side sticks out to 1.1″. Overall, it's small enough to connect to your couch's smart TV. The Corsair K83 Wireless has an excellent build quality. It has a similar appearance and feel to the Logitech MX Keys and is made of a combination of metal and dense plastic. The keys, joystick, track pad, and volume roller all feel solid and don't wobble too much. On certain presses, it felt like the air was being forced out of the space around the key itself. We're not sure if this is by design or if it's a problem with our particular unit. The ergonomics of the Corsair K83 are satisfactory. It's a straight board with no wrist rest included, though its flat, low-profile design means you won't need one. Unfortunately, it has no incline settings and is permanently slanted.
K400
For use with a smart TV or HTPC, the Logitech K400 Plus is a subpar wireless keyboard with an integrated track pad. The all-plastic keyboard feels light to type on, but it exhibits significant flex and torsion and has ABS key caps that feel slick. It isn't a good choice for programmers or gamers due to the lack of programmable keys and back lighting, but it's decent for office use as its typing noise is very quiet. Also, it has dedicated volume control keys and a built-in track pad, which is helpful for use with a TV or HTPC. There isn't any back lighting, which may not be suitable in dark environments. This keyboard is about the same size as most TKL keyboards, but it has a built-in track pad like other entertainment keyboards. When connected to a smart TV, it's relatively light and small enough to sit on your lap. The build quality is average. Its plastic frame has a lot of flex and torsion, which isn't ideal, but it doesn't feel like it'll snap in half. The keys are shaky, the space bar jingles, and the left and right track pad buttons are sloppy. The ergonomics are satisfactory. Although there are no incline settings or a wrist rest included, the low-profile design should prevent fatigue. Although the keys are close together, your hand should still feel comfortable and not cramped.
Features
K83
The Corsair K83 is a one-of-a-kind media keyboard with a plethora of inputs and controls. It has a track pad on the right side and left/right-click buttons below it, allowing you to move the cursor on a Home Theater PC or Smart TV from the comfort of your couch. There's also a unique joystick in the upper right corner, as well as left/right-click buttons on the upper-right back of the keyboard that can be used in place of the traditional track pad. A volume scroller is located to the left of the joystick, and the F keys serve as media control hotkeys.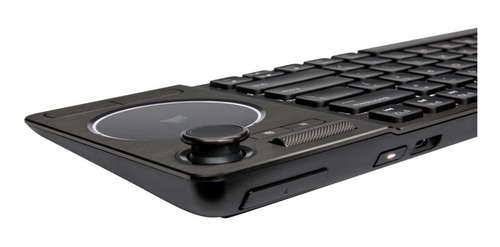 K400
The Logitech K400 Plus has dedicated volume control keys and media control via hotkeys. There's also a left-click button on the top left, so you can use your right thumb to navigate the track pad and your left to click. Although the keyboard lacks a Windows Key lock button, you can disable it in the Logitech Options software. However, because you cannot remap any of the hotkeys, you must open the software each time you want to turn the lock on or off. This keyboard also includes a track pad. Some people have reported problems with it, but we didn't have any during testing.
Programming
K83
The Corsair K83 programming keyboard is excellent. Its scissor-switch keys provide a comfortable typing experience that should not result in fatigue after long coding sessions. The entire keyboard is back lit, and the software allows you to set macros and customize the lighting options. Finally, the keyboard is compatible with all major operating systems.
K400
For programming, the Logitech K400 Plus is insufficient. Although it has good ergonomics, it lacks back lighting and cannot be programmed with macros on any of the keys. On the upside, it's compatible with mac OS and Linux, although only partially.
Cables and Wireless Versatility
K83
The wireless versatility of the Corsair K83 Wireless is exceptional. It has a rechargeable battery and can simultaneously connect to two Bluetooth devices as well as one device via its proprietary USB receiver. This enables you to quickly switch between three machines, such as a laptop, television, and phone. This keyboard can be used wirelessly or with a micro USB cable that charges the keyboard while it is in use.
K400
This keyboard can only be used with its own receiver. The Logitech Wireless Touch Keyboard K400 Plus keyboard is wireless only, and no charging cable is included because it runs on disposable batteries.
Software
K83
Corsair's iCUE software is compatible with the Corsair K83. You can create multiple profiles and customize the lighting to be solid white, any shade of grey, or even a pulsing light pattern. You can also assign macros to nearly every key on the keyboard, and the software is compatible with both Windows and mac OS, which is fantastic. Corsair's software can be installed on both Windows and mac OS, making this keyboard fully compatible with both. While the keyboard is fully compatible with Linux and Android, there is no software to customize it. There is no software on iOS and iPad OS, and while all of the alphanumeric keys work, some of the extra controls, such as the function keys or media controls, do not.
K400
The software support for the Logitech K400 Plus is inadequate. You can remap some of the function keys using the Logitech Options software, but you can only select from a drop-down list of presets. You can disable the Window Key from the software, but only from within the software, and no function keys can be programmed to toggle the lock. The keyboard is reasonably compatible. Some of its keys work on Windows, but not on mac OS or Linux. Some have a Windows-only function that does not translate to the proper action on mac OS. However, all of the alphanumeric keys should function normally.
Performance
K83
The Corsair K83 is an excellent office keyboard. It's quiet enough not to bother coworkers, and its scissor switches are light enough not to cause fatigue after a long day of typing. Unfortunately, its ergonomics are only adequate because it lacks adjustable incline settings. While the Corsair K83 isn't intended for gaming, its keys have a very light actuation force and a short travel distance. Overall, it feels well-made, and it doesn't take up much desk space. Corsair's iCUE software allows for a lot of customization, including the ability to set key macros and customize the back lighting. The Corsair K83 is an excellent choice for a home theater PC keyboard. It is intended for this purpose and includes everything you need to control your smart TV. It connects to any Bluetooth device and has white back lighting for use in low-light situations. It also has a track pad for navigating the on-screen menu, as well as media hotkeys.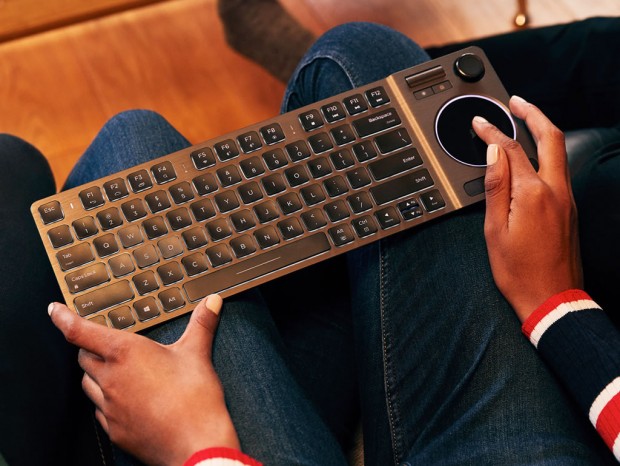 K400
The Logitech K400 Plus is a good office keyboard. Its low-profile design should prevent fatigue, but the small spacing between keys may result in numerous typos. On the plus side, it's very quiet and shouldn't bother those nearby. The Logitech K400 Plus is not intended to be used for gaming. Although it has a short pre-travel distance and requires little force to activate each key, it lacks macro-programmable keys and back lighting, and its latency is quite high. Because it lacks Bluetooth and back lighting, the Logitech K400 Plus ranks poorly for home theater PC setups. If you don't need those features, the Logitech K400 Plus has a built-in track pad that allows you to navigate your PC without using a mouse. It also has volume controls and media hotkeys. The top left of the keyboard has a left mouse click button, so you can navigate the track pad with your right thumb and click with your left.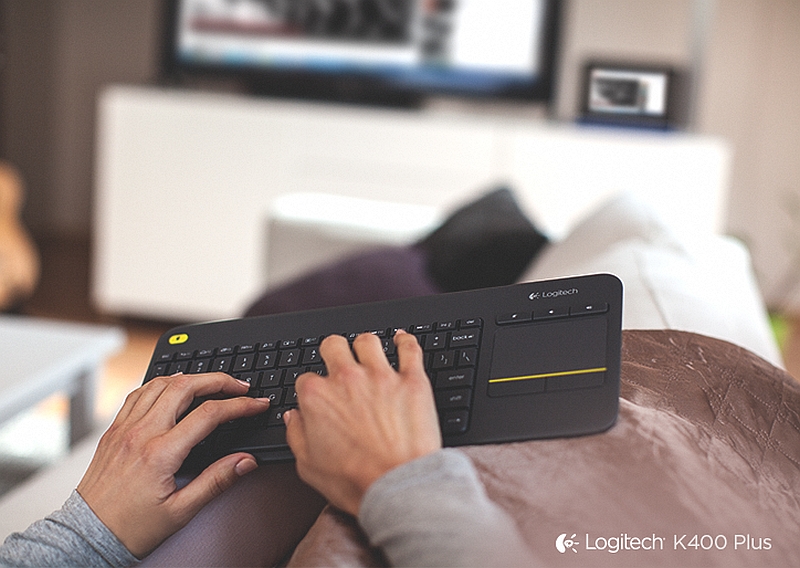 Conclusion
The Corsair K83 Wireless Entertainment Keyboard outperforms the Logitech K400 Plus as a multimedia keyboard. The Corsair looks and feels better built, and it has backlighting and Bluetooth support, unlike the Logitech. However, because it is less expensive, the Logitech may provide better value for some users.