An in-depth explanation of How to Connect Any Headphone with PS4. Using headphones with your PS4 can enhance your gaming experience. Unfortunately, some PS4 compatibility issues can make connecting your headset more difficult than expected. Worse, wearing headphones is sometimes your only option. This is especially important if you want to play a late-night game without waking everyone else. Not to mention that if you are unable to join your team via game chat due to a malfunctioning headset mic, you may feel left out.
Fortunately, you do not have to deal with this issue. We've created this comprehensive guide to show you exactly how to use headphones with PS4. Whatever type of headset you have, you'll be able to find a method that allows you to seamlessly connect your device. Now let's understand How to Connect Any Headphone with PS4
Can You Use Normal Headphones on the PS4?
Yes! Regular headphones can be used with the PS4. The PS4 adheres to the Cellular Telecommunications and Internet Association (CTIA) standard for headphone jacks, which is the newer, more widely used layout. This means that while most headphones should work fine, others may require some modification or even third-party devices.
How to Connect Any Wired Headphones to a PlayStation 4
Most wired headphones can be easily connected to your PS4 in a few simple steps. Follow the steps in the following sections to connect compatible and non-compatible wired headphones to your PS4:
How to Connect PS4 Compatible Wired Headphones
Your headphones should work fine with your PS4 if they have a 3.5 mm audio jack. This is true whether or not they are Play Station-certified.
Here's how to connect your PS4 to compatible wired headphones:
Turn on your PS4 and use the controller to navigate to the Settings menu.
Scroll down and click on Devices.
On the Devices page, you'll find a list of all the devices that can be connected to your PS4.
Select Audio Devices because we want to connect a pair of headphones.
Connect your wired headset to your PS4 controller.
Choose Output Device, followed by Headset Connected to Controller.
Return to the Audio Devices page and select Adjust Microphone Level to properly configure and test your headset microphone.
Using the slider, adjust the microphone input level as needed.
Return to the Audio Devices page and choose Output to Headphones, then All Audio.
How to Connect Non-Compatible Wired Headphones to a PlayStation 4
Our goal is to make you understand the steps of How to Connect Any Headphone with PS4 and as previously stated, most smartphone headsets follow one of two standard configurations or arrangements. The Cellular Telecommunications and Internet Association (CTIA) standard, also known as the American Headset Jack (AHJ) standard, and the Open Mobile Terminal Platform (OMTP) standard are involved. The CTIA and OMTP standards differ in that the former has the microphone connector point at the bottom of the jack and the ground connector on the second ring. The latter, on the other hand, has these positions reversed. Because of compatibility issues, connecting a CTIA headset to an OMTP port and vice versa will result in too quiet audio. Because newer smartphones and your PS4 use the CTIA standard, you'll need to use an OMTP to CTIA converter/adapter if you want to use OMTP standard headphones.
Refer to the "How to Connect Compatible Wired Headphones to PS4" section for instructions.
Connect your headphones to the OMTP to CTIA converter before plugging it into your PS4 controller.
How to Connect Wireless Headphones to a PlayStation 4
There are several methods for connecting wireless Bluetooth headsets to your PS4. It is important to note, however, that not all Bluetooth headphones are compatible with the way Sony configures its Bluetooth connections, which primarily focus on PS4-certified Bluetooth headphones.
Other non-compatible headphones, on the other hand, can still work on the PS4 with a few tricks.
How to Connect a PlayStation Wireless Headset to a PlayStation 4
This section is for officially compatible headsets designed primarily for the PlayStation 4.
Charge the headset using the USB cable that came with it or the one that came with your PS4 system.
Insert the USB adapter from your headset into the USB port on your PS4 or console.
Switch on your headphones and enter pairing mode.
Your headphones should be successfully connected and playing audio once the blue light stops flashing and turns solid blue.
Using the controller, go to Settings.
Scroll down and click on Devices.
On the Devices page, you'll find a list of all the devices that can be connected to your PS4.
Bluetooth Devices should be selected.
Check that your headset is still in pairing mode (blue light flashing), and wait for your PS4 to search for nearby Bluetooth devices.
When your headphones appear in the given list of Bluetooth devices, select them and wait a few seconds for them to connect.
To complete the connection, you may be asked to register your device. Simply enter the required information, and you're ready to go!
How to Connect Incompatible Bluetooth Headphones to a PlayStation 4
The methods in this section are applicable to regular Bluetooth headphones (including Apple Airpods) that are not officially compatible with the PlayStation 4.
The two alternatives are listed below.
Using the PlayStation 4 Remote Play App
This option isn't perfect, as it's possible that it won't work for some games or unverified devices. However, it's worth a shot, especially if you don't want to spend money on Bluetooth dongles. The PS4 Remote Play app essentially allows you to access your PS4 via your mobile device via a Wi-Fi connection. It enables you to play PS4 games on your phone using the on-screen controller and phone display, as well as participate in chats.
To use Remote Play, follow these steps:
Install the PS4 Remote Play application (Download link: iOS, Android).
On your PS4, activate the Remote Play feature by going to Settings and then selecting Remote Play Connection Settings. On the PS4, make sure the Enable Remote Play option is checked.
Choose Add Device, then Code. There should be an 8-digit code visible.
To register your device, open the PS4 Remote Play app on your phone and enter the code.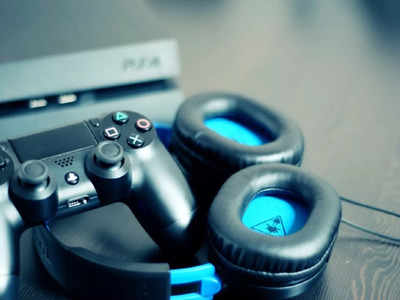 Making Use of a Bluetooth Dongle
A Bluetooth dongle with a microphone is recommended for the best gaming experience.
Plug in the USB Bluetooth dongle and wait for it to enter pairing mode on your PS4.
Turn on your Bluetooth headset and place it in pairing mode.
Once the headset is connected to the PS4, the flashing blue light should turn solid blue.
Insert the microphone into the 3.5mm port on the controller.
Conclusion
With all of the methods and instructions in this article, we hope you can now use your any headphones on the PS4 whether they are wired, wireless, compatible, or non-compatible. Now you know How to Connect Any Headphone with PS4 easily without any hastle.