You can only connect your Galaxy Watch to one phone at a a time, and for that the setup process requires you to reset your watch before connecting it with your new phone.
SAMSUNG GALAXY WATCH RESET
Resetting your watch will erase all of your personal data and return it to its factory settings. So, before you do anything, make a backup of your device. If your watch does not automatically backup to your phone, launch the Galaxy Wearable app on your phone and go to:
Watch Settings
Account and Backup
Backup settings (or Back up data).
Then select what you want to back up and press the Back up button.
Now you can easily reset your watch up
Turning off your Galaxy Watch to reset it.
Remove your watch.
Hold down the Home (which also serves as the Power button) and
Back keys for roughly 10 seconds, or until "Rebooting" displays at the bottom of the screen. Then, simultaneously, release both buttons.
Press the Home button twice in order to bring up the Select Reboot
Mode screen.
Cycle through the options by pressing the Home button until you reach
Recovery. When the word goes blue, you'll know it's been chosen.
Hold down the Home button until the device restarts. This procedure can take a few minutes.
Keeping your phone turned on to reset your Galaxy Watch.
To access Settings:
Swipe down from the top of the watch face and then tap the gear symbol.
Scroll to the bottom and select General > Reset.
You may be asked to backup your data to the Samsung Cloud.
When you're finished, press Reset and wait for the watch to restart.
Look for an accept icon and then tap it to confirm if you don't see a Reset option.
CONNECT YOUR NEW PHONE TO YOUR GALAXY WATCH
After you've reset your watch, here's how to sync it with your Android phone:
Swipe up from the main watch face and select Settings > General > Connect to new phone.
Tap the Continue button.
Your timepiece will be reset.
Open the Galaxy Wearable app on the phone to which you want to link your watch. If it isn't already installed, go to the Galaxy Store or the Playstore depending on your device.
Press the Start button.
Once the app has found your watch, go to Galaxy Watch > Pair > Sign in.
Continue by selecting Allow > Agree.
Allow time for your watch to connect.
If prompted, tap Continue or sign in to Google.
Because you've already backed up your watch data, select Next > Restore.
Wait for the backup to be restored by the app.
Your Samsung watch is now linked and ready to use.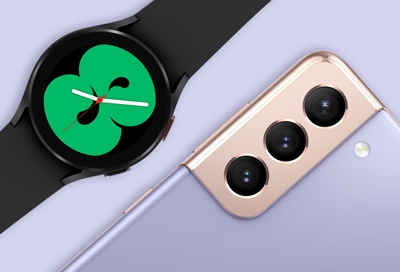 HOW TO PAIR YOUR GALAXY WATCH WITH IPHONE
While Samsung Galaxy Watches function best with Samsung mobile phones, you can connect your watch to an iPhone—but the system isn't ideal. You won't be able to utilize all of the watch's functions, and the Galaxy Watch 4 won't link to the Galaxy Watch iPhone app, for example.
Here's how to pair your watch with an iPhone:
Download Samsung Galaxy Watch from the App Store® (Gear S).
On your iPhone, launch the Samsung Galaxy Watch (Gear S) app, and then select OK when prompted to allow Bluetooth®.
Select Begin The Journey.
Tap the Galaxy Watch that corresponds to your device.
Allow the watch to pair. Your watch is now compatible with your iPhone.
TROUBLE SHOOTING
What should you do if your Samsung Watch refuses to connect to your Android or iPhone?
Here are some troubleshooting ideas now that you've learnt how to link your Samsung Galaxy Watch to your phone:
Check that Bluetooth is turned on on both your watch and your phone.
Restart your phone and watch to see whether they will connect.
Move both devices away from any potential wireless interference.
Keep in mind that if you own a Galaxy Watch 4, you will be unable to link it to your iPhone because the iOS Galaxy Wearables app does not support your watch.