Playing electric guitar with headphones is very useful if you live in an apartment, want to play while traveling, or simply want to get a late-night practice session. The best news is that there are many excellent options for playing electric guitar secretly with headphones while maintaining a decent tone. In this brief guide, I will describe the various ways of How to Play Electric Guitar With Headset and how to choose the best solution.
1: Connect Your Guitar Amp to Your Headphones
Depending on the guitar amp you have, you may be able to plug in any pair of headphones. If your guitar amp includes a headphones out option, the most you'll have to invest is less than $10 to play guitar through your amp with headphones. As illustrated below, most current guitar amplifiers contain a headphone out jack:
Some guitar amplifiers also have the headphones jack on the front panel, while others have it on the top or the back.
Simply just insert your headphones into the headphones out jack to get started.
While many modern amplifiers have 3.5mm (1/8′′ standard headphone connectors), some have 6.3mm (1/4′′) outputs (the same size jack as your guitar cable). If your guitar amp has a jack for headphones that looks like this: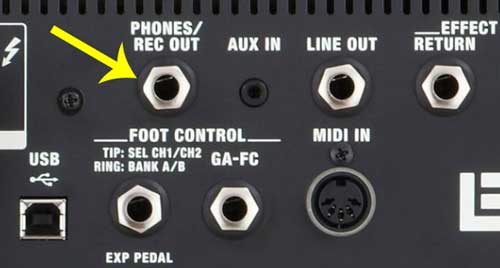 To connect your headphones to the guitar amp, you will need to utilize an adapter.
To connect your headphones to the guitar amp, all you need is a simple 3.5mm to 6.3mm audio adapter like this one.
When using headphones with your guitar amp, dial the master volume before you start playing.
Then slowly increase the volume to avoid damaging your hearing.
Advantages
Benefits of connecting headphones to the guitar amplifier:
It is low cost to purchase an adapter if your amplifier requires one.
The setup is quick and simple.
Use your equipment in silence.
Disadvantages
The disadvantages of connecting headphones to your guitar amp are as follows:
It only works if your amplifier has a headphone jack.
It is not appropriate for travelling.
Important
Not all the guitar amplifiers include a headphone jack. Don't plug anything into the output jack unless it is very obvious that it is intended for the Headphones. Many guitar amplifiers, for example, feature outputs that are very specifically meant to connect to guitar speakers. If you attach the headphones to one of those outputs, you will not only destroy your headphones, but you may also severely harm your guitar amp. If in doubt, you can go for the handbook for your amp type and ensure the output connector is suited for headphones.
2: Link Your Guitar to Your Smartphone
This other option that will teach you How to Play Electric Guitar With Headset, is an excellent choice for guitarists who want to practice while traveling at the same time or who want a very easy way to play electric guitar in quiet. The concept behind this option is to link your guitar to an audio interface, such as the iRig HD 2, and then to a smartphone/tablet/PC/Mac. You can then use any headphones you choose to play guitar with your device. The IRig HD 2 by IK Multi-media is the best option for connecting your electric guitar to your smartphone, which I've tried. One of the reasons we recommend the iRig HD 2 is that it includes the complete version of AmpliTube 4, a popular guitar amp/effects modeling program.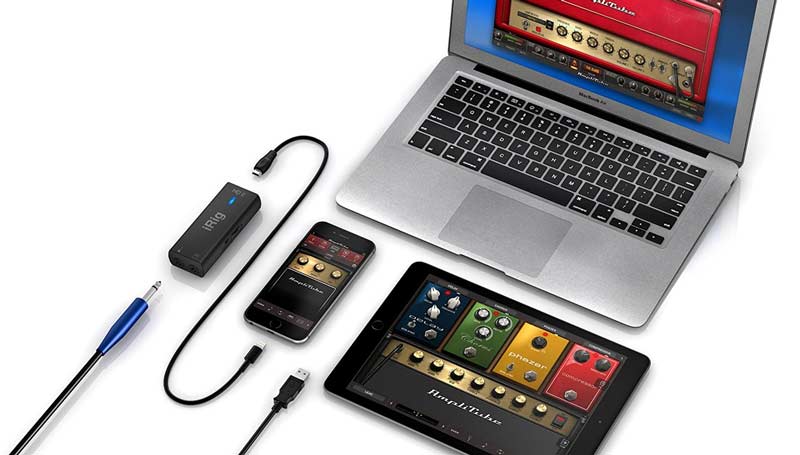 With AmpliTube 4 on your smart phone/tablet/PC, you can create rigs by combining various amps and effects. It's an excellent way to learn different effects and practice guitar with many tones without requiring a lot of actual gear. If you already have guitar pedals at your home, you can practice with them by connecting your guitar to the pedals and then connecting them to the iRig. If your guitar amp doesn't have a headphone output, this is a very decent alternative. This solution will allow you to play guitar with headphones for less than $100.
The iRig HD 2 can also be utilized as an audio interface for appropriate recording by connecting to your PC/Mac. This means that you can connect your guitar to powerful DAWs and software like BIAS FX or Line 6's Helix Native using the iRig. There are numerous audio interfaces available for connecting to a computer, so read through the following information to ensure you select one that meets your needs.
Advantages
Advantages of connecting your guitar to your smartphone:
You may practice guitar in silence wherever you go, thanks to the interfaces like the iRig HD 2.
A great approach to get started with guitar recording
Tone generator software like AmpliTube or BIAS FX may produce high-quality tones.
There is no need for an amp.
Disadvantages
The downside of connecting your guitar to your smartphone are as follows:
Android users are limited when it comes to their selections. (The iRig UA is functional.)
You ca not practice with your current amplifier.
 iRig HD 2 has come in helpful throughout the years, and we highly recommend getting one, whether you solely use it for practicing in silence or also for recording.
3. Connect Your Guitar to a Multi-Effects Pedal
Most modern multi-effects systems will almost certainly have a headphones output. You probably already have all that you need to play your electric guitar over headphones if you use a multi-effects pedal. Large multi-effects pedals, such as the Line 6 Helix, will almost certainly have the headphones output: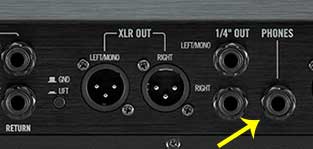 As you can see that this uses a 6.3mm (1/4′′) output; therefore, you'll require an adapter depending on your specific headphones. If your multi effects pedal has amp modeling, it will almost certainly include a headphones output. Even if it isn't labeled 'Headphones,' seek a way to connect the pedal to a mixer. This is commonly referred to as line out.
Advantages
The following are the advantages of attaching your guitar to a multi-effects pedal:
You can choose from a number of tones and settings.
More transportable than any guitar amplifier
Capable of connecting to a Personal Computer or Mac for recording
Disadvantages
The downside of attaching your guitar to a multi-effects pedal are as follows:
Not as travel friendly as some of the other solutions discussed in this article.
Not all multi effects pedals include headphone jacks.
If you do not already have a multi-effects pedal, this is an expensive choice.
If you already have a multi effects pedal, you might be able to practice or play in silence by using an output. Your pedal most likely has an output suitable for use with the headphones. However, if you don't already have a multi effects pedal, purchasing one only to play guitar with headphones is too much. One of the other ways will most likely be more suitable for you.
4: Connect a Micro Guitar Amp to Your Guitar
This is another option if you are wondering How to Play Electric Guitar with headset. Tiny battery powered guitar amps are gaining popularity among guitarists who travel or prefer to practice in peace. The main benefit of these little guitar amplifiers is that they are portable and may be used with or without headphones (depending on the model). Most tiny amps in the preceding instructions are easily connected to the headphones for silent practice.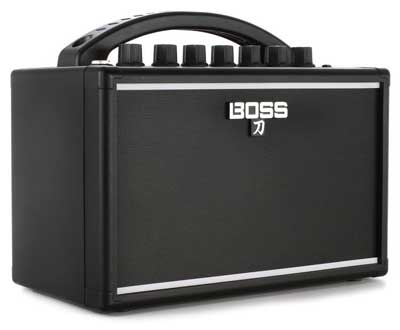 If you don't want to use the built in speaker and instead want to play with the headphones, there are a few other options to select. The VOX AmPlug 2 series is well known for providing a good guitar amp tone in a small package. Simply connect your headphones to AmPlug after plugging it into your guitar. Simple. Different models are offered to accommodate many playing styles. The AC-30 model is the most famous, but there are many models for blues, classic rock, clean, lead, bass, and metal.
Advantages
The following are the advantages of attaching your guitar to a mini guitar amp:
Very transportable
Capable of playing anywhere with or without the headphones
VOX AmPlug requires no cords or adapters.
There is no need for adapters.
To jam along with music, use aux input.
Disadvantages
The downside of attaching your guitar to a mini guitar amp are as follows:
The sound quality could be better.
Control over the guitar tones and effects is limited.
Best Electric Guitar Headphones
The good news is that the methods described above will work with wired headphones. So, if you already have a pair of headphones, you can utilize one of the ways described above to play your guitar with them.
Compatible Guitars
If you don't have any headphones, these are some of the greatest electric guitar headphones :
ATH-M50x by Audio-Technica (top choice)
Sony MDR-7506 Sennheiser HD 598SR AKG K240
The above headphones have received great marks for their quality.
There are many more excellent models to pick from, but the headphones mentioned above are a wonderful place to start.
FAQ on Electric Guitar Headphones
Can I pair my electric guitar with Bluetooth headphones?
There are no viable methods for connecting an electric guitar to Bluetooth headphones. While it is feasible to link Bluetooth headphones to your electric guitar (for example, as explained above with a smartphone and an iRig), the results are upsetting. Latency is the issue with Bluetooth. Latency is the time lag between when a signal is delivered (for example, when you pick your strings) and when it's received.
While using the Bluetooth headphones to listen to music is acceptable, using Bluetooth headphones to play guitar is a nightmare. There will likely be choices that make playing electric guitar with Bluetooth headphones completely comfortable. Still, for the time being, I don't advocate any of the possibilities.
Can I connect headphones to an amplifier?
If your guitar amp has a headphone jack, you can plug headphones into it, and it will operate normally. Some guitar amplifiers offer an Aux output that can be used with headphones. Because only some guitar amps have a headphone output, only plug in your headphones if you've followed the guidelines in this tutorial.
Can I use my electric guitar with headphones?
No. An electric guitar can't be used with headphones. It will only work if you buy an adapter to plug your headphones into the guitar's jack. You won't hear anything if you plug your headphones in your electric guitar. Before the signal reaches the headphones, the instrument requires something to magnify it. This is why, before connecting your headphones, you must connect your electric guitar to an audio interface or amp.
Are there headphone jacks on guitar amplifiers?
Some guitar amplifiers include jacks for connecting headphones. These are usually explicitly labeled as headphone jacks to minimize misunderstanding with the amp's speaker outputs. Some guitar amplifiers feature 3.5mm headphone jacks, while others have bigger 6.3mm jacks that may require an adapter to connect to your headphones, as discussed earlier in this article. Make sure to only plug headphones into jacks that are clearly labeled for headphones. Connecting a headphone to a speaker output connector might cause damage to your amplifier and headphones.
Conclusion
Our aim with this article was to lay down ways of How to Play Electric Guitar With Headset. Hopefully the above mentioned ways were helpful enough for your need and we assume now you know How to Play Electric Guitar With Headset.