Both the companies that have come up with these products are well-known for creating top-notch gaming peripherals and the headsets we'll be comparing today are both top-quality products. Yes, they may have cut some corners when developing these headsets, but only when they saw it was necessary. That being said, let's take a close peak behind what makes these two products so good.
DESIGN
Cloud Stinger
This HyperX gaming headset has a rather conservative overall look to it, which is saying the least. It features a black chassis that's accompanied by huge memory-foam earcups with a padded headband that covers a notched metal bar underneath it. You'll find almost everything that really matters on the right-side earcup. All the device's special features live here. On this side is where the power button feature, charging port feature and flexible boom mic. Although you can't retract or remove the mic, you can mute it automatically by pushing it upwards. When you do this, you'll get a polite click-sound that's there to confirm that the mic's been muted. The wireless dongle it comes with makes it PC and PlayStation 4 compatible.
Okay, the Cloud Stinger may not be one of HyperX's most attractive gaming headsets, but it has solid, smart overall aesthetic with nothing that really catches the eye. Making the boom microphone either retractable or removable would have been a nice and most-welcomed touch, though. Also, the company should've thought of giving us a dongle storage compartment seeing as how a lot of people often tend to lose or misplace that tiny attachment. Another big bummer about this particular pair of gaming headphones is that you won't have access to a 3.5mm audio feature. Yes, it's not the only affordable headset to not have this extremely useful features, but, it still puts severe limitations on what the device can generally achieve.
Recon 70
This headset has a cheap-looking red-and-black cover that helps strengthen its budget-friendly persona. Putting the slightest pressure on its bend points could easily snap, or so it seems. It matte-black earcups has a curving groove down the middle The headband has a Turtle Beach logo embossed on it. There's a red connector band above the device's earcups, and this band is held by a bigger, black-colored band that has a Turtle Beach logo as well. This comes with 3 glossy indent features on the sides. There's also another Turtle beach logo inside the earcups red interior.
That said, these headphones come in several different color schemes, each labelled by the gaming console it's to pair with. These are Red/black for the PlayStation system, green/black and green/white for the Xbox One and white/blue and black/blue for others. This pair of gaming headphones also doesn't have many controls on it you need to worry about. In fact, it only has a volume function located on the headset's left earcup. Although that same earcup also has a 3.5mm audio cable and its flip-to-mute microphone.
COMFORT
Cloud Stinger
This gaming peripheral from HyperX is incredibly light, weighing in at slightly over 9-ounces. This generally means that you can have the on for hours on end without them getting uncomfy on your head. It's incredibly supportive memory-foam earcups don't get too hot even when worn non-stop for hours. It's also relatively easy to find the exact fit you're looking for, which can be credited to notches that can only be purposefully adjusted. They rarely adjust themselves accidentally. If you're using them with glasses on, they might start to feel a bit tight at some point, but that's not something you really have to worry about too much if you won't be using them too long or you won't be using them with your glasses on as much. Though, if you're the type that can in front of the screen gaming all day long with you glasses on, then you might want to keep what we just said in mind when considering this pair of headphones. Besides that, this headphones are certainly some of the most comfortable you'll find that cost what they do.
Recon 70
This headphones' leatherette earcups are very comfy and fit well on the dome. Though the foam cushions found beneath them, in our opinion, should've been made a little softer. The headband's cushion is slightly better, although it too could've been softer. On the bright side, the headband didn't need to have notches that tell you what level you're at to make it easily adjustable. Though, for something that costs as much as this headset does, there's much worse you could've done. Bottom line, this something you can have on for hours and hours without it bothering you too much.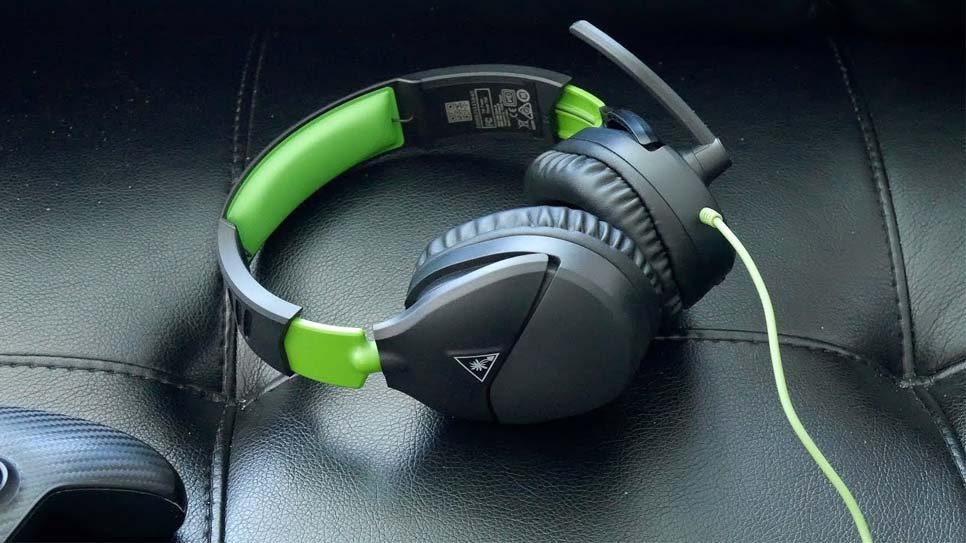 The headset weighs a modest 9.5-ounces, which means it's really not that heavy. However, as much as it's a lightweight headset, it doesn't move around on the head that much and it generally stay in one position. The mic is the only thing that makes wearing it a little uncomfortable.
PERFORMANCE
Cloud Stinger
HyperX was looking to create something that would pair well with the PS4 system when they were coming up with the Cloud Stinger. The company primarily designed this product as a PS4 peripheral, which means that it's on that console where the headset will truly shine. It does an absolutely wonderful job at balancing voice works as well as both sound and music effects. Whether you're using them to listen in on Peter and MJ's captivating back-and-forth in the Spiderman title or whether they're what you're suing to help you destroy your foes in Star Trek, this device will offer you crisp, smooth and clear sound. Its soundstage was specifically meant for gaming purposes, which means that having a stronger treble sound is what really should be expected.
With that said, the sound you can expect to get from your PC is one that'll almost be the same as what you'll get when you connect it to your gaming console. Meaning, sound on PC connection might be equally as good as the sound that's produced from a console connection. World of Warcraft, StarCraft and Destiny II all sound fabulous. Not only is the sound easy on the ears, but it gives you the ability to concentrate more on the world you're playing in.
As far as how well it does with music, all musical content you play on this pair of gaming headphones have a robust and well-rounded sound quality to them. This is a huge win considering how not many budget-friendly headsets can say they can achieve this. From Bob Marley's smooth reggae tunes to Coldplay's rock and roll sound, the Cloud Stinger won't disappoint and you can expect to get incredible audio from them. Although, as already highlighted above, they put a lot of their focus on treble sounds. This is even the case when they're being used to listen to music. Another bummer is that, even though it's an above-average listening device, the headset does not have the useful 3.5mm jack feature. This means that you can use it on mobile devices such as smartphones and tablets. So, this product can't really double up as an everyday listening device.
Recon 70
This pair of gaming headphones have decent sound and can be used to play any game without sounding bad. Though, in some games like Fortnite, you'll some sounds being a bit too sharp especially with the pickaxe which lack the bass that they should when you hit something with them. Furthermore, firing your weapons can be annoying because you'll hear a high-pitched sound that'll come through whenever you fire your shotgun or rifle. That being said, it does an excellent job at helping the user identify where enemy gunfire is coming from and you can clearly hear your enemy's footsteps as well. As much you won't get a full gunshot sound from all the weapons in your arsenal, all-around sound is quite okay.
Crash Team Racing has been remastered and it sound great on this Turtle Beach headset. Okay, you won't get as much depth from the game's upbeat soundtrack, but, it'll still pop. That said, the high-note trumpets might be a little to sharp for most people's liking. Nevetheless, there's more than enough of a punch and oomph in the overall sound effects, even during drift boost executions. You'll get roped into the action every time.
These gaming headsets, however, are at their best when being used for shooters, like most other Turtle Beach peripherals. When you have them on during a session of Call of Duty, rounds will really pop and all the explosions will boom like you've never heard them pop and boom before. The audio get when use to play such titles is so crystal clear.
When it comes to how well it does with music, truth is, it's average at best. But, for a gaming headset that so affordably priced, that's kind of okay, don't you think? At least you're able to play your music as loud as you want. Acoustic guitars have a vibrant enough sound and the voice work sound very clear. But, some high notes have a shrill sound in certain tracks and sometimes choruses even tend to sound a little distorted. Both this combined can help make your favorite song sound like noise. Though, you mostly get this feeling when you're using the device to listen to crushing hard rock songs. There's no depth to heavy bass sounds too, meaning even light drumbeats won't really have any impact so to speak of. Fortunately, voice work is decently clear, though it lacks that brightness that'd make it stand out.
FEATURES
Cloud Stinger
The Cloud Stinger from HypeX has fantastic close-range wireless connectivity. Although, this connectivity will start having lapses when the device gets around twenty-feet away from its connection. That said, there aren't many gamers out there that'll be straying ten feet, or more, from the system when they're gaming. Though, that doesn't mean that there aren't wireless gaming headsets out there that can work fine even when taken over thirty-feet away from the system being used. HyperX's Cloud Stinger is still not match for some other wireless headsets is what this means, even though it can't be considered useless in that department. The connectivity it has is powerful enough and that's what matters.
You should able to use the headset non-stop for around 19 hours after you've charged it fully once, or at least that's what the company claims. That being, this is one of the things that can be accurately measured as of now. The LED display beside the power button lights up in different colors show where the battery's power level is at. However, battery percentages would've been appreciated more in our opinion. When you use the headphones for about four to five hours, the battery drains by like 27% or so, which means that the company wasn't lying with its claims.
The one major flaw the device has in this department is that it doesn't give you access to customization options. This isn't something gamers want to hear these days. Not having software that'll allow gamers to create their own audio profiles is a big no-no, let alone not having surround sound options and equalization leveling as well. Yes, it has an above-average sound stage, that's all users should expect to get really.
Recon 70
This headset has an awesome sounding microphone when being used casually. But, if you tend to shout to your teammates during gaming sessions trying to them where to fire , then you'll need to keep in mind that the audio peaks slightly and can get a tad bit distorted meaning that whoever you're screaming will end up not hearing you clearly. Additionally, the mic sometimes picks up background noises. In fact, if there's some commotion or people are just talking a few feet away from where you are, then for sure your microphone will catch all that noise and everyone on the other end that's tuned in to you will hear all this noise too.
Anyway, if you're someone that's really not expecting too much from a gaming headset then there are so many things that this Turtle Beach device will still pleasantly surprise you with. You may not have access to surround sound, or 'fancy' things like that but its drivers do a fabulous job of efficiently translating what's happening, be it during gameplay or when you're just chatting. And this it achieves with a huge sense of space.
VERDICT
HyperX's Cloud Stinger has generally left a lot on the table. There are so many things you won't find on this budget gaming headset that you'll find on other budget peripherals. With this headphones, you'll have to be okay with not having a chat mixer, customization options as well as 3.5mm sound feature. But, we also know that not all gamers want these things in the first place. If you happen to be like those gamers, then this is definitely a headset you should check out because it might just be all you need. Not only is it incredibly comfy, but it has outstanding sound as well. It's not too bad for something that's this reasonably priced.
If you're looking to save hella cash, then you definitely can consider the Turtle Beach gaming headsets. It's true, less can be more in some cases. If you can get a decent pair of gaming headphones without maxing out your credit card, then it's worth a shot, no? Yes, it's not what the hardcore Esports gamer will be desperately looking for, however, if all you're looking for is something that can provide you with some decent audio on a budget while you play, then this is it. That being said, it certainly isn't better than the HyperX, but it's not half bad.