Sonos has also been making a huge impact in this space for quite a while now, and it's equally done a great job in its tenure. The multi-room speaker units they've given the world so far have been both easy to setup and integrate as well as have brilliant sound capabilities. The first Play 5 speaker came out slightly over a decade ago and it was the first Sonos that had plug-and-play functionality. Many other manufacturers have followed suit, so to try and stay on top Sonos decided to revamp their flagship installment and added certain software updates for Apple's iOS such as AirPlay and Trueplay. 
DESIGN
KEF LSX
This device comes in five different color schemes, which include black, blue, maroon, olive and gloss white. Meaning it should to seamlessly fit into any décor style you have in your space. If you're looking to add some color to the living room, consider going with the maroon one. However, if you're just looking for something simple and plain then the gloss white speaker should do the trick. It's perfect if you're a minimalist. Industrial fabric is what's wrapped around the sides, and they have color-changing LED features to indicate subtly what sound source you're using at the moment.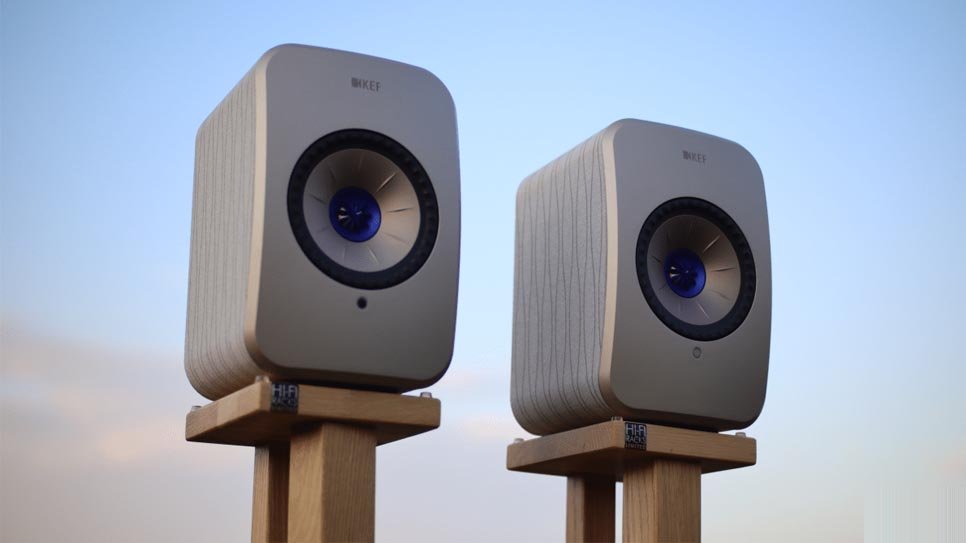 The master speaker has a TOSLINK optical feature on its back (which is useful when connecting it to the TC screen), Ethernet and an AUX port. There's also a woofer output back there as well which you can use in case you want to boost bass sound. All the speakers have AC output function which can be used to connect to an outlet of the mains. The main selling point, however, is how compact these LSX speakers happen to be. They're actually astonishingly tiny considering how much power they have behind them. Also, you can ditch the cables if you want, meaning less clutter in the living room and more space to put other things. They really don't take up much space at all, just place them on a bookshelf or kitchen island and you are good to go.
Sonos Play 5
The new and improved Play 5 speaker has been completely redesigned. In fact, it's really Play 5 by name only. Sonos has reengineered everything that's both above and under the hood of this device. Yes, it kind of has a similar lozenge outward appearance to the previous Play 5 installment, but the edges have been made rounder and the flat foot feature that was there on the original device has been done away with, and has been replaced with some tiny legs. On the sides and below the device you'll find the leg rests, meaning that the device can be used both vertically as well as horizontally. There's a sensor inside that determines the orientation it's been set at and quickly adjusts both audio and control accordingly. Also, two separate Play 5 units can be paired together to provide users with stereo separation. Okay, this will require you to cough up something extra for this privilege but it's totally worth it if a complete upgrade of sound is what you're looking for.
There are also no buttons at the top of the speaker as well. Sonos engineers and designers though touch controls might be better. Although, even though they decided to place the Sonos logo in at the top-middle part of the speaker, it doesn't interfere with the system's acoustics. How you ask? Well, the company made the logo 'acoustically transparent'. Though, credit can also be given to its eight-hundred holes that the company lasered into the unit's external material. And that's even without the 60,000 holes the grilles already have. The Sonos logo also acts as the touch pad's central point. You can now use this to quickly skip through tracks, something that can't be done by most other Sonos speaker units.
The chassis come in either a white or black color scheme, though the grilles stay black in whichever color format you choose. As far as the device's appearance is concerned, the Play 5 has shown why less can sometimes be more. The chassis only has things that are necessary, and nothing more. It's minimalist, sleek overall design allows it to seamlessly fit into literally any home entertainment setup.
PERFORMANCE
KEF LSX
In short, these KEF speaker unit sound absolutely fantastic, with 4 Class-D amps (one to power each driver) which help give rise to high-end digital signals of up to around 96kHz/24-bit. To get these high resolution signals, you'll need to connect an Ethernet cord between the 2 speakers. You'll get a sample rate of only about 48kHz/24-bit if you connect the speakers wirelessly. When you use an Ethernet cord you enhance the audio considerably, however, they still have very high sound quality even if you just use wireless connectivity. Though, you also have the option of using optical and AUX connections if you want as well.
It's amazing how beautifully vocals and music instruments come across. The speakers provide you with warm analog audio that makes you feel like the musician is performing right there in your living room space. This is in large part due to distortion reduction and phase correction, which is what helps make the speakers' audio sound so crystal clear. Its subby, dark bass profiles sound wonderful, while the treble frequencies it provides are sparkly and super crisp. Coldplay's 'Paradise' is separated very well between different frequencies, which is really quite impressive. Its roomy soundscape also makes sure that bass sound does not bleed into the midranges.
Analog instruments and synths both sound fantastic, with trebly sine waves that soar gloriously above the soundscape while organ-like keys can be heard below in the song 'Kunta Kinte' by Kendrick Lamar. These KEF speaker units will expose you to harmonic music elements you've probably never heard before when using low quality speakers to listen to music. Although, it isn't all about rock and hip hop music. Thrashing drums, meandering bass lines and electric guitars all sound wonderful, while 'Riverside's, by Agnes Obel, folk-inspired vocals blend together with the right amount of separation which helps make it possible for users to pick out individual harmonies.
Play 5
You're going to get really great sound when you go the Play 5 route. In fact, there not many Sonos speaker units out there that can beat it in this department. It's a really powerful device, in large part due to its sound reproduction. On lower levels, songs like 'Lower dart' (Bug) really shows what this speaker can do. Dancehall and reggae bass provide also reverberate well, and often don't have any sludge disturbing it. Sealing the speaker was a good decision on Sonos' part because this improves how it handles bass profiles. Playing 'Kunta Kinte' (Kendrick Lamar) will also show you how great the speaker sounds when on max volume, which the speaker does very well because its three midranges.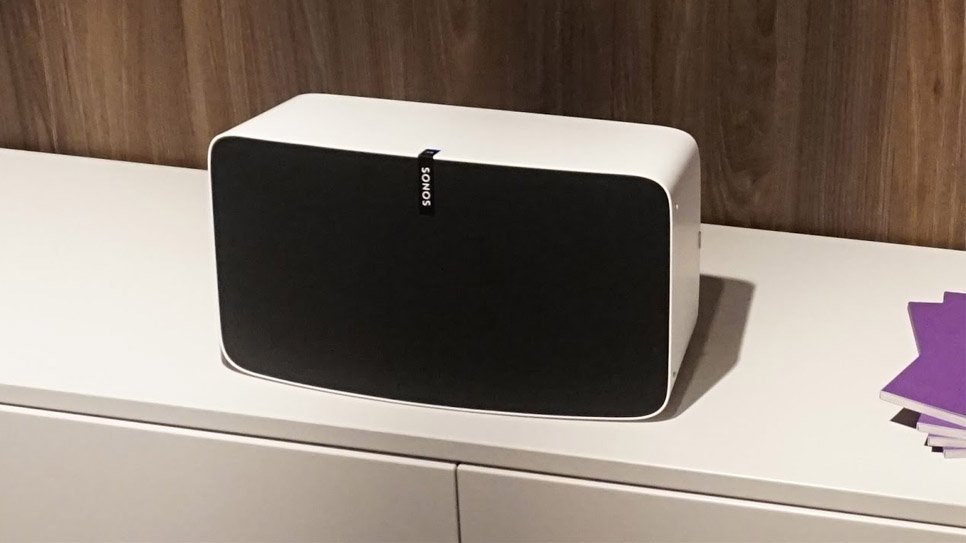 Midranges and high-ranges can be tested with songs like 'Currents' by Tala Impala. It doesn't disappoint on this part as well. The myriad of instruments that help make this song never have a muddled feel. It's a small speaker that provides very clear audio and a wide soundstage, which is unlike smart speakers of this size. Hardcore audiophiles may not be all in just yet, though. Currently Sonos doesn't offer more than 44.1kHz/16-bit sound. The device isn't high-res compatible and Sonos doesn't look it'll change anything just yet. You also won't be able to use Apple Music on this device too juts yet.
The Sonos application will give you access to Google Play, Tidal, spotify as well as other a few other streaming services, though the company needs to think of upgrading its app. The app can be a tad bit confusing sometimes and the queue up feature can be a little complicated. Also, some services look a bit weird on the app and they don't look so good. Spotify Connect is arguably one of the most popular streaming services on the planet, so Sonos really needs to start concentrating on coming up with UI upgrades to deal with all this.
FEATURES
KEF LSX
Setting up the KEF LSX speaker unit is pretty painless. All you'll be required to do is go to the KEF control application (which is free) and follow the instructions to set up either your AUX, optical Bluetooth or Wi-Fi connection, and then you are good to go. EQ settings can also be adjusted within the application, which is nice touch. The speaker unit supports both Tidal Music and Spotify Connect. Though, of course, you can also play music from other streaming platforms using the device's Bluetooth connectivity. This KEF device also supports AirPlay 2 from Apple. This program will enable you to use multiple speaker units and also allows for Siri integration.
The only minor issue in this department is takes a long time to adjust volume using the speaker's remote control, because when you press a button volume adds by extremely tiny increments. Still, for such great sound quality, it's something that most people can live with.
Sonos Play 5
There are a lot of things the company has changed and simplified at both the front and back of the device. For starters, at the back there's now only a single button feature meant to allow users to sync the unit with other speakers in an already existing networks, a 3.5mm port as well as an Ethernet cable port. This new sync button function they've added helps make setup a whole lot easier, although, there's kind of a caveat to this. If the Sonos network you're using runs on Wi-Fi alone, and no one speaker using an Ethernet cable, then you'll have tether the Play 5 to and Ethernet cable when setting it up for the first time. You can't help but notice the device's plug itself as you replug and unplug it all the time. So, designers and engineers at Sonos ensured they make one that looks absolutely fantastic. Furthermore, the way the company sealed the device's lead inside the unit itself compliments the unit's minimal look brilliantly. It might be just a tiny little detail so to speak, but when a company has taken their time to even meticulously craft a plug, then you know everything else must be great.
The original Play 5 had a pair of Ethernet ports, however, Sonos decided to give this new version only one. You also won't find the optical-in feature that's there on its Playbar soundbar. Below the grille, things have also changed quite a lot. Rather than having a pair of subs, the unit now has three ten-centimeter drivers that are there to power the speaker's mids. There are also two twenty-millimeter tweeters as well as one twenty-two-millimeter tweeter that backs up these mids. When it comes to sheer power, there might not be another Sonos multi-room speaker that can beat this new Play 5 unit. Sonos took all the things that made its Play 1 installment so special and unpgraded everything accordingly to come up with what we have today.
All this is encased in a sealed acoustic enclosure, which, again, is great improvement from its predecessor, the original Play 5, which was vented. While Sonos has now needed to come up with innovative solutions as far as ventilation is concerned, doing has helped them upgrade and improve both clarity of the speaker as well as bass sound. All this while ensuring there's no extraneous sounds that sip in.
VERDICT
There's no doubt that this KEF speaker unit sounds absolutely incredible. Separation between frequencies is wonderful, and it has an extremely well-balanced overall sound, with frequencies working together in harmony. Considering how small these speakers are, they do extremely well in the sub-bass department, although they can be connected to a separate sub if you feel like you need a bit more bass. However, where these speakers truly shine is in analog sound; acoustic guitars, pianos and vocals are given a lot of warmth without sacrificing on clarity. This is largely due to the speakers' brilliant distortion reduction and phase correction capabilities.
But, despite all this there's still one major downside we just can't overlook. How much the speakers cost. Truth is, you'll have to be willing to really break the bank if you want to get your hands on this sound unit. In fact, the price alone is what probably put you off at first. Furthermore, the lack of voice assistant integration doesn't help this unit's case either considering other high-end speakers have this. That said, if you can overlook these tow downfalls then maybe this sound unit might just be for you.
The Sonos Play 5 is another outstanding release by this audio-manufacturer.  Not only does it have a simple and gorgeous outward appearance but it also has great sound quality. In fact, it's quite a surprise something so small can produce such overpowering sound. Although, maybe the software updates overshadow the product a bit. That being said, Trueplay is still a wonderful software that has the ability of transforming how the speaker sound in the room you place it in. Which, even if you don't by this new Play 5, you still might want to strongly consider using this program on other Sonos speakers.
All in all, when it comes to which unit is better between the two we really can't say for sure. In this scenario, it all depends on what you want your speakers to do for you.