INTRODUCTION
Kingston HyperX Alloy Origins
The HyperX Alloy Origins keyboard isn't really one of the best gaming keyboards available. It lacks a few features that have become a standard with most of their competitors, such as a wrist rest and discrete media keys. Furthermore, the software it uses is a bit technical and its key switches are slightly inferior to the Cherry MXs HyperX previously used.
Razer Blackwidow 2019
The Razer Blackwidow keyboard, unfortunately, is also kind of a pretty tough sell as well. This Blackwidow revision does well in introducing some new and interesting functions, however, it still doesn't quite match up to what its competition offers. Seeing as how these two gaming keyboards may be considered second-tier products in both their respects, it's only right we take a closer look at which one of them would come out on top in a head-to-head.
DESIGN
Kingston HyperX Alloy Origins
The Alloy Origins has a compact, understated design and one of the more elegant, sleeker gaming keyboards you're bound to find out there. Whether you want it for your family desktop, office desk or, of course, as a gaming nook, it works equally just fine. It measures in at 17.4×5.2×1.4 inches which allows it to be able to blend in nicely into almost any scenario. Additionally, keys can be customized with different kinds of pleasing RGB patterns to help make it blend in even more. All in all, the Alloy Origins is basically your ordinary full-size gaming keyboard with two main features that stand out.
The first most noticeable feature about the HyperX is the 3 function keys that allow the user to switch through different onboard profiles. It's quite common these days to find gaming keyboards with onboard profiles, but, being able to activate them via a dedicated button feature is quite impressive. The second great thing about the Alloy Origins is that it has a tiny LED screen on the upper right corner that is designed to help you keep tabs on Num Lock, Caps lock and Game Mode, which shuts down certain keys during gaming. This feature is both functional and attractive, a very deadly combo. In fact, more keyboards may even want to borrow a lead from this.
Razer Blackwidow 2019
The Razer Blackwidow, on first impression, looks like your pretty standard gaming keyboard. It;s manufactured using tough-textured plastic material instead of the aluminum materials that other manufacturers offer (although some brands release bare-bone skeleton designs, such as Corsair). Even the Alienware AW768's faux aluminum finish would not have gone amiss in this situation. Anyway, this textured plastic feel is a little jagged and certainly not 'premium'.
The lock lights are located under the nave keys and are less prominent and considerably smaller than one would expect, especially when juxtaposed with the colors and brightness of the backlighting of the Blackwidow. Maybe they'd have looked better paired with different colored backlights on individual keys, as you'd find on other gaming keyboards. The key caps feel comfortable under the fingers, although, the caps start to show a lot of 'shine' just after a month or so. Unfortunately, though, this gaming keyboard doesn't have any dedicated multimedia keys nor does it have any additional macro keys, two features that have become almost a must-have these days.
FEATURES
Kingston HyperX Alloy Origins
HyperX's NGenuity software is what powers the Alloy Origins keyboard. However, it's still in the beta state. (It can only be downloaded via Windows Store, which is also another pain) There;s still a lot of work that the software has to go through, especially as far as creating game-specific profiles is concerned. The NGenuity, is generally a software of limited capabilities and the few things one can do with it is tweak RGB lighting settings and assign those settings to individual applications and games. You can't reprogram keys and you can't program macros, making it a below-average software, as harsh as that may sound.
The one glaring upside when it comes to the features on the Alloy Origins is its detachable USB-C cord. Full-size gaming keyboards rarely have detachable cords, and even rarer still is finding USB-C technology on them. Okay, this might not have so much practical effect at the moment but it's great that the guys at HyperX are looking to the future. Oh, and another great thing is that you can switch out keycaps for other different HyperX-branded products. Keep in mind, this is purely for aesthetic reasons, however, if you have $25 to spare and would like a different color scheme, it's nice knowing you have that option available.
Razer Blackwidow 2019
Razer's Synapse III software is what powers the Blackwidow 2019 keyboard and even though it doesn't have dedicated macro keys, it gives you the ability to customize almost all the keyboard's keys. It also has something called Hypershift which is a customization feature that allows you to customize many secondary hotkeys. Hypershift, plus standard key mapping allows users to map secondary actions to keys pressed with function keys. It is a neat little trick that gives the user plenty of extra tools to mess about with, and give folks that aren't so much for the idea of reorganizing keys because they fear losing track of them a chance to start programming hotkeys and macros without moving far from the standard layout they're used to.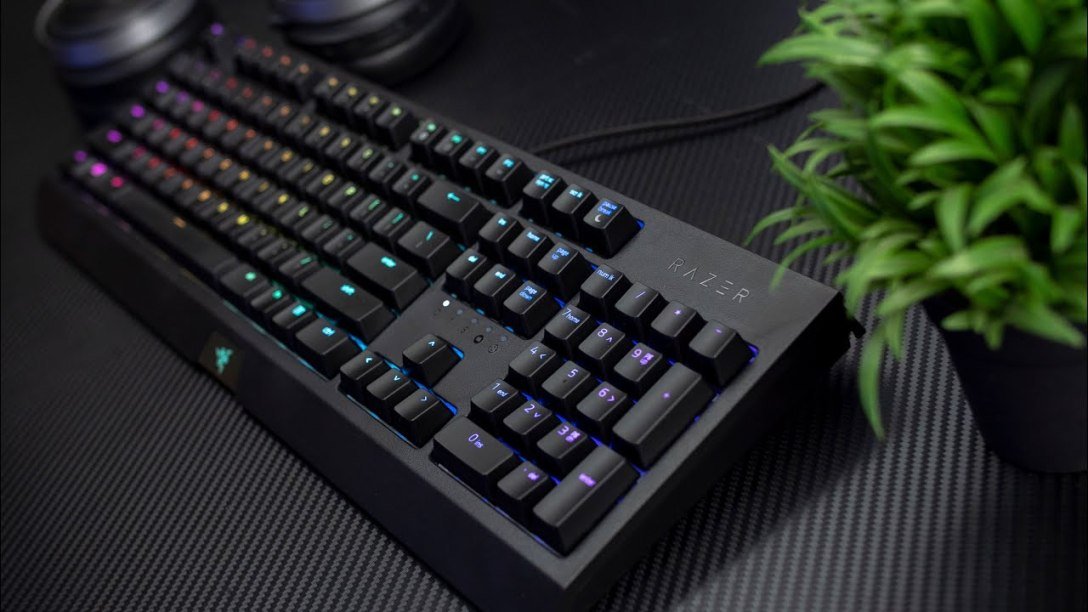 A lighting focus sub-application inside Synapse III called Chroma Studios allows users to customize RGB lighting for individual keys, including pattern, timing and color. Game lighting has slowly become somewhat of a cliche, however, if it's something you like having, there's still no one that does it better than Razer. Anyway, as much as it comes in a simple well-composed package, you can't help but feel something is missing when you start using it. And, sadly, there is something that's actually missing. Discrete media controls. Okay, at first glance you may not think so much into this but once you start using the device is when you fast realize how useful controlling the volume via a volume roller is.
KEYS
Kingston HyperX Alloy Origins
Probably one of the reasons why the HyperX Alloy gaming keyboard doesn't cost as much as most of its competitors do is because it lacks authentic Cherry MX switches. Instead, HyperX has gone with three in-house models, namely; HyperX Blue, HyperX Aqua and HyperX Red. The red switches are linear and quiet, the Aqua switches are tactile and quiet, and the Blue switches are tactile and clicky. The Reds are the ones that feely slightly comparable to Cherry MX switches. They're quiet enough for the office setup and provided enough resistance for satisfying key presses.
Razer Blackwidow 2019
Razer has placed their very own green switches inside the Blackwidow 2019 keyboard. They provide a tactile, clicky sound, but its actuation force is much lighter than what you'll find with the Cherry MX blue switches, which come in at just around 50cN. Light and normal linear switches usually produce a force of around 45cN. Tactile green switches that have a bit of a heavier force, but aren't that noticeable, is a very bold move. Razer going in-house with their switches, and abandoning former partners Kalih, seems not to have been such a terrible idea because their product looks to be better for it. The switches feel okay for typing and the blend of a light actuation force and a tactile click makes for a fantastic combination.
The most glaring issue the Blackwidow switches have is that they might be just a tad bit too loud. As with most loud clicky switches, you might want to have to think about where you plan to use the keyboard. You're sure to get complaints from co-workers if you're using a keyboard that has loud clicky switches in the office. So, what we're saying here is that the Blackwidow won't work so well in an office setup. If you have an office all to yourself, that's another thing, you can go ahead, but this gaming keyboard generally should not be used in open spaces.
PERFORMANCE
Kingston HyperX Alloy Origins
The Alloy Origins keyboard can handle games such as Final Fantasy XIV, Thonebreaker, StarCraft: Remastered and Overwatch very well. This gaming keyboard deftly handles all the popular titles, providing precise, responsive keystrokes for everything from the demanding skill rotations required in massively multiplayer online games to fast-paced FPS action. We have to remind you, though, that the software on this device doesn't support macros, so keep that mind when considering particularly high-level MMO gameplay.
Razer Blackwidow 2019
When playing games like Tomb Raider or Hitman, the Blackwidow 2019 gaming keyboard feels pretty responsive, and most gamers are sure to greatly appreciate the full n-key rollover feature when taking out targets with Hitman's Agent 47 or when scrambling up ravines with the timeless Lara Croft in Tomb Raider. In driving games, such as Dirt Rally and the like, despite the fact that its a gaming keyboard, the Blackwidow 2019 was up for the task and whilst it won't rival the racing wheel or gamepad experience, it feels really good.
One great thing about the Blackwidow is that it creates a force feedback feeling when you're driving on different terrains. Driving down twisty Monte Carlo roads in a Mini Countryman feels very different from driving through Finland in an Audi Quattro. It's really nice when gamers can feel these differences and not be forced to imagine for themselves how the road surfaces would feel. Someone that has used racing wheels for a while knows to expect a few teething issues with most hardware transitions, however, this one is way easier than what most would expect.
VERDICT
The fact that the HyperX Alloy Origins doesn't use Cherry MX keys might sting a little, however, the green switches that HyperX manufactured in-house and used as a replacement are totally worthwhile. And its reduced price is something of a blessing, since it's basically near impossible to get a brand-new mechanical RGB gaming keyboard for this price-tag. Yes, the software it runs still needs a lot more work, and discrete multimedia keys would've been a wonderful addition, however, when it comes to an overall point of view it's hard to find fault in what this gaming keyboard provides. If you're working with limited desk space, then the Alloy Origins is what you should mostly be focussing on.
On the other hand, like was mentioned earlier in the article, the Razer Blackwidow is nowhere near a much easier sell. Yes, this 2019 edition is a nice enough compromise for the gamers that are budget-friendly providing them with top-notch fundamentals, however, it sacrifices a couple of quality-to-life features, like dedicated multimedia functions and programmable macro keys. Most people have come to expect this with top-quality gaming keyboards these days. Furthermore, the bright colors, flashy lights and loud, clicky switches don't allow Razer to escape the fact that they really undersold with this particular product.
With that said, one of the two has to come out on top, and it looks like this round it goes to the Kingston HyperX Alloy Origins. If you have to choose between the two then this one is what you should go for.