INTRODUCTION
HyperX Alloy Origin
When HyperX first got into the gaming peripheral realm, they clearly knew what they were in the game to provide. They wanted to give gamers good-quality headsets. But, over the years the company has slowly started trying to take over the gaming keyboard and mice world, and they don't seem too far from reaching their goal. They one concerning thing is that their products seem to be getting pricier as the years slowly roll by. In fact, a lot of them nowadays have considerably hefty price tags. One of the products in this category is the one that we're talking about the Kingston HyperX. This full-body mechanical keyboard has mechanical switches that feel comfortable under the fingers, a sturdy chassis and RGB illumination properties.
Alienware AW768 Pro
The AW768 Pro device is a flagship mechanical keyboard from Alienware designed to take on products from Corsair, Logitech and HyperX themselves. It may still have a long way to go but right now they aren't doing too bad. This particular device comes highly-rated and still has plenty to live up to. Moreover, at slightly over ninety bucks, it doesn't come cheap. Knowing all this so far, do you think it's still worth it. Anyway, let's not be hasty with the decision making and take a closer look at what it has to offer.
DESIGN
HyperX Alloy Origins
Whether you want te Origins board for productivity, like volume typing and the like, or gaming, you can rest easy and know that it'll good both in an office setup and gaming situation. This is largely because it's one of those keyboards that are small, compact and generally understated. The Origins board is a sleek and elegant gaming product with black colored chassis made of aluminum material. It won't take up too much space wherever you chose to put it. It's around 17.5×5.2×1.4 inches in size and will seamlessly fit into almost any situation you put in.
It's basically your standard full-body mechanical keyboard. However, there are a few things that make it different from most of the others on the market. For starters, it has 3 function key features that are designed to help you toggle through in-built presets. Whether this interesting feature is something you'll find useful depends on how you're going to be using the device and whether it's going to be linked to many computers. If the device is going to attach to several different computers, then dedicated button functions that help users trigger the in-built profile settings are much appreciated
The other thing that helps make it different from most other mechanical gaming keyboards is its small LED screen plastered on the top-right designed to help you keep tabs on the Num Lock, Caps Lock and Game Mode functions. Not only is it quite an attractive feature it's a functional one as well. In fact, it's a wonder why not many other mechanical gaming keyboards are jumping on the bandwagon.
Alienware AW768 Pro
At first glance, the Alienware AW768 keyboard device looks a lot like most of the many other mechanical keyboard products on the market. It has an aluminum-like outer casing with a black and grey overall color. But, there's still a lot that's not what it seems at first. In fact, the outer casing is made from plastic and not aluminum material. It's because of this the keyboard itself is so light. The key switches feel just like how any standard mechanical key switch would feel under the fingers, however, the considerably large volume roller feature feels somewhat tacky and a little cheap.
Whereas some volume rollers' pushing force is what dictates the magnitude of volume increase/decrease, the Alienware AW768's roller looks more like a mouse scroll wheel than it does a regular volume roller. Also, the mute button function is manufactured using hard plastic material and needs you to use more force to activate than the board's actual keys. Lastly, there's also a lot of flex in the keyboard's plastic outer casing, which is something keyboards that cost this much usually don't have.
KEYS
HyperX Alloy Origins
Why you'll have to break the bank if you want to get this keyboard product is because it uses HyperX mechanical switches. Okay, yes they aren't as good as the Cherry MXs but they get the job done really well. These keys switch products include HyperX Aqua, HyperX Red and HyperX Blue. Linear and quite properties you get from the Reds, quiet and tactile you get from the Aquas and clicky and tactile you get from the Blues. The Red switches are the ones that feel a bit similar to the famed Cherry MX switch. They're resistant enough to provide users with satisfying presses and they don't produce a lot of noise which means they'll do just fine in office environments. Also, the travel and actuation force they have is technically slightly less than what you'll find on Cherry MX Reds themselves.
Alienware AW768 Pro
The AW768 keyboard uses clear-housed Kalih Brown mechanical key switches. Their total travel measures at 4mm while the actuation point coming it at 2mm. These Kalih Brown switches have a way cheaper feel than their Cherry MX counterparts and have an actuation force of 45cN which is 10cN less than what you'd get on your standard Cherry MX key switch. The Kalih Browns generally provide their users with more of a light and lackluster overall experience. Furthermore, that tactile bump you'd expect from Brown switches is less noticeable on the Kalih Browns. In fact, some might even feel a bit short-changed if they go this route considering how much the whole board itself costs.
FEATURES
HyperX Alloy Origins
The NGenuity software by HyperX, which is still kind of in the beta state, is what drives the Alloy Origins keyboard device. Unfortunately, though, there's still plenty HyperX need to do to improve this program of theirs, especially when it comes to creating specific profiles for certain game titles. Truth is, there's not a lot you can do with this program. The most interesting thing it allows you to do change illumination profiles and then links these said customized profiles to different apps and game titles. It doesn't allow one to restructure all the keys nor can you create macro key functions with it. This is why many people in the industry consider it fairly-bare boned and something that can't really compete with most of the other software products out there.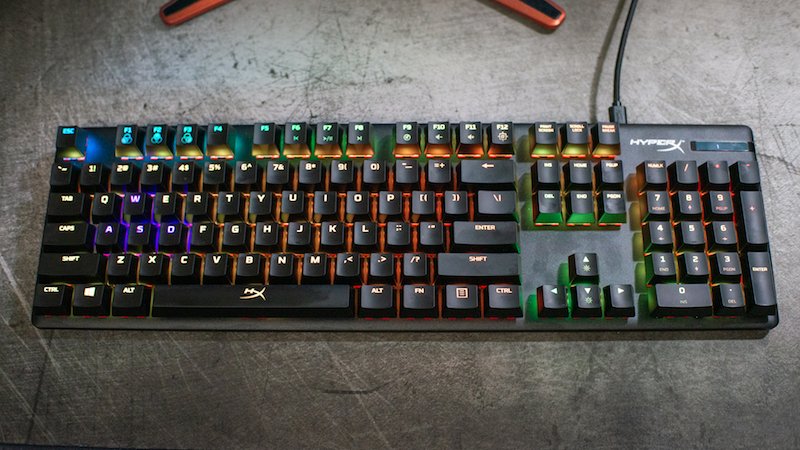 Another major downside involving the software is that it's generally complex in nature and setting up the lighting profiles themselves isn't as straightforward as one would expect. If all your looking to do is program solid color patterns, that shouldn't give you too much of a problem to do. However, on the other hand, you might encounter some issues when it comes to creating special effects and/or color zones. Rather than have to pick a handful of keys out of the entire bunch, you'll need to layer effects and assign them individual keys. All in all, it's definitely more complicated and much less efficient than, ay, the Synapse from Razer and the G Hub from Logitech.
Alienware AW768 Pro
The Alienware AW768 keyboard, much like with a lot of its rivals, has 16-million color RGB illumination that shines bright right through the keys thanks to the big LED presents that sit on top of the key switch housing. Although, what's a little confusing is that it has clear-housed Kalih Browns. Why this is confusing is because it's a bit strange having a massive LED properties when you could've concentrated more on consistent lighting strength with switches that have been fully RGB'ed instead.
Anyway, the Command Center is what you'll mainly use to ensure the board's 16-million color lighting does its thing. It has a Spectrum lighting setting that'll immediately activate when running for the first time and this is how the various colors will be showcased. There are fifteen different backlighting profile settings in Alienware's Command Center software. It'll allow you to scroll through the different color variations until you land on what best suits you. It also contains 256K onboard memory capacity which can be used to store the user's backlighting preferences. A combination of the Fn plus F3 keys is something they can use to flick through these said profiles.
PERFORMANCE
HyperX Alloy Origins
As much as the Alloy Origins keyboard has onboard profile settings, they don't work seamlessly. Even if you get certain apps, games and programs to recognize the presets when they're launched when you switch it off and then on again the default preset won't come back. HyperX'sNGenuity program needs to be polished up a bit more and is still a slightly arcane product. When it comes to gaming performances, you can be sure it'll handle titles such as Overwatch, Tomb Raider, For Honor and Final Fantasy with relative ease. It won't give you any issues running most of the popular game genres out there. It provides you with accurate and responsive key presses and players of fast-paced FPS titles and those that play MMO games with demanding skill rotations will really appreciate this about them.
Alienware AW768 Pro
As far as the gaming performance you can expect to get out of the AW768 Pro, the Kalih Brown's tactile overall nature can be hard to feel during heated sessions of Counter-Strike: Global Offensive. In fact, in some instances, they feel more linear rather than tactile, which is what you'd expect to get from their Cherry MX Red counterparts. Additionally, the keystroke inconsistency of the Kalih Browns will be a difficult adjustment for those of you that are used to the Cherry MX Brown experience.
The programmable macros key functions are a bonus and the company claims that they are about fifteen of these. The software that helps bind the macro key functions is both intuitive and simple which is a big plus.
VERDICT
Okay, if you're looking to get your hands on a board that uses Cherry MX switches, then both the Alloy Origins and Alienware AW768 keyboards might not interest you that much. That being said the HyperX keys on the Origins and the Kalih Browns on the AW768 aren't too far off. They're still mechanical key switches that happen to be way above-average and are totally worth the risk. Anyway, Alienware has really tried with their flagship model but, the truth is, it still can't match what's offered by their rivals. There's still a lot they need to learn in the keyboard manufacturing world. For its price, you're really better off going the Alloy Origins route. So, what you waiting for. Go get your this keyboard device today.