Let's dive into a close comparison between Logitech G430 vs G335 and find out which one is the best.
DESIGN AND BUILT
Logitech G430
The Logitech G430 has same appearance and feel as the majority of Logitech gaming headphones. They have a wide headband and huge square-ish ear cups. They also stick out more than the standard headphones because of the slightly bright colour accents. Unfortunately, these will not be the most outdoor-friendly headphones because they are relatively heavy and the mic cannot be detached.
The Logitech G430 headphones are lightweight and comfortable, although they are a little too snug on the head. Their ear cups are very roomy and large enough to comfortably fit around the ears of most listeners. The headband and earcups are well padded, albeit the padding material does not feel as good against the skin as some of the other headphones we've tested. The Logitech G430 has a great metal frame that makes the headband reasonably sturdy, but the rest of the build quality is poor. The joints, in particular, don't feel very strong, and while the ear cups are dense enough to withstand a few accidental drops without being harmed, the whole construction is creaking and feels a little fragile. Furthermore, the wire is thin, non-detachable, and non-replaceable.
Logitech G335
The Logitech G335 Headset resembles the Logitech G733 LIGHTSPEED Wireless in appearance, with a slightly swept-back ski-band headband and pointy ear cups. If you don't like the monochrome appearance of the 'Black' colour option, the 'White' and 'Mint' colour variants have contrast-color padding. Logitech even sells different elastic headbands and microphone covers to give your headphones a personal touch. The Logitech G335 headphones are really comfortable.
Their stretchy headband distributes their weight well, despite the fact that they aren't particularly heavy to begin with. The ear cup cushioning is very comfortable against your head's sides. Unfortunately, even when fully extended, the elastic headband may feel a little restrictive for people with large heads. The ear cups also have a limited range of motion.
The Logitech G335 appears to be well-made. They're mostly constructed of shiny and matte-finish plastic, with cloth-lined ear cup padding and a comfortable elastic headband. They feel more robust than the Logitech G435 LIGHTSPEED Wireless, yet the ear cup hinges and yokes may break if you apply too much strain. Their audio cord is also not removable, so you can't just replace it if it becomes damaged. These headphones do not have an IP classification for dust or water protection, which we do not currently test for.
CONTROL
Logitech G430
These headphones offer a simple button structure that only allows you to regulate the volume and switch off the microphone. This control mechanism is simple and responsive, but it lacks enough versatility to make the G430 a versatile headset. These are moderately breathable over-ear closed-back headphones.
The earcups' porous cushions allow for some air flow, which keeps the outer ear relatively cool. However, because they form a reasonably effective seal around your ears, they will cause you to sweat slightly more than usual if you use these headphones while engaging in severe physical activity.
Logitech G335
The Logitech G335 Headset offers a rather limited control layout that is geared toward gaming. On the left ear cup, there is a volume adjustment wheel with minimum and maximum increments. You may mute the boom microphone by flipping it up, and a clicking noise should indicate if it's been muted or unmuted. There are no controls for the music playback or channel mixing, which is unfortunate.
TRAVEL PORTABILITY
Logitech G430
The Logitech G430, like other gaming headphones, is not particularly portable. They're enormous and unwieldy, with large ear cups that only lay flat and don't fold into a smaller package. They're difficult to transport if you don't have a bag or a backpack, and they don't come with a case or pouch, which is a little disappointing. There is no case or pouch included with these headphones.
Logitech G335
The Logitech G335 isn't as portable as other gaming headphones. They're rather large, and you can't swivel their ear cups to make them lie flat or fold in their headband to make them smaller. There is no case or pouch included with these headphones.
STABILITY
Logitech G430
The headphones are just stable enough for casual use and are not suitable for running or working out. They're a little snug on the head, so they don't move much whether you're gaming or walking around. However, because they are not designed for sports, they are a bit bulky and will easily sway and potentially fall off your head if used while participating in physical activities. The wire is also not detachable, so if it gets caught on something, it will yank the headphones off your head.
Logitech G335
The Logitech G335 are sufficiently stable for its intended use. They should not fall off if you wear them while gaming, but any strong head movements can cause them to loosen or fall off. If you wear them while moving, their non-detachable audio wire may snag on things.
SOUND
Logitech G430
The frequency response consistency performance of the Logitech G430 is average. These headphones have consistency concerns throughout the range, particularly in the bass. At 20Hz, the greatest deviation detected across our five human volunteers was approximately 9dB, which is noticeable. We also discovered that some types of glasses could break the seal on these headphones, resulting in a loss of bass. The largest amount of variance below 10KHz in the treble band is roughly 6dB, showing that the treble delivery of these headphones is quite sensitive to location.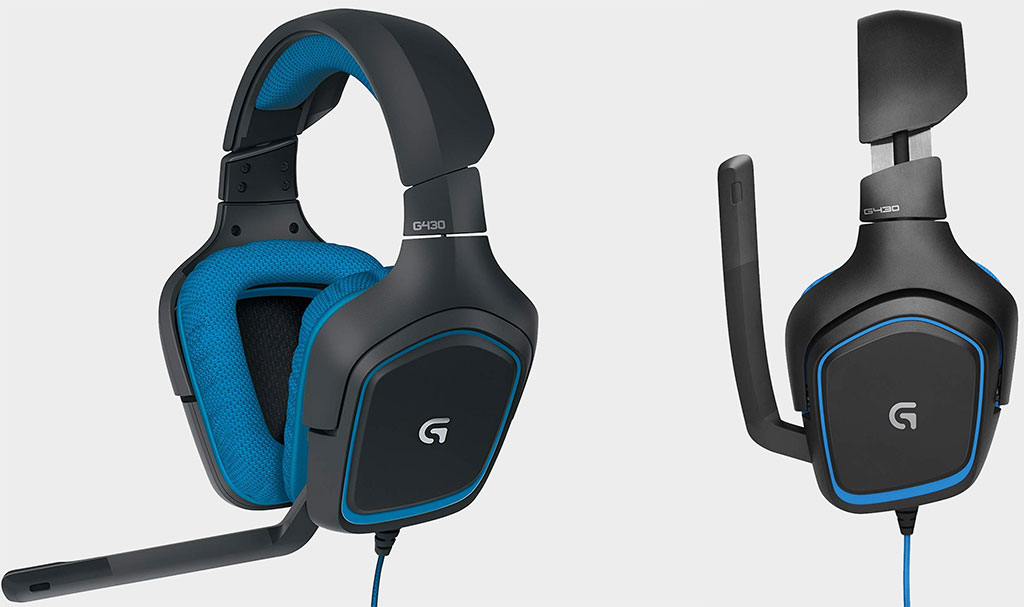 Logitech G335
The sound profile of the Logitech G335 headset is quite bright. If you wish to hear a bit of extra thump and rumble in action-heavy games, the bass response is slightly under emphasized. The low-mid range dip also thins down certain conversation, voices, and lead instruments. In addition, the headset lacks any sound customizing capabilities, such as an in-app EQ or built-in EQ presets.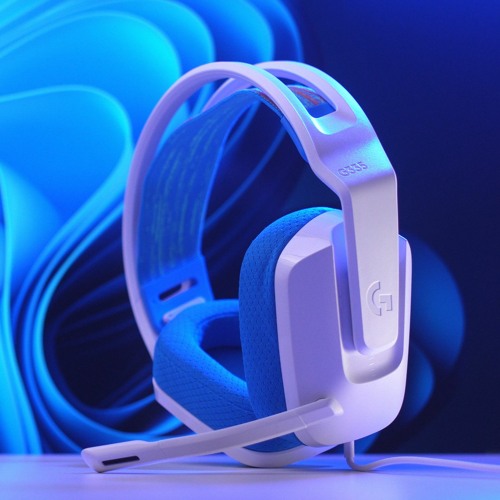 The frequency response constancy of this headset is excellent. While the bass and treble response varies slightly depending on how tightly the ear cups fit against your skull, the difference isn't too obvious generally, thus music reproduction should be considered as reasonably consistent. These are the settings used to put the Logitech G335 wired gaming headset through its paces. Our findings are only applicable in this situation.
MICROPHONE
Logitech G430
The Logitech G430 has a better-than-average boom microphone. Speech recorded or transmitted with this mic will sound significantly thin in quiet surroundings, but with a lot of presence and quality. This makes communication easier to grasp. They operate well in noisy surroundings and can differentiate speech from extraneous noise, even in very loud venues such as a subway station or a gaming competition.
The recording quality of the microphone is adequate. Because of the 538Hz LFE (low-frequency extension), speech recorded/transmitted with this headset will lack bass and sound thin. However, because to the good high-frequency extension (HFE) of 9.7KHz and the decent frequency response, speech will have a lot of presence and detail, making it extremely audible.
Logitech G335
The recording quality of the boom microphone is adequate. The recorded speech sounds real and clear, albeit a little thin. The boom microphone is effective at handling noise. Even if you're speaking in a noisy area, such as a metro station, people on the other end of the line should be able to understand you.
CONNECTIVITY AND COMPATIBILITY
Logitech G430
These wired headphones do not have a Bluetooth connection. These headphones' USB connected connection offers little latency, making them ideal for gaming and home theater. The Logitech G430 has a wired connection with a USB adapter that enables volume and microphone compatibility for PCs and, if plugged directly into the PS4, the PS4.
However, because they do not have a 1/8″,"With a TRRS Y splitter adapter, you can only connect the audio line to the console's controllers, which means no mic functionality. The same is true for PCs with only one 1/8 "We expect customers to use the USB adapter because the app requires a USB connection to be accessed on PC. This gaming headset lacks a dock. Consider the Astro A50 if you require a headset with a dock and a wired connection for gaming or viewing movies.
Logitech G335
The Logitech G335 features a non-detachable 1/8″ TRRS cable that enables complete audio and microphone functionality with virtually no latency. You can use a Y-splitter cable with devices that have separate audio and microphone jacks. The Logitech G335 is fully compatible with PS4 and PS5 controllers, providing complete audio and microphone compatibility. When you put the 1/8″ TRRS cable into their controllers, the Logitech G335 provides complete audio and microphone capability with Xbox One and Xbox Series X|S consoles.
CONCLUSION
For wired gaming, the Logitech G430 outperforms the Logitech G335. The G430 comes with a companion software that includes a good range of sound modification capabilities such as a graphic EQ, leak less audio, and better microphone noise handling. The G335 is more comfortable, blocks out more ambient noise, and is compatible with a broader range of devices due to its 1/8″ TRRS connection, as compared to the G430's 1/8″ TRS cable and analogue to USB-A adapter, which does not allow for complete mic and audio compatibility with Xbox One consoles.