While some people will absolutely love its design, the angular and sharp aesthetic it has going on is something that can make it an odd fit when used outside gaming environments. It also has many more button features compared to what you'd expect to find on your typical gaming mouse, which means that it'll have some grip types that aren't comfortable. However, for those of you that don't mind the design style, then there is almost nothing you won't like about it.
The Logitech G502 gaming mouse has a starting price of around $80, which is actually a very fair price for a gaming mouse that offers what it does. It costs more than the Sensei 310 and Rival 310 which are similarly brilliant. So, given that the closest competition it has are just as good and cost a fraction of the price, the G502 Hero, in all honesty, only wins if you're going to use the extra button features it has or if you fancy its design.
DESIGN
If you've come across the previous G502 model before, then don't expect any major changes on the outside appearance of the mouse. It still has that angular, moody, dark Batmobile-like overall aesthetic going on. It kind of looks out of place in office setups, however, it'll fit just fine gaming battlestation scenarios. The build, for the grips and primary buttons, combines a matte black plastic material and places glossy plastics between the aesthetically different sections of the mouse and on the extra button features. The matte plastic material does very well at hiding any hand grease, however, the glossy plastic, on the other hand, doesn't fare as good.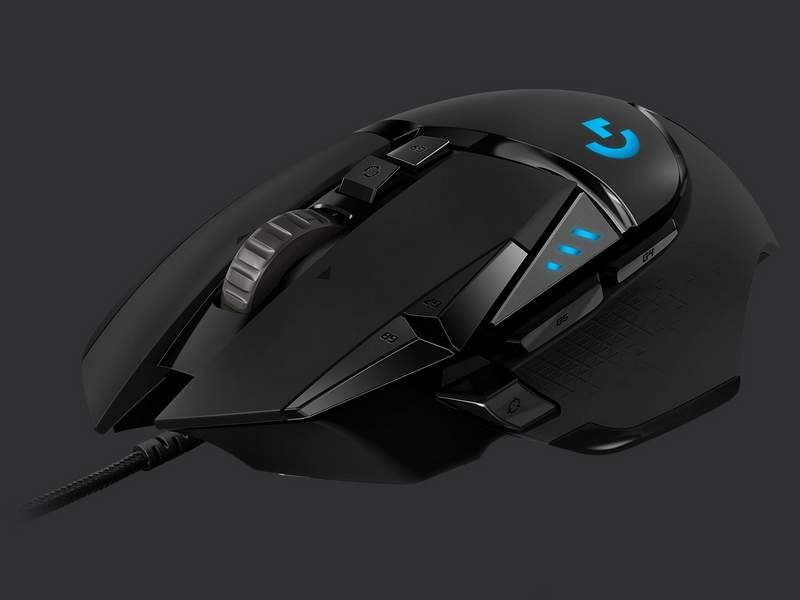 The scroll wheel on it is metallic, shiny and neatly notched, and there's a button feature behind it the wheel for toggling the notched scrolling. When the gaming mouse is toggled for infinite scrolling, the scrolling wheel spins so freely that good clicks can have it spinning for almost teb seconds or so. Terms of service text, as well as other similar long docs, have never been this easy no to read. Anyway, though it has an overall build quality that feels quite sturdy, the many hard angles on the mouse sometimes feel like they can draw blood from you. Furthermore, the two button features found on the left side of the primary click kind of hang oddly over the edge looking like they could fall off at any time.
The G502 Hero has customizable RGB backlighting for the Logitech G logo and the DPI indicators. Both lighting zones have been very smartly placed so that they can be seen between the index finger and thumb when the user is holding the mouse. Although the DPI indicators, by default, don't stay lit all throughout.
The button placement, for the most part, is quite good. The 3 thumb button functions are easily distinguishable by feel and are all well within reach and hard to misclick. However, there are some people that might struggle a bit with the 2 button functions found on the left side of the mouse. Most people tend to keep these features set to DPI switches.
If you're someone that has huge hands, then this gaming mouse might not be the most ideal for you. It's kind a little on the slim and thin side of things, with side grip features that do not provide a lot of traction. Its claw grip does well enough, however, a softer rubber finish and deeper grooves would provide users with a hold that's much more trustworthy. At the bottom of the mouse you'll find a compartment that can open up to allow for the addition weights, up to 5 if they measure 3.6-grams, which can help as some nice heft to the gaming mouse.
SOFTWARE
The G Hub software from Logitech is one exceptional bit of technology. It is fully compatible with both macOS and Windows. It also gives users so many options when it comes to customization of the mouse. This particular gaming mouse also contains onboard memory functionality which means that the user can save their settings and retain these said settings whenever they want to use the mouse on a different computer. Anyway, since you can install Logitech's G Hub software on macOS and Windows, this gaming mouse is not only fully compatible but it has full customization support functionality for both operating systems.
PERFORMANCE
The G502 Hero gaming mouse has a 1ms response time and a 1000Hz polling rate, which is what you'd expect to find on proper, high-quality gaming mice. In this department, you won't really find any shortcomings. But, what actually really helps the G502 shine so bright is its Hero sensor.
This sensor provides users with flawless tracking. The DPI range it supports is from about 100 to 16,000. Although, most people often find the latter/upper limit to be largely unimportant. What matters, though, is how well the mouse generally responds to hand movements, as well as how consistent it is with this. You won't notice any odd mouse movements. Also, thanks to the mouse's maximum accelerations of over 40Gs and maximum speeds measuring over 400 inches-per-second, it'll be very hard to push it past its limit.
You can run it through game titles like Overwatch, Call of Duty, For Honor and Tomb Raider to see how it keeps up with things such as high-precision and split-second reaction times in all these game titles. It won't let you down. The only downside here is how often users misclick the button functions that increase DPI. You can quickly jump from 2,500 to 5,000 DPI. The switches under the buttons feel really great and they give responsive clicks with minimal actuation forces. There is enough resistance on them to keep you from misclicking all the time while the fingers still rest easily on the buttons with no squishy feel.
Game titles such as Overwatch and the like might not benefit so much from all the buttons on the mouse, unless you want quick access to all voice lines, however a title such as Rainbow Six can benefit greatly from the movement options and gadgets within easy reach. Adding lean right and left with flicks of the scroll wheel can help initiate certain advanced maneuvers that'd be a lot harder to achieve with default controls.
VERDICT
For the incredible flexibility provided by the mouse's button functions, weight customization and the overall brilliant performance it offers, it gets a solid 2 thumbs up. However, we simply just can't ignore the huge shadow the Steelseries equivalent cast. Yes, the Hero sensor on it provides higher max tracking speed and max DPI, but the Steelseries' TrueMove 3 found on their latest gaming mice installments is almost flawless. Furthermore, the construction and comfort of its competitors, the Rival 600, Sensei 310 and Rival 310 is top-notch as well.
While there are some hands that'll absolutely adore the feel they get from the G502 gaming mouse, and its ample buttons, the top wired gaming mice offered by SteelSeries don't have higher price-tags attached to them and provide their user with both more grip options as well as effectively equal performance.
Frequently Asked Questions
How do you program the G502 Hero Mouse?
If you want to program a button, all you'll need to do is simply highlight the said button, double-click it and then proceed to selecting the function you'd like it to perform. You can assign shortcuts, hotkeys, media controls, mouse functions, text, macros, keystrokes, or chat/productivity commands. The program will then save your choices automatically.
How do you change sensitivity of the G502 Hero mouse?
If you want your DPI changed, click the Pointer Settings function, which is a cursor found on the bottom-right next to a gear. Here is where both numerical values and DPI levels can be set. Numerical values can be set from anywhere between around 200 all the way up to about 12,000