Of course, this mouse is far from perfect. A one-hundred dollar gaming mouse should probably have a rechargeable battery and RGB illumination settings, with thumb button functions that have a learning curve in order to be used properly. However, if you're a massively-multiplayer online gamer, a multiplayer online battle arena gamer or a gamer in genres that require you to have access to a lot of commands (particularly in the thumb area), then the Logitech G604 gaming mouse is definitely for you.
DESIGN
The G604's basic overall design looks similar to what you'd find on the previous G602 model. Nothing has changed much really. The G604 still happens to be a right-handed, ergonomic gaming mouse, with 6 small thumb buttons and a protruding thumb rest. However, now, you'll get an all-black chassis accompanied by a textured palm and thumb rest. Next to the left-click, there are two buttons that can be used to adjust DPI (dots-per-inch) sensitivity up and down. Also, the scroll wheel now clicks in 3 directions. You'll also find 2 buttons right in the middle that can be used to adjust wireless connectivity and scroll wheel tension. (These button functions allow you to switch between Bluetooth and USB dongle).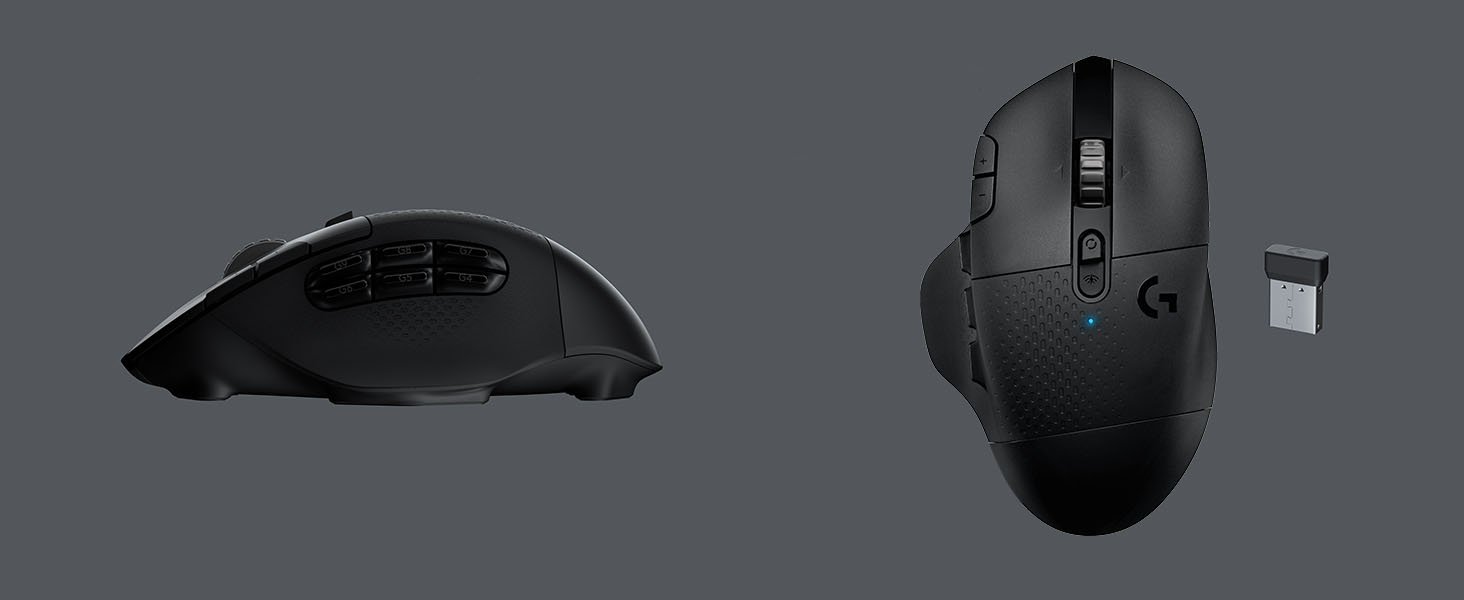 Otherwise, this gaming mouse is still very comfortable to hold, and is a little friendlier to the players that prefer claw-grip rather than to the ones that prefer palm-grip. Also, the thumb button functions are way better than what was there on the previous models, with easy-to-click protrusions instead of tiny prisms. Differentiating the buttons is pretty easy, even without having to look at what you're doing. This is good for gamers that are constantly having to go through demanding skill rotations.
FEATURES
The one big difference between the G604 and the G602 is that the former can connect through both Bluetooth and USB dongle. What's more: Users can also switch between the two functions via one button press. What this means is that the gaming mouse can be connected to the user's gaming console through the USB, and then switch over to Bluetooth connectivity instantaneously for a mobile or laptop device. Furthermore, the battery life of the Logitech G604 is much longer when Bluetooth is being used. This means that you can even easily switch back-and-forth between both these functionalities for gaming and productivity if you want to really maximize on charge.
Other than that, the G604 gaming mouse runs on the G Hub Software, also from Logitech themselves, which still happens to be an incredibly robust bit of technology. Since this mouse doesn't have RGB illumination capability, the majority of options you'll find on it involve mostly the programming of buttons and DPI settings (which are a maximum of 16,000). There are many button options available to the user, including the very handy Logitech G-Shift functionality, which gives users access to an entire secondary set of commands. This means that users will essentially get an extra 6 to 8 button functions, depending on how hardcore of a gamer you really are.
The only major downside about Logitech's G Hub software is that it is a bit mercurial when it comes to the auto-switching of profiles. When you program elaborate sets of commands for a game like Final Fantasy XIV, sometimes you'll end up finding yourself clicking furiously to no effect and eventually get mauled by a group of imperial soldiers. In some cases, the G Hub program will refuse to switch back automatically to your desktop settings even though you manually selected the game of your choice, in this case Final Fantasy. Yes, this is something that can be fixed (one potential remedy being to use the gaming mouse's 5 onboard profiles), however, it's often an extremely costly lesson at first.
Another downside, though a mild one, is that you're forced to use an AA battery, which gives you about five and a half months on Bluetooth connectivity and around 245 hours on USB wireless connectivity. Although, both claims are very difficult to test. That being said, the mouse's battery life itself is actually pretty great, however, it would've been way easier to recharge lithium-ion batteries every now and then.
PERFORMANCE
The Logitech G604 gaming mouse performs well all across the board. Its six tiny thumb button functions, surprisingly, end up winning many people over, even though most expect to have a difficult time differentiating one from the other. When the mouse was used to play Final Fantasy XIV, GreedFall, Age of Mythology and Overwatch, it performed extremely well in all aspects. When you play as a Gladiator in Final Fantasy XIV, it means that you'll have a wide array of skillsets that end up building on each other for extra protection and/or damage.
Mapping all these skills to the thumb button features means than you can concentrate more on what's happening on the screen, without you having to run your fingers all over the keyboard trying to find out when's the best time to unleash your skills. With the six thumb button functions, you can use the six skills you most commonly use whenever you want, leaving the left hand free for other more situational techniques, like interrupts and stuns.
The G604 also works superbly for other skill sets as well. In the real-time strategy title, Age of mythology, it's pretty easy to assign control groups and common buildings to the thumb button features, while the same can be done with special skills in GreedFall and Overwatch as well. Anyway, the corollary we're trying to put across here is that, in most genres, you won't really have to use all the extra buttons. In fact, if you're in search of a wireless gaming mouse that's a bit more streamlined, then you should consider checking out the G703 rather than this one, also from Logitech though.
VERDICT
Gaming mice have managed to come a really long way since the year 2014, and so to have Logitech's G600 mice. The Logitech G604 is an attractive midpoint gaming mouse that has lots of buttons and a sleek overall design. Yes, it might be a little pricey, considering the G602 that came before it had a debut price of around eighty bucks, and having to use disposable AA batteries does not feel like things you should be using on a premium mouse, however, the G604 mouse looks to provide MMO player with a device that won't ever let them down in any situation, and completely delivers on this premise.
When it comes to MMO gaming mice, the Razer Naga might just still be the best out there right now because it has both RGB lighting as well as swappable side panels. But, that's a wired gaming mouse, which means that it'll all come down to how much you value wireless connectivity. If you're willing to spend one-hundred dollars on a wireless capability, then the Logitech G604 is definitely for you.
Frequently Asked Questions
How do you connect the Logitech G604 mouse?
The G604 gaming mouse can be connected to two separate device simultaneously through the Bluetooth or USB wireless receiver. If you want to enter mouse's Bluetooth search mode, long press the Lightspeed button feature, beneath the wheel button, for around five seconds or so, until the mouse flashes blue. Once you see the blue light, Bluetooth functionality is up and running.
When was the G604 mouse released?
Logitech released their G604 wireless gaming mouse in the fall of 2019, and the retail price then was around one-hundred dollars.
What is G-Shift?
G-Shift is somewhat like the mouse's keyboard modifier. When you long-press the assigned G-Shift button function, the other buttons on the mouse will have their alternate commands shifted. Switching the mouse to its automatic Game Detection mode will activate the onboard profiles.