DESIGN
Logitech G Pro Gaming Headset
The Logitech G Pro gaming headset is an improved version of the G-433. They have the same form and size, but the Pro version has a more durable matte coating. They also have superior default pads (with a 2nd set of more breathable pads in the box). Because they feature a more casual design than typical gaming headsets, you may use them outside and while commuting without looking out of place. Unfortunately, they are only available in one colour scheme. The build quality of the Logitech G Pro is slightly higher than that of the Logitech G433.
Because the main design is the same, the headband and ear cups have the same thickness and density and should be able to withstand a few accidental drops without being damaged. The coating on the ear cups is the most noticeable variation between the two types. The G-Pro has a more typical matte finish, whereas the G433 is covered with a mesh-like fabric that may wear and tear and will not look as beautiful after a few months of intensive use as the G Pro. Unfortunately, because they do not include an extra cable like the G433, their longevity is slightly diminished.
Logitech Pro X
The Logitech Pro X gaming headphones have a high-end appearance. The metal frame is sturdy, and the padding is substantial and pleasant. The cups are large and deep, and the metal silver accent on the back makes them feel very high-end. The microphone is easily detachable, giving them a more casual appearance. They do, however, only available in one colour palette. The Logitech G Pro X are well-constructed. They are a lot more sturdy-feeling than the Sony INZONE H3 for their price point, since the padding feels high-end regardless of the pads you're using, and the boom mic and cord are totally detachable and interchangeable. They have a metal headband frame and hinges, which is comparable to the HyperX Cloud 2/Cloud II.
COMFORT
Logitech G Pro
The Logitech G PRO's default pads differ slightly from those of the Logitech G433. They do, however, come with a second pair of pads that, like the G433, do not have the lovely pleather coating of the default setup, but are a bit more breathable for lengthy gaming sessions. The ear cups are relatively spacious and will comfortably fit around the ears of most listeners. They're light, and the headband isn't too tight around the neck. Overall, these headphones will be slightly more comfortable to use than the G433, but not by enough to merit a better ranking. If you want more comfy Logitech gaming headphones, check out the G Pro X.

If you use the second pair of pads, the Logitech G Pro headset features a relatively breathable design. The default pads have a less porous pleather finish than the Logitech G433. They also obstruct a lot of airflow because they form a rather effective seal around your ears. They will warm up your ears during long listening sessions and are not ideal for more hard activities.
Logitech Pro X
The Logitech Pro X Gaming Headset are quite comfy. They come with two sets of memory foam pads, one coated in leather and one in cloth. Both are quite comfy and feel great on the skin. The cups are large and deep, making them suitable for most ear sizes and shapes. The cups, however, may not have the best range of motion and can feel a little snug for certain persons. On the plus side, the headband is generously padded and wide, which helps to evenly disperse the weight of the headphones. The Logitech G Pro X headphones aren't very breathable. They trap a lot of heat behind their ear cups, and you can feel a change in temperature when wearing these while working out. When playing casually, this should not be an issue.
CONTROL
Logitech G Pro
The in-line remote on the Logitech G Pro headset is the same as on the Logitech G433. The volume may be adjusted using a dial that is simple to use and responsive but lacks distinct notches. They also include a simple on/off switch for the microphone. Unlike the G433, they do not come with an additional cable (just a conventional in-line remote for mobile devices). As a result, if you wish to use them with your phone outside, they won't be as useful.
Logitech Pro X
The control arrangement of the Logitech G Pro X Gaming Headset is adequate. These over-ears provide two audio wires with separate in-line remotes. Because it contains a mic-mute switch and a volume dial, the braided cable is more suited for gaming. The standard audio cable is beneficial for mobile users since it has a multi-purpose button that allows you to play and pause your music, but it lacks a volume wheel.
PORTABILITY
Logitech G Pro
The Logitech G Pro headset, like most gaming headsets, does not fold into a more compact configuration for ease transit. The ear cups lay flat but do not save much room, making them slightly too bulky to tote around with you unless you have a bag. There is no case or pouch included with these headphones.
Logitech Pro X
The Logitech G Pro X, like other gaming headphones, aren't particularly portable. Their design is somewhat hefty, and they are unable to fold or swivel into a more portable and compact format. The Logitech Pro X headphones come with a good and robust carrying pouch, however it only protects the headphones from light knocks and dust. It is unlikely to protect the headphones from falls or exposure to water.
SOUND
Logitech G Pro
The Logitech G Pro's frequency response consistency is poor. These headphones provide inconsistently among many subjects, particularly in the lower frequencies. They indicate more than 6dB of difference below 100Hz across our five human subjects in the bass band, which is fairly noteworthy. They perform better in the treble range since the discrepancies occur in narrower regions. The bass is excellent. The LFE (low-frequency extension) frequency is 10Hz, which is great. Low-bass is also within 1.5dB of our aim. This means that the bass is deep and prolonged, with just the appropriate amount of thump and rumble. However, the mid-bass, which provides body and punch, and the high-bass, which provides warmth, are overemphasised by 2dB and 4dB, respectively, creating the entire sound boomy and muddy. Furthermore, their bass delivery varies greatly amongst users and is sensitive to fit, seal, and whether you wear glasses. The response shown here indicates the average bass response; your results may vary.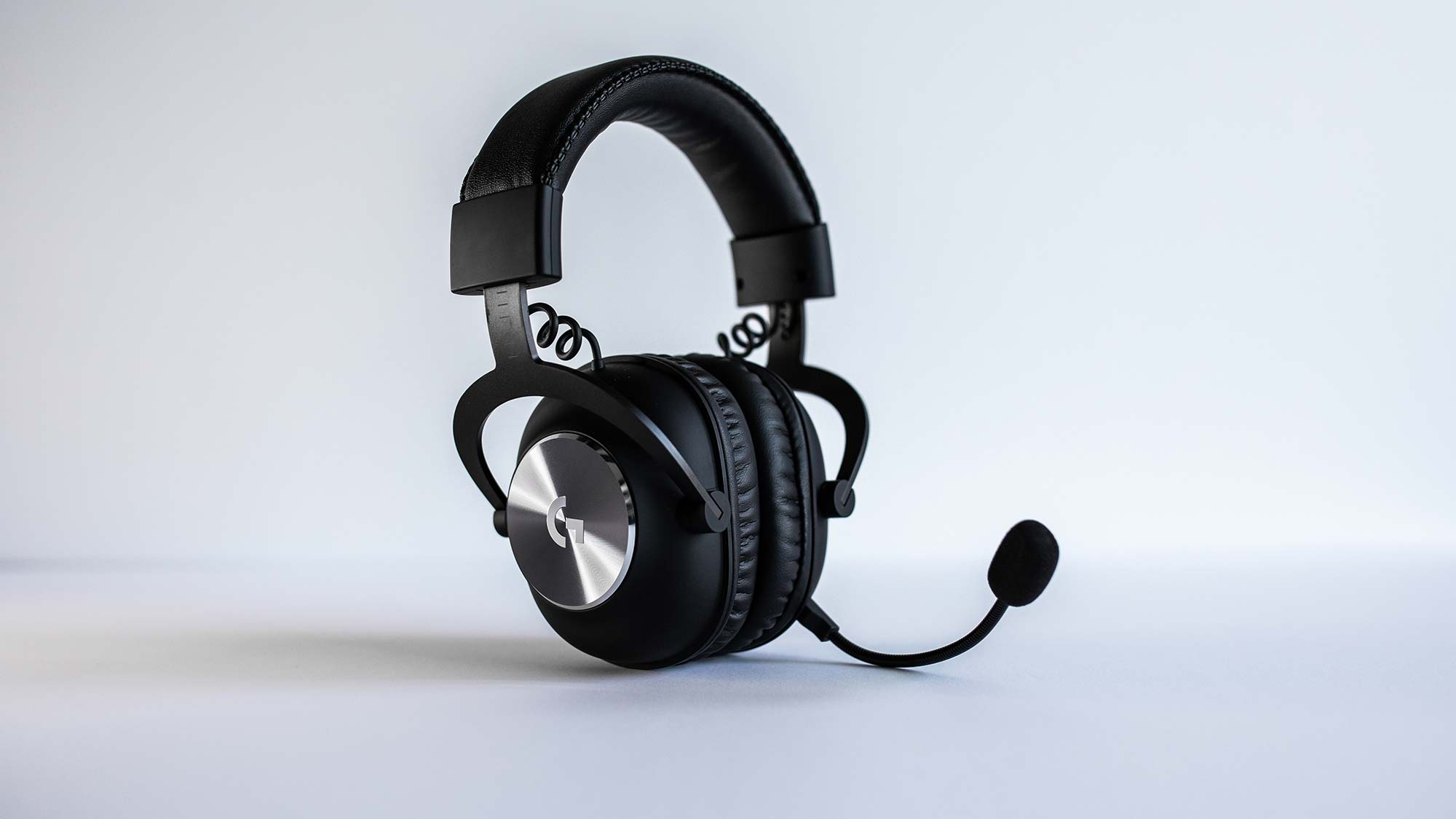 Logitech Pro X
The frequency response consistency of the Logitech G Pro X is subpar. They have a very variable bass delivery across users, which may be more of an issue if you wear glasses, as this can compromise the seal between the headphones and the ears. The Treble delivery is also extremely dependent on their placement and fit on your head. The bass accuracy of the Logitech G Pro X is excellent. Their low-bass is pretty even and neutral, resulting in the appropriate amount of thump and rumble associated with bass-heavy genres. Their excessive mid- and high-bass response adds boominess and muddiness to some mixes. However, your actual experience may differ because their bass delivery is dependent on their seal on your ears.
MICROPHONE
Logitech G Pro
The boom mic on the Logitech G Pro gaming headset is fantastic. Speech recorded or transmitted with this microphone sounds full, natural, and detailed in quiet surroundings, but it may lack a bit of airiness. It can differentiate speech from background noise even in very busy locations, such as a subway station or a game competition. The Logitech G Pro's boom microphone is exceptional at noise reduction. In our SpNR test, it achieved a speech-to-noise ratio of 42dB. This implies that individuals can distinguish speech from background noise even under high-stress situations.
Logitech Pro X
The recording quality of the boom mic is excellent. Recorded speech should be full-bodied, clear, and natural-sounding, though a little harsh. The boom microphone can handle a lot of noise. Even if you're calling from a very noisy or busy situation, such as a moving subway vehicle, people on the other side of the line should be able to understand you very clearly.
CONNECTIVITY
Logitech G Pro
The Logitech G Pro are wired headphones that do not support Bluetooth. Because these headphones are connected, there is no latency. The Logitech G Pro gaming headset comes with a detachable 1/8″ TRRS cable as well as a Y-adapter for PC use. They lack the more sophisticated USB external DAC found in the Logitech G433. For audio and voice, connect the audio wire to a PS4 or Xbox One controller.
Logitech Pro X
The cable connection on the Logitech Pro X is satisfactory. They are equipped with two 1/8″ TRRS wires. All devices with an AUX port get full audio and microphone functionality, whether you use their gaming or mobile cable, however only the prior has a volume wheel and also a microphone mute switch. Their analogue to USB-A adapter is likewise compatible with PC and PS4, but not with Xbox One consoles. The adapter also saves the changes you make in G HUB on PC and preserves them when used on PS4, but there is a little increase in audio latency.
CONCLUSION
The Logitech G Pro X Gaming Headset outperforms the Logitech G Pro Gaming Headset in terms of gaming headphones. The G Pro X are notably more comfortable and crafted with higher-end materials. Their connection with the G HUB companion software enables a more personalized listening experience. However, the earlier G Pro has better out-of-the-box mic recording quality.