This blog is a swift comparison between Logitech K360 vs K350.
DESIGN
Logitech K360
The Logitech K360 keyboard is full-sized. It contains a NumPad and arrow buttons, and it is slightly larger than comparable devices. The build quality of the Logitech K360 is mediocre. The keyboard is composed of cheap plastic with a lot of flex and rattles when shaken. The feet are similarly constructed of plastic, and the keyboard readily slides about. Additionally, the keycaps are cheap and shaky, but they do provide an excellent grip. Overall, it is comparable to many basic keyboards that come with a PC. The ergonomics of the Logitech K360 are adequate. It features a single adjustable incline level and should be as comfortable as the comparable Logitech K380. There is no wrist rest. However, the low profile should prevent tiredness when typing. This keyboard has no backlighting.
Logitech K350
This is a large keyboard, especially with the attached wrist rest, so it will take up a lot of space on your desk. Although it has a great overall plastic structure, this keyboard does not feel particularly premium. The ABS-printed keycaps have a cheap feel to them, and the 4-degree angle feet are a little loose and flimsy. On the plus side, there isn't a lot of flex in the board. For improved ergonomics, the Logitech K350 incorporates a wave-shaped board. It also includes a fixed wrist rest that is reasonably comfortable and two incline settings: 4 and 8 degrees. However, because the keys have a lot of movement, it is difficult to type for long periods of time and can be rather tiresome. Because this keyboard lacks backlighting, it is not suitable for use in low-light conditions.
CABLES AND WIRELESS VERSATILITY
Logitech K360
This keyboard is exclusively wireless and does not include a charging cable. The wireless versatility of the Logitech K360 is extremely limited. It can only be used with its unique receiver and is powered by two AA batteries.
Logitech K350
Only a receiver extension cable is included with this keyboard. While the Logitech K350 is wireless, it isn't very adaptable because it can only be paired with the Logitech Unifying USB receiver. Although it utilizes throwaway AA batteries, the maker claims a three-year battery life, which we cannot confirm.
TYPING EXPERIENCE
Logitech K360
Rubber dome switches are used on this keyboard. There's a tactile bump that requires more force to overcome but much less to actuate. The pre-travel distance is rather long, which should aid in the reduction of typos. The typing quality is satisfactory. The low profile of the keyboard makes it easy to type and should not induce tiredness. Keycaps are inexpensive but give adequate grip. Generally, it is comparable to typical computer keyboards. Typing on this keyboard is quite quiet and should not bother anyone nearby.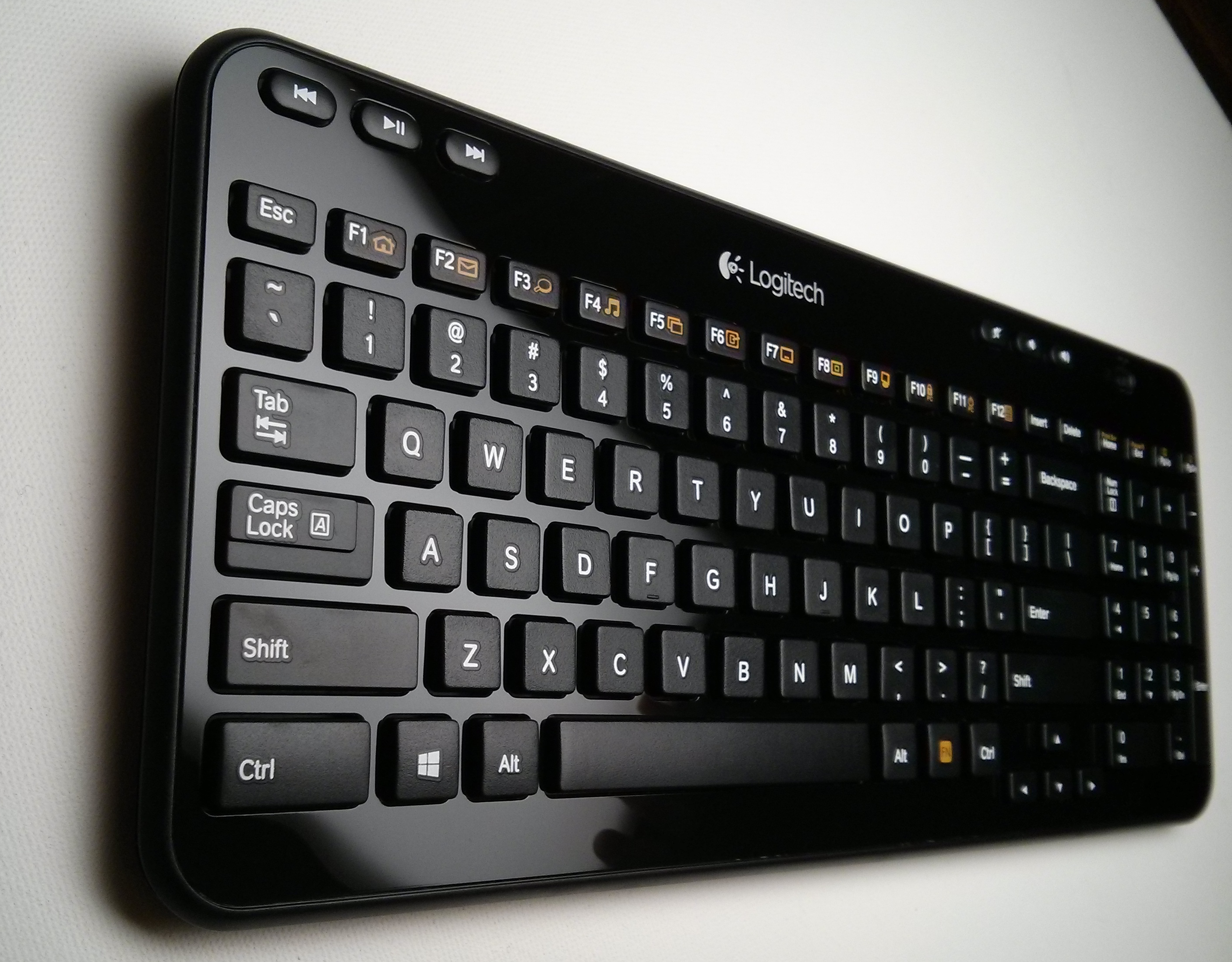 Logitech K350
Between Logitech K360 vs K350, the Logitech K350 wireless keyboard features rubber dome switches with a lot of travel. The bump to the actuation point is substantial and requires a lot of power, and you'll have to bottom out each key for them to register. The Logitech K350 provides a poor typing experience. Because of the lengthy distance required to detect keystrokes, typing seems slow and heavy. The keys are pretty sturdy. However, they can be a little noisy since you can plainly hear the spring returning to some keys, such as Shift and the spacebar. The overall typing experience can rapidly become tiresome. If you are a light typer, the Logitech K350 is fairly quiet; nevertheless, because you must virtually bottom out the keys for them to register, this keyboard may be too noisy for those around you.
SOFTWARE AND OPERATING SYSTEM
Logitech K360
The SetPoint companion software is used by the Logitech K368 wireless keyboard. While it offers few modification possibilities, you can reprogram the f-keys. This keyboard is reasonably compatible. Except for F6 and F7, most of the keys are functional on macOS. Furthermore, the customizing software is only accessible for Windows, not macOS or Linux.
Logitech K350
This keyboard does not come with any customization software. The Logitech K350's compatibility is restricted. Because this is an older keyboard, it was designed for earlier versions of Windows, and the Windows Zoom buttons do not function on Windows 10. Additionally, on macOS and Linux, all of the grey shortcut buttons are inoperable. Choose the Logitech Craft if you want a more modern keyboard with additional compatibility options.
CONCLUSION
The Logitech K360 is a mediocre gaming keyboard. It has a flexing plastic frame and a tendency to slide around on its feet. The low profile and low actuation force should aid in reducing fatigue, but there is no backlighting on this keyboard. However, the lack of customizable macros and the excessive key travel make this keyboard less than ideal for gaming. The Logitech K350 is an unsuitable gaming headset. Its switches have a lot of motion and require a lot of energy to push through the tactile bump. Gamers should seek their desires elsewhere.
The Logitech K360 is a good workplace keyboard. The ergonomics are adequate, with the low profile making up for the absence of wrist support and an adjustable incline setting. While it is quiet, it also has a shoddy feel to it and slides around when using the adjustable inclination feet. The Logitech K350 is a suitable business keyboard. Although it has a pleasant ergonomic design, the overall typing experience is fairly heavy and slow, which may not be ideal if you frequently type at work. However, if you're a strong typer, this keyboard may be a little too loud for an open-office setting. Hopefully now you know which one to buy between Logitech K360 vs K350.