Are you debating between using the Logitech K380 or Logitech K480 keyboard? The Logitech K380 and K480 are two of the company's more affordable wireless keyboards, but they are unquestionably high-quality and packed with features. Both keyboards are available in a variety of colours. Each offers every feature a wireless keyboard user may want at a great price. There are a few features that differentiate them, though.
| | | |
| --- | --- | --- |
| Logitech K380 Logitech K480 | | |
| Phone Cradle NO YES | | |
| Battery Life 2 Years 2 Years | | |
| Weight 14.9 Ounce 29 Ounce | | |
| Channels 3 3 | | |
| Minimum Incline 3.8 0 | | |
| Battery Type 2xAAA 2xAAA | | |
| Auction Force 50gf 36gf | | |
| Key Switches scissor rubber dome | | |
| Operating Force 61gf 57gf | | |
Design
K480
The Logitech K480 has a small, compact key layout with arrow keys, but due to the mobile device rack at the top of the keyboard, it has a little larger design than some. This keyboard is reasonably well made. The all-plastic frame gives it a fairly cheap feeling. The keys seem really cheap, and the feet sway and rattle a little. Overall, the keyboard has a fairly ordinary feel, but it is not at all fragile. Check to try the Logitech Keys-To-Go if you're looking for a comparable portable keyboard with better construction. This keyboard doesn't have any backlighting, which can be an issue if you often type in a dark room.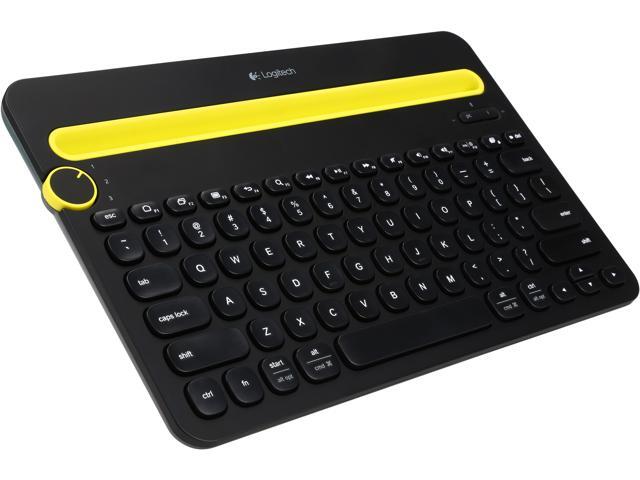 K380
Given that the Logitech K380 is designed to work with a variety of devices, including phones and tablets, it is a very compact keyboard. Due to its modest weight, it is simple to pack and transport. The craftsmanship is respectable. Although the keyboard is constructed of plastic and has some flex, it seems sturdy overall. The key legends are pad-printed, which can chip or fade over time, and the ABS key caps feel cheap despite the sturdy nature of the keys. Rubber feet are present on the bottom to prevent slipping, and the keyboard does rattle slightly when shaken, but this is primarily caused by the batteries' tiny movements inside the battery compartment. There's no back lighting on this keyboard. This keyboard can only be used wirelessly.
Wireless Versatility
K480
The Logitech K480 is wireless-only and doesn't have a charging cable. Three devices can be linked to this Bluetooth keyboard at once, and you can effortlessly choose between them using the wheel on the left side of the keyboard. The manufacturer estimates that it will run on two AAA batteries for around two years, however it's not tested by us yet.
K380
Only Bluetooth can be used to connect to this keyboard, and up to three devices can be paired at once. Using hotkeys, you can quickly switch between paired devices (F1-F3).
Features
K480
The built-in cradle for your tablet or phone is this keyboard's biggest selling point. This keyboard doesn't offer anything else but that. Although some of its keys can be programmed, the alternatives are only available from a pre-set list. Additionally, the F keys can be changed back to Fn keys inside the software even if they are by default media keys and shortcuts.
K380
There aren't many more features on the K380. On the top row, there are hotkeys for media control that are shared with function keys. The Logitech Options software also allows you to reprogramme a small number of keys (F4–F7), however you are limited to choose from a range of predefined commands. Instead, have a look at the Logitech K360 if you'd prefer a keyboard with specific media keys.
Functionality
K480
The Logitech K480 keyboard is adequate for use at work. It's not the most comfortable to type on because of its poor ergonomics. Its near complete silence and interoperability with all operating systems are advantages. This keyboard can be a wise choice if you want to utilise a tablet or phone in addition to your desktop setup. The Logitech K480 scarcely produces any noise and is extremely quiet. With this keyboard, you won't irritate co-workers nearby in an open workplace setting.
K380
The Logitech K380 is a fantastic keyboard for the office. This keyboard's low profile makes typing on it pleasant even without any incline settings or wrist rests. Long durations of typing don't tyre you out, and there isn't much typing noise, so your co-workers shouldn't be bothered. Because typing noise is so low, it is appropriate for any quiet setting. The click latency on the Logitech K380 keyboard is acceptable. While it won't suffice for games, typing shouldn't be a problem.
Pairing
K480
With mobile devices like your phone or tablet, the Logitech K480 keyboard works great. Its Bluetooth connection makes pairing with multiple devices simple, and its small size makes it simple to tuck into a bag. This keyboard is very adaptable and may be used with any operating system.
K380
A great keyboard for mobile devices is the Logitech K380. It works well with the majority of mobile operating systems and may be used with any device that has a Bluetooth connection. You can couple it with both your computer and smartphone at the same time, and it is lightweight and portable.
Programming
K480
Developers are not the target audience for the Logitech K480. Long periods of time spent typing on it are uncomfortable, and its build quality—which is at best mediocre—won't last you very long. It's frustrating because you can't programme any macros as well.
K380
Programming with the Logitech K380 is only average. Although there aren't any macro-programmable keys or backlighting, the low operating force and short pre-travel distance make for a comfortable typing experience. The majority of operating systems are compatible with it, although the specialised software only offers a few modification choices.
Conclusion
Despite the fact that the Logitech K480 triumphs in the comparison, the K380 is not in error. With the exception of a few features and pricing, both are fairly comparable. These are your best choices if you want a keyboard that is portable and light. The Logitech K480 is a must-have because it is loaded with fantastic features. Those who frequently use mobile devices would benefit greatly from the Flow Technology and the cradle. The Logitech K480 easily outperforms the competition among Bluetooth keyboards on the market.