This article is all about comparing Logitech K400 vs K480 and their features. Let's get started.
DESIGN
Logitech K400
This keyboard is about the same size as typical TKL keyboards, but it has a built-in trackpad like other entertainment keyboards. When linked to a smart TV, it's quite light and tiny enough to sit on your lap. The build quality is average. Its plastic frame has a lot of flex and torsion, which isn't ideal, but it doesn't feel like it'll shatter in half. The keys are shaky, the spacebar jingles, and the left and right trackpad buttons are sloppy. The ergonomics are satisfactory. Although there are no inclination settings or a wrist rest included, the low-profile design should prevent fatigue. Although the keys are near together, your hand should still feel comfortable and not cramped. There is no illumination, which may be inconvenient in low-light situations.
Logitech K480
The Logitech K480 has a small compact key layout with arrow keys, but its design is slightly larger than others due to the mobile device rack at the top of the keyboard. This keyboard has a good build quality. Because of the all-plastic frame, it has a cheap feel to it. The feet shake and rattle a little, and the keys have a cheap feel. Overall, the keyboard feels decent. However, it isn't so weak that it will break quickly. The Logitech K480's ergonomics aren't fantastic. It has a flat board design with no wrist rest or incline setting. It also has about the same height throughout its design, making it more difficult to reach the upper keys. Typing on this keyboard quickly becomes tiresome. This keyboard lacks backlighting, which can be a concern if you frequently type in a dark room.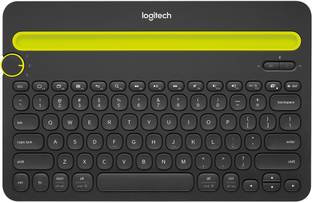 CABLES AND WIRELESS QUALITIES
Logitech K400
The Logitech K400 Plus keyboard, is wireless only, and no charging cord is included because it runs on disposable batteries. This keyboard can only be used with its receiver. This keyboard can only be used with its receiver.
Logitech K480
The Logitech K480 is a wireless-only device with no charging cable. This Bluetooth-enabled keyboard can connect to three devices simultaneously, and you can quickly choose between using the wheel on the left side of the board. It's powered by two AAA batteries, and the maker claims a battery life of roughly two years. However, we did not test this.
TYPING EXPERIENCE
Logitech K400
The Logitech K400 Plus keyboard has rubber dome switches that feel like scissor switches and require a little force to operate, although the overall sensation is light. Because of the membrane switches, pressing a key may seem mushy. The typing quality is satisfactory. The ABS plastic keycaps are slick, and typing on them feels a little mushy due to the membrane switch. Because there isn't much space between each key, the chance of errors is considerable because it might be difficult to determine when your finger is between two keys. On the plus side, the keys are fairly stable, and the low-profile design should prevent fatigue. The typing noise on the Logitech K400 Plus is fairly low. Thus it should not be an issue in a noisy environment. The latency of the Logitech K400 Plus is quite high. While it may not be good for gaming, it should be adequate for online browsing.
Logitech K480
The Logitech K480 contains rubber dome switches that need a significant amount of force to push over the pre-actuation bump. They do, however, have the sensation of scissor switches and appear to be somewhere between scissor and rubber dome switches. The Logitech K480's typing performance is average. The keys are slick and jiggle somewhat. The keys are small, with plenty of space between them, which helps to reduce the frequency of errors. The typing experience, on the other hand, is quite taxing and is only enough to use the board with a mobile device. The Logitech K480 is extremely quiet and scarcely makes a sound. This keyboard will not annoy you if you work in an open-office atmosphere.
SOFTWARE AND OPERATING SYSTEM
Logitech K400
The software support for the Logitech K400 Plus is inadequate. You can remap some of the function keys using the Logitech Options programme. However, you can only select from a drop-down collection of presets. You can turn off the Window Key from the software, but only from within the software, and no function keys can be programmed to toggle the lock. The keyboard is reasonably compatible. Some of its keys operate on Windows but not on macOS or Linux. Some have a Windows-only feature that does not transfer to the proper action on macOS. However, all of the alphanumeric keys should function normally.
Logitech K480
This keyboard works with Logitech Options software. Although there aren't many customizing choices, you can store several distinct profiles. Only some keys can be reprogrammed to one of several predefined configurations. This is where the Bluetooth keyboard truly excels. Because of its wireless connection, you can use this keyboard with almost any device, which is fantastic. However, the software is not accessible for Linux or mobile devices, and some keys will not work depending on which platform you are using. Regardless of the operating system, all alphanumeric keys function as expected.
PERFORMANCE
Logitech K400
The Logitech K400 Plus is not intended to be used for gaming. Although it has a short pre-travel distance and requires little power to activate each key, it lacks macro-programmable keys and illumination, and its latency is quite significant. The Logitech K400 Plus is a good workplace keyboard. Its low-profile design should prevent fatigue. However, the small spacing between keys may result in numerous errors. On the good side, it's very quiet and shouldn't bother folks around.
Logitech K480
The Logitech K480 is a mediocre gaming keyboard. While the actuation force is low and the pre-travel distance is short, the board feels cheaply constructed, and the rubber dome switches aren't as responsive and rapid as mechanical switches. It also lacks configurable macro keys and illumination. The Logitech K480 is a good business keyboard. Its design isn't ergonomic, and typing on it can be exhausting. On the plus side, it is virtually silent and works with all operating systems. This is a wonderful keyboard if you want to add a tablet or phone to your desktop setup.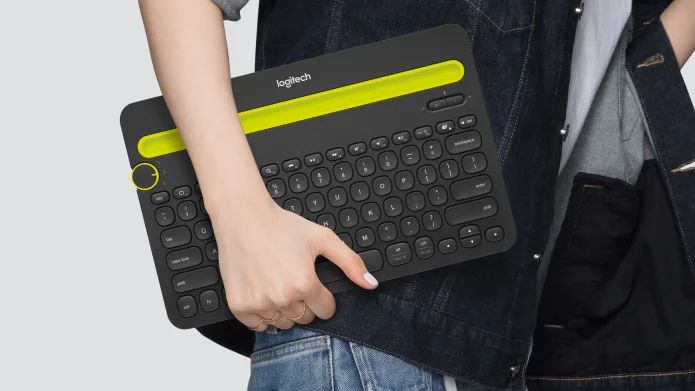 CONCLUSION
Our goal was to understand difference between Logitech K400 vs K480. Because of its Bluetooth compatibility and phone and tablet dock, the Logitech K480 outperforms the Logitech K400 Plus for mobile devices. The K400 Plus, on the other hand, is better-suitable for workplace use because of its improved ergonomics and typing quality. It is better suited for home entertainment installations due to its built-in touch pad. Hopefully now you know which one to pick between Logitech K400 vs K480.