DESIGN
Logitech M317
The Logitech M317 has a simple design. The top of the mouse is a solid matte black plastic, while the sides and scroll wheel are covered in a gripping, soft-touch matte black covering. On the palm rest, there's a silver "Logitech" logo and a small LED battery indicator visible between the left and right click keys. Overall, the Logitech M317 is well-built. The body is made entirely of plastic, and it feels quite robust in hand, despite some flex in the side grips. During everyday use, the flex is barely perceptible. When you shake the mouse, you can hear a rattle coming from the scroll wheel and power switch on the bottom.
The bottom panel that covers the battery compartment is a little loose and easily comes off, but this is unlikely to be an issue during regular use. Because this is a lightweight mouse, you won't get tired of using it for daily productivity tasks. The smallest weight was attained by employing a AAA battery adaptor, which allows you to use a AAA battery instead of the standard AA battery.
Logitech M510
The Logitech M510 mouse has a pretty generic appearance. It's ambidextrous, with a curved-in body that serves as a little thumb and pinky rest. This design is quite simple, and it is not as spectacular as a gaming mouse. The build quality of the Logitech M510 is adequate. When you hold it, you can tell it's a cheap mouse. The mouse is constructed entirely of plastic. On the side, there are rubber grips that may become sticky with time. When shaking the mouse, the mouse wheel seems excessively loose, and there is some noticeable rattling. The side buttons have a lot of pre-travel and require a lot of force to activate fully. The overall build is still enough for most individuals, and the design has some heaviness. Unfortunately, the feet aren't the finest at gliding. The Logitech M510 is quite weighty, considering its compact size.
COMFORT
Logitech M317
The Logitech M317 is rather easy to operate. Because of its symmetrical shape and lack of side buttons, it is appropriate for both left- and right-handed users. In addition, the companion programme allows you to replace the left and right-click buttons. However, because it is so short and compact, it is best suited for those with petite hands, as using it with larger hands feels uncomfortable. This mouse is uncomfortable with a palm grip due to its short length and low profile. If you have medium to extra-large hands, this mouse is too short to use comfortably with a claw grip since you'd have to curl your fingers fairly aggressively to reach the buttons. If you have large hands, this mouse is difficult to use with a fingertip grasp.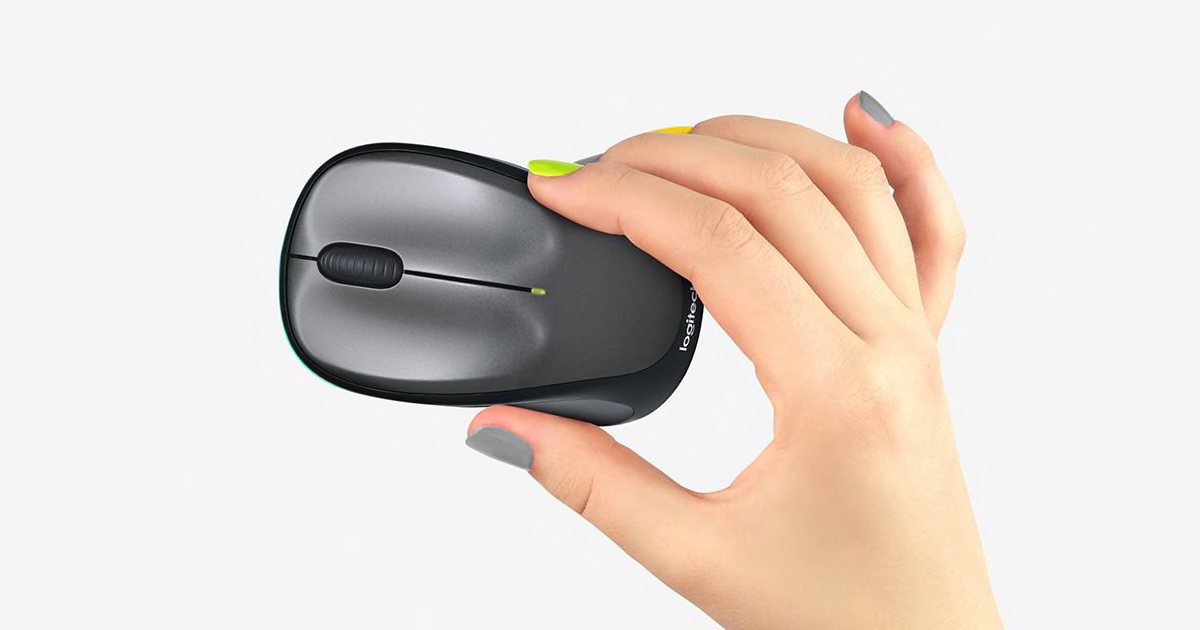 Logitech M510
The ergonomics of the Logitech M510 are adequate. The ambidextrous-designed mouse is difficult to handle, but the rubber sides help a little. Because the mouse's body has a pretty steep drop down and most of the weight is towards the back, you may occasionally find yourself lifting the front of the mouse. Only persons with extra-large hands may find the mouse too tiny when utilizing a palm grip.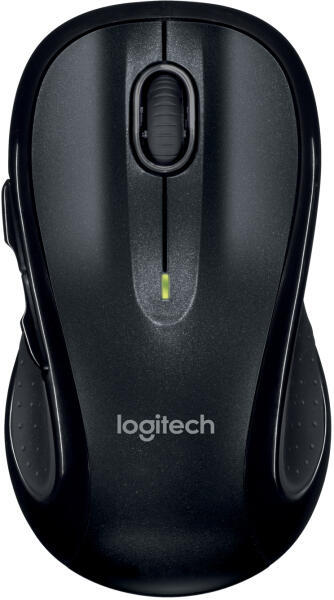 Also, while this model may be suitable for small hands, there is a smaller variant of this mouse that may be better suitable, but we haven't tested it. This mouse is not suitable for large hands because it feels rather cramped with curled-up fingers. This mouse is wonderful for fingertip grasp. However, persons with small hands may have difficulty reaching the side buttons. On the plus side, there is a smaller version of this mouse that may be better, though we haven't tested it.
WIRELESS CONNECTIVITY
Logitech M317
The Logitech M317 is only capable of connecting via the bundled USB Unifying receiver. Logitech claims a battery life of up to 12 months, but this can vary depending on usage.
Logitech M510
This wireless mouse communicates with your devices via a USB dongle. The on/off switch is on the mouse's underside, and it also features a smart sleep mode to save even more power. Even though the mouse requires two AA batteries, the maker claims the battery life is good for roughly 24 months. This mouse is exclusively wireless and does not come with a cable.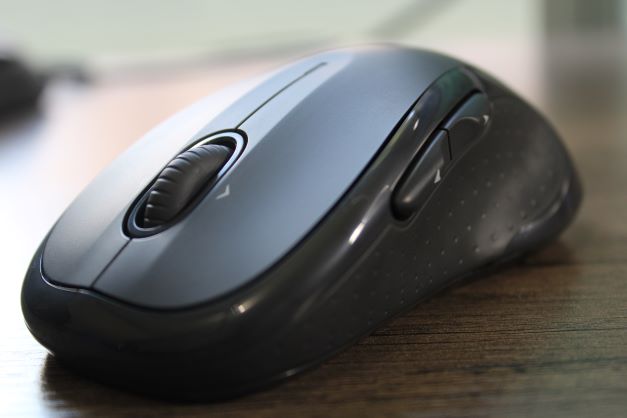 CONTROL
Logitech M317
The Logitech M317 only has L/R and scroll wheel click buttons. Only the scroll wheel click is programmable out of the three. You may, however, reprogram this button to enable gesture controls, which means you can do a range of activities when you click the button and move the mouse in a specific manner. The mouse also has a power switch on the bottom. The click delay is inadequate.
While it is adequate for ordinary browsing, it is not quick enough for games to feel responsive. While tracking, this mouse is somewhat unreliable. As you can see in the video, moving the cursor causes it to zigzag up and down rather than stay in one straight line. Because of the jitter, this mouse is unsuitable for jobs requiring precision or finer control.
Logitech M510
Except for the left and right-click buttons, this mouse features seven programmable buttons. On the plus side, you may swap these inside the software if you want to operate the mouse with your left hand. When utilising the receiver, the wireless latency is acceptable. This will not be noticeable while doing office work or browsing the web. When used right-handed, the laser sensor on the Logitech M510 is off-centre, near the pinky finger. This may take time because the mouse's pointer might easily spin out.
OPERATING SYSTEM AND SOFTWARE
Logitech M317
Logitech M317 makes use of Logitech Options+ software. The middle click button can be reprogrammed using a drop-down selection of actions, including gesture controls. There is a pointer speed slider. However, it is comparable to the pointer speed settings on your system; thus, it isn't a simple CPI adjustment. You can't configure application-specific profiles with this mouse, unlike other mice that use Logitech Options+; thus, whatever you assign as the centre click function remains regardless of which software you use. Both Windows and macOS are supported by the Logitech M317.
Logitech M510
You can use the Logitech Options software to create different profiles based on the software you're running. Other than the two major clicks, which you shift around if you want to use the mouse left-handed, you may also rebind each button. In the 'Point & Scroll' menu, you may also change the sensitivity of the pointer. This mouse is completely compatible with Windows and macOS, which is incredible. Since the software is available, you can also adjust its settings on macOS.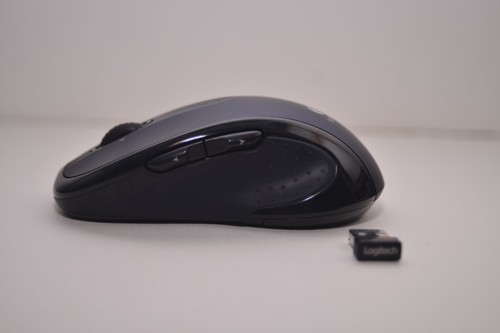 PERFORMANCE
Logitech M317
The Logitech M317 is an adequate business mouse. It's well-made and connects wirelessly via Logitech's Unifying receiver. Otherwise, it lacks a lot of customization and only has three buttons, one of which you can only reprogram. Because of its modest size, folks with larger hands may find it difficult to use. The Logitech M317 is an excellent travel mouse. It's small enough to fit into laptop bags and backpacks. It also has a USB receiver storage box to keep the mouse and receiver together. Unfortunately, it does not support Bluetooth.
Logitech M510
The Logitech M510 is adequate for the workplace. The sensor performance of this mouse isn't the best, but it won't matter for general web browsing or office work. Unfortunately, because of its unusual shapes, its ergonomics aren't ideal. On the plus side, it's wireless and includes many configurable buttons to make your work flow more smoothly. The Logitech M510 is suitable for travel. Its wireless architecture, combined with receiver storage, makes it extremely portable. If you find this mouse too bulky to travel with, there is a smaller version available. While it operates on AA batteries, they have a lifespan of 24 months.
GAMING
Logitech M317
The Logitech M317 is barely competent for FPS gaming, even though it isn't built for it. It's a pretty lightweight mouse, owing primarily to its compact size. Because of its small size, it is difficult for medium and larger hands to use the mouse comfortably. This mouse has bad click latency, poor tracking performance, and mouse feet that scratch and drag on mousepads or desks, in addition to its general discomfort. The Logitech M317 mouse is unsuitable for MMO gaming. It features no side buttons, poor click latency and sensor tracking, and feet that scratch and drag on mousepads. There are also very few software modification options since you can only reprogram the middle click button from a drop-down selection of predefined commands.
Logitech M510
For video games, the Logitech M510 falls short. Its sensor isn't built for gaming, and it struggles with fast mouse movements. It's also quite heavy and lacks the reduced click latency of gaming mice. While the Logitech M510 has many configurable buttons, it isn't intended for MMO gaming. Its ergonomics are adequate, and this mouse is unlikely to be comfortable during intensive and lengthy gaming sessions.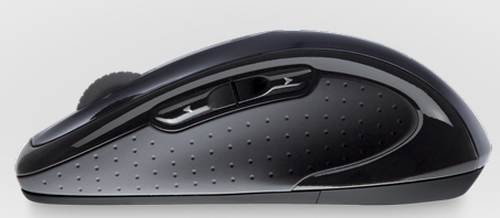 CONCLUSION 
With increased comfort, enhanced controls, and up to 24-months of battery life, the M510 is ready for any work. The contoured design, rubber grips, and palm support—5 customizable buttons—allow you to work comfortably. While the M317 provides Easy Navigation and Precise Control: The Logitech M317 wireless mouse has line-by-line scrolling and smooth optical tracking for precise cursor control on a variety of surfaces.
Long-lasting Battery Life: This cordless computer mouse may run for a year without needing to be recharged.