In this article we will find the best between MX Vertical vs Logitech Lift.
DESIGN
MX Vertical
While you rest your hand on the tabletop, the MX Vertical is designed to nestle inside your palm. It's largely constructed of plastic, but the section that touches your hand feels more like rubber and is textured to improve grip. The two primary buttons that encircle the wheel are reasonably sized and have a matte surface, while the top has a silver tint and houses the logo and a function button. The build quality of the MX Vertical Wireless Mouse is excellent. The mouse is constructed of plastic, yet there are no squeaking components or loose ends, and it feels solid. Nonetheless, it may not give off a luxury vibe. By design, the MX Vertical is a heavy mouse.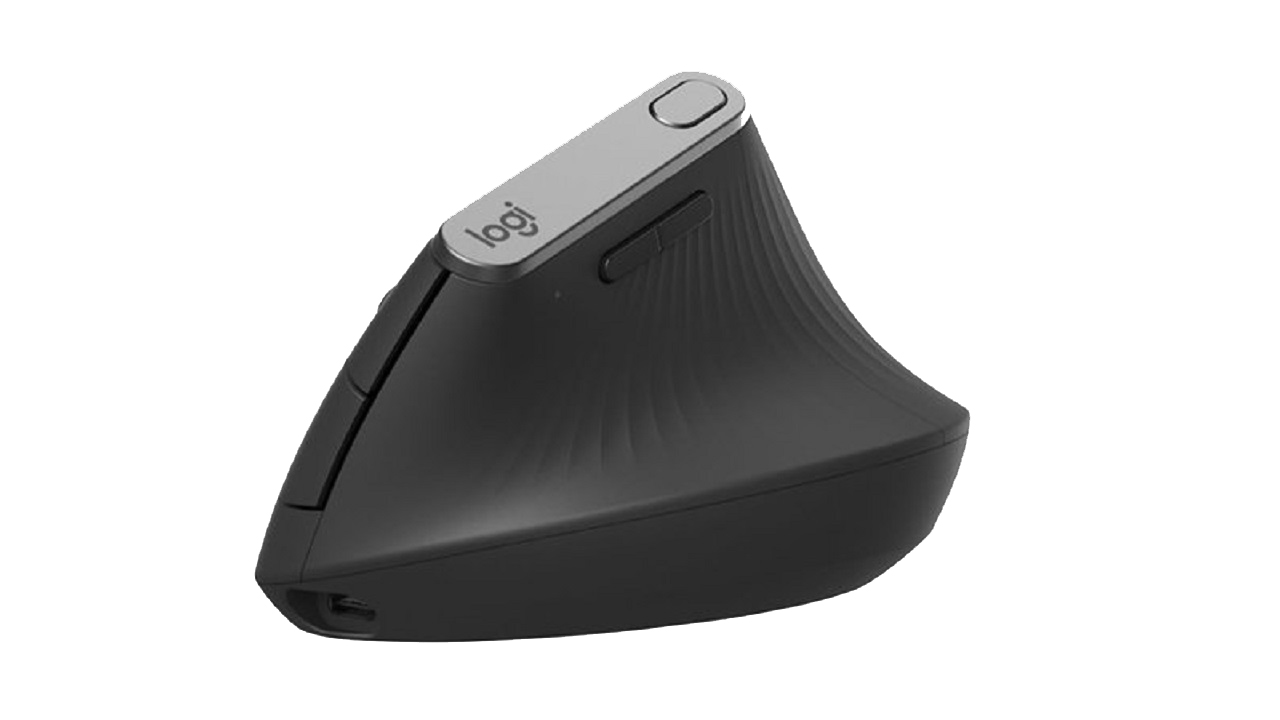 Logitech Lift
The Logitech Lift vertical ergonomic mouse appears elegant and professional, albeit significantly less than the comparable Logitech MX Vertical. This mouse comprises dark, matte grey plastic with a darker grey rubber grip and ribbing around the area where you hold the mouse. There are no RGB lighting zones, and the mouse has a Logi logo. Overall, the Logitech Lift has good build quality. There is no flexing or squeaking between pieces, and the top area towards the back has a nice, rubberized grip region. When you shake the mouse, there is a tiny rattling sound.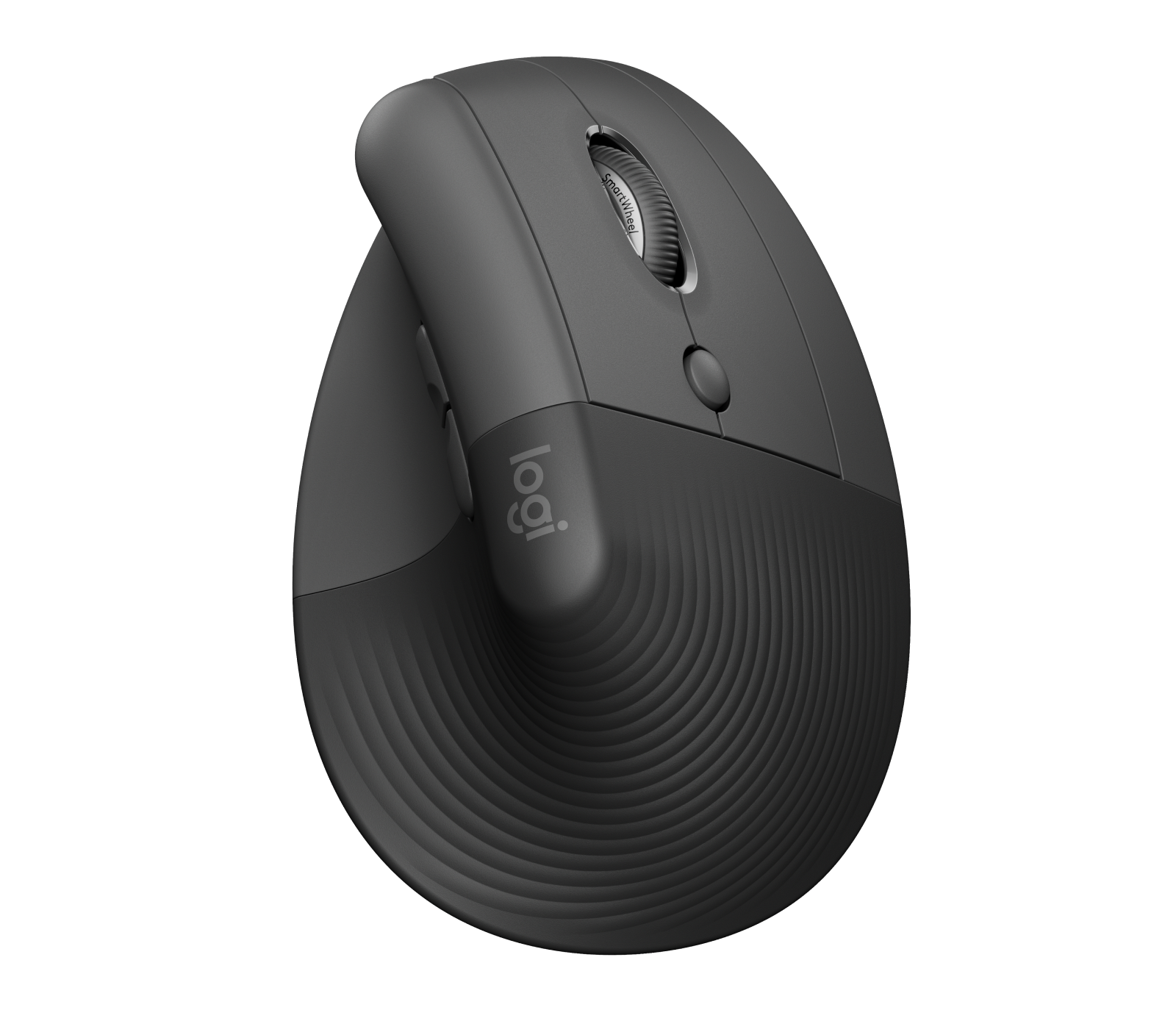 However, it is not audible during typical use. Also, while the plastic is fairly sturdy, it still has a cheap feel. Please remember that the Logitech Lift is built with 70% post-consumer recycled plastic. This could explain the materials' perceived low quality. It's also worth noting that the mouse's other two color options are constructed with only 54% recycled plastic and may feel different. In its default setup, the Logitech Lift is fairly hefty. You can utilize further weight optimization approaches, such as using a separate AAA adapter with lithium AAA batteries, to reach the Lowest Weight result during testing.
COMFORT
MX Vertical
Between MX Vertical vs Logitech Lift, the MX Vertical has good ergonomics and is a comfortable mouse for most users. Because of the mouse's vertical design, clicking the button will unintentionally shift the cursor unless you have a firm grasp on the mouse. This mouse is difficult to lift, which may be an issue when utilizing a low sensitivity level because repeated repositioning of the mouse may be challenging. The MX Vertical is fairly hefty due to its shape and is not a good travel companion.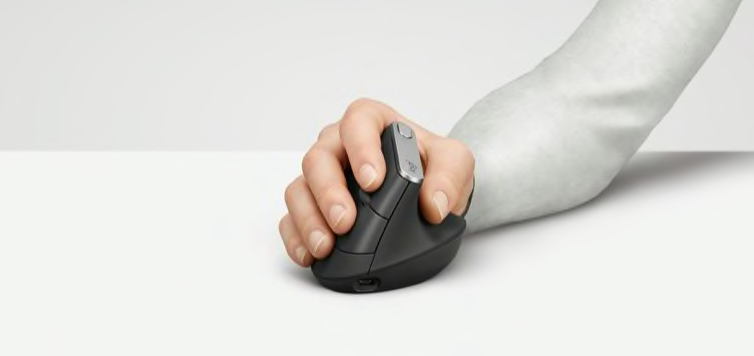 Logitech Lift
Because the Logitech Lift is vertical, you hold the mouse in a 'handshake' position. The upper half of the mouse, towards the back, has a pleasant rubber grip texture for your palm, and the buttons are well-placed and easy to reach. Generally, it's a good fit for right-handed people with tiny to large hands. This mouse is also available in a left-handed form.
CABLES AND WIRELESS VERSATILITY
MX Vertical
The wireless connectivity options for the MX Vertical are fantastic. It, too, can switch between three connected devices, as does the MX Master 2S. Although it has a wireless dongle, it also enables Bluetooth communication, so you don't need to bring it with you if you travel with your mouse. The cable can be used for charging as well as wired use.
Logitech Lift
A Bluetooth connection allows you to connect the Logitech Lift to a maximum of three devices simultaneously. You may also link this mouse to the accompanying Logitech BOLT USB receiver and two additional devices through Bluetooth. Logitech claims this mouse can run for up to 24 months on a single AA battery. There is no obvious battery life indicator on the mouse. However, you may check it using the program.
CONTROL
MX Vertical
The buttons and their functionality are satisfactory. Although the mouse buttons cannot be used to swap profiles, the accompanying software allows you to have a separate button configuration for each application installed on your System. The click latency of the Logitech MX Vertical is acceptable.
Even when used in wired mode with the provided cable, the mouse's latency is still too high for competitive or reaction-based gaming. Yet, regardless of connection type, its click latency is low enough for casual gaming, browsing, and basic productivity tasks. The wheel on the mouse is average. It provides wheel incrementation feedback and high precision. Nevertheless, because the wheel cannot be unlocked, it cannot scroll forever, which can be inconvenient if you need to fast browse through enormous pages.
Logitech Lift
All buttons on the Logitech Lift can be programmed, including the scroll clicks, two side buttons, and the button on top of the mouse, which by default, cycles through CPI levels. On the underside, there is an extra button for Bluetooth pairing with up to three devices. Once connected, this button is also used to switch between connected devices. To use gesture instructions, one of the programmable buttons must be designated as a special gesture button.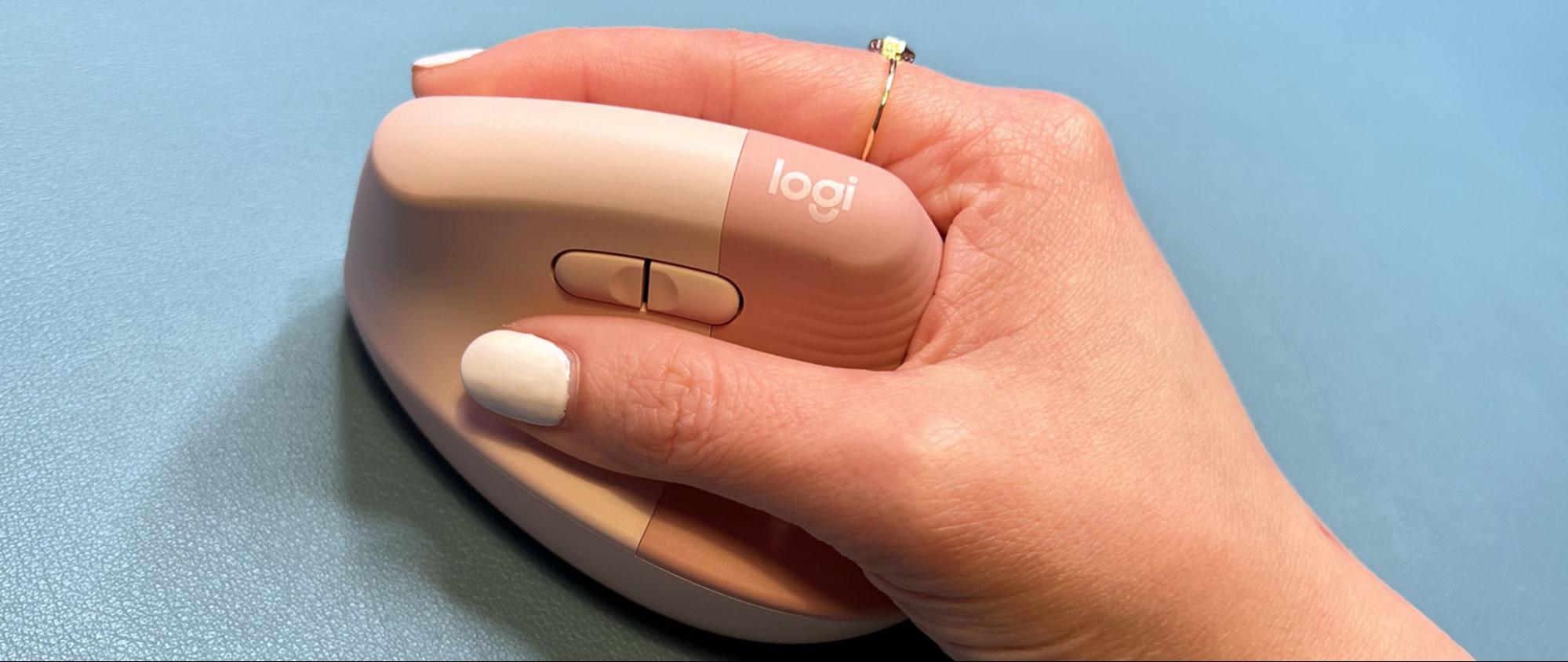 The model of the switches used for the left and right click buttons is not advertised by Logitech. However, they are rated for 10 million clicks. The click latency of the Logitech Lift is low. It gives a responsive gaming experience that is appropriate for casual gaming. This mouse, however, is not intended for gaming, and the click latency is not quite as low as that of most dedicated gaming mice. When the Logitech Lift vertical is connected to its USB receiver, the polling rate is set to 125Hz. The polling rate is set to 90Hz when using a Bluetooth connection. There is no method to modify the polling rate manually.
The Logitech Lift's scroll wheel is precise and very silent. When scrolling slowly, though, there is little distinction between steps. Depending on whether you enjoy tactile input while scrolling, it may be something you like or despise. This scroll wheel is also called a 'SmartWheel' by Logitech, as it automatically converts from a slower accuracy mode to a high-speed scrolling mode when you start scrolling quickly.
OPERATING SYSTEM AND SOFTWARE
MX Vertical
The program downloads when you put the USB dongle into your PC is simple. Because there is no onboard memory, you must register an account with Logitech to preserve your preferences. This is useful if you need to refresh your settings on another computer. You can use the software to build profiles that load automatically when you launch a program on your computer, but you cannot have numerous profiles for the same program. The most common operating systems should work fine with this mouse and associated software. However, some programmable functions are OS-specific, which is incompatible with other operating systems.
Logitech Lift
Logitech Options are used to customize this mouse. The software is simple to operate. It lets you remap buttons, assign macros, and set up unique profiles for specific apps. Overall, the options emphasize giving simple, productive controls. The Logitech Lift is fully compatible with both Windows and Mac operating systems.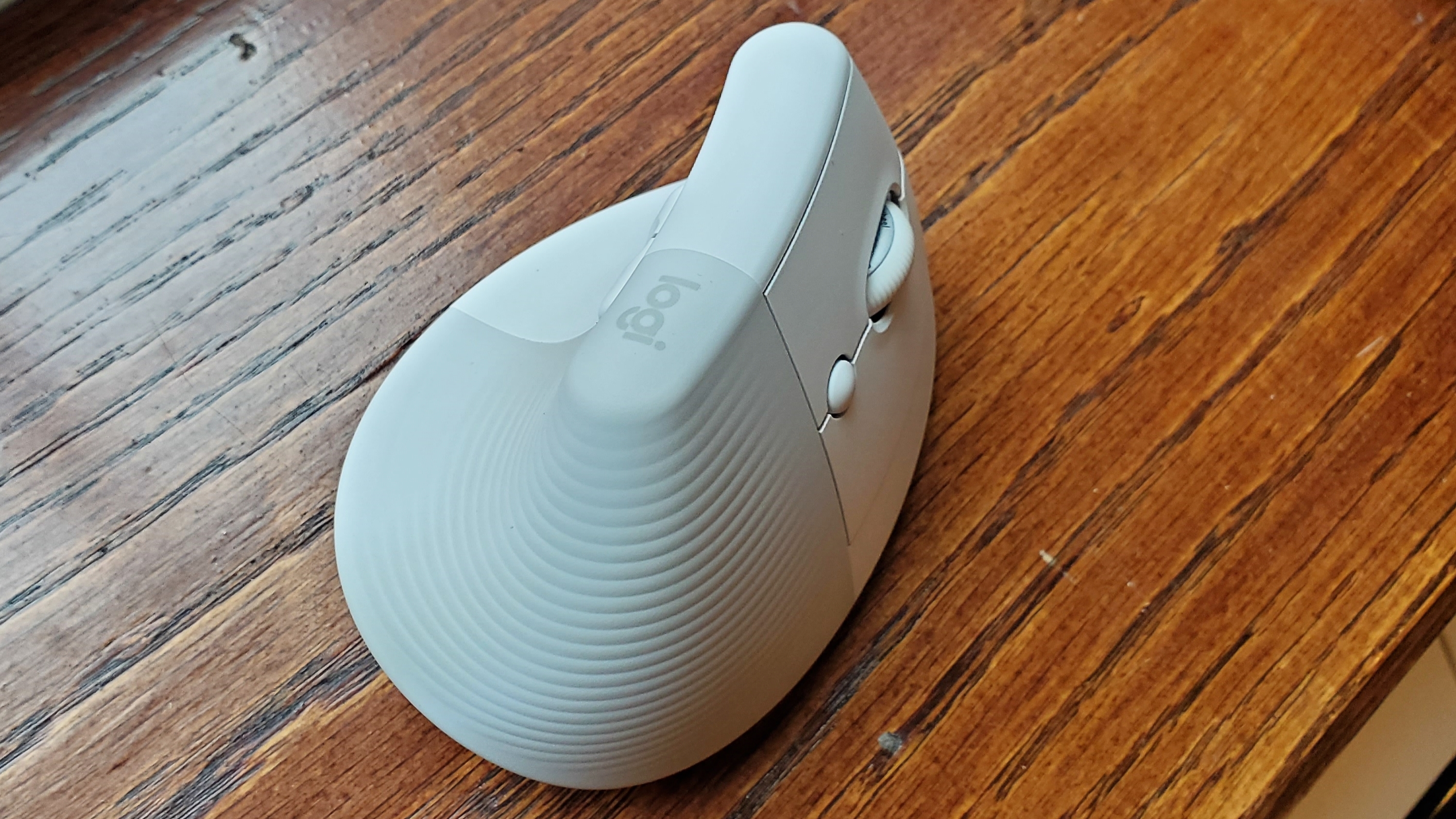 CONCLUSION
The Logitech MX Vertical and Logitech Lift are both wireless vertical mice designed for use in the office and for productivity. The MX Vertical is better suited for larger hands and charges via a USB-C cable. The Logitech Lift, on the other hand, is better suited for smaller hand sizes and is powered by a single AA battery. The two mice have the same amount of buttons. However, the Lift has one directly behind the scroll wheel, while the MX Vertical has one on top. Hopefully now you know your best pick between MX Vertical vs Logitech Lift.
For