INTRODUCTION
Sonos Move
Sonos has been making high-quality multiroom audio systems with great sound quality and easy integration for years now, however, the Sonos Move happens to be the first-ever portable speaker they've come up with. It's not as light as one would expect, however, it still manages to provide some serious sound. That's not all, it allows its users to switch between portable and docked features on the fly as well, how cool, no?
Sonos One
Anyway, we're here today to compare the Sonos Move with its Sonos One counterpart. For a long time, the Sonos One has been Sonos' obvious entry point for the people looking to them for their audio needs. However, now there's the Sonos Move and things have slightly changed.
Let's take a look at which product is better.
DESIGN
Sonos Move
The Sonos Move looks a lot like previous Sonos models. You've got a black speaker unit that's got a front metal grille. It has capacitive playback control switches at the top accompanied by four far-field mics. You'll find the power button, a multi-room pairing button and a Wi-Fi/Bluetooth toggle switch on its rear end. As far as audio guts are concerned, the Move uses 2 Class-D digital amps (one mid-woofer in the cabinet for bass and mid-ranges and, for highs, one downward-firing tweeter). Sonos has designed their enclosure cutaways to be balanced and resonant from all angles.
As a portable device, the Move has been thoroughly tested for durability. Apparently it also has the ability to withstand heat and cold extremes. Measuring in at 240x160x126 mm, yes, it isn't small but it's still portable. It weighs about 3 kg and can be lifted with relative ease. However, you don't want to have to be carrying it for long periods of time. It's this heavy because of its need for large driver magnets, which is a fair trade considering they're what help it deliver such outstanding sound quality.
Sonos One
When it comes to the Sonos One's overall design, even though it's largely based on the existing Play: 1 speaker, Sonos has made several improvements. It has a touch-sensitive surface at the top that's a tad bit sleeker than what you'll find on the Play:1. Swiping left or right skips backward and forward through the current playlist while pausing and playing of music is achieved when you tap the surface's center. Finally, to raise the volume you'll be required to tap the right and left halves of the speaker's panel.
To facilitate voice control, the Sonos One has been equipped with 6 internal mics to allow the device to hear you when you drunkenly request it to play you your favorite hits of the 90s. They also have the same audio guts as the Play:1 which includes a mid-woofer/tweeter driver combo and two Class-D amps. In fact, it basically has the same insides as the Sonos Move as well. A power-indicating LED is located at the top alongside a tiny light that is there to inform you of when you have Alexa's attention.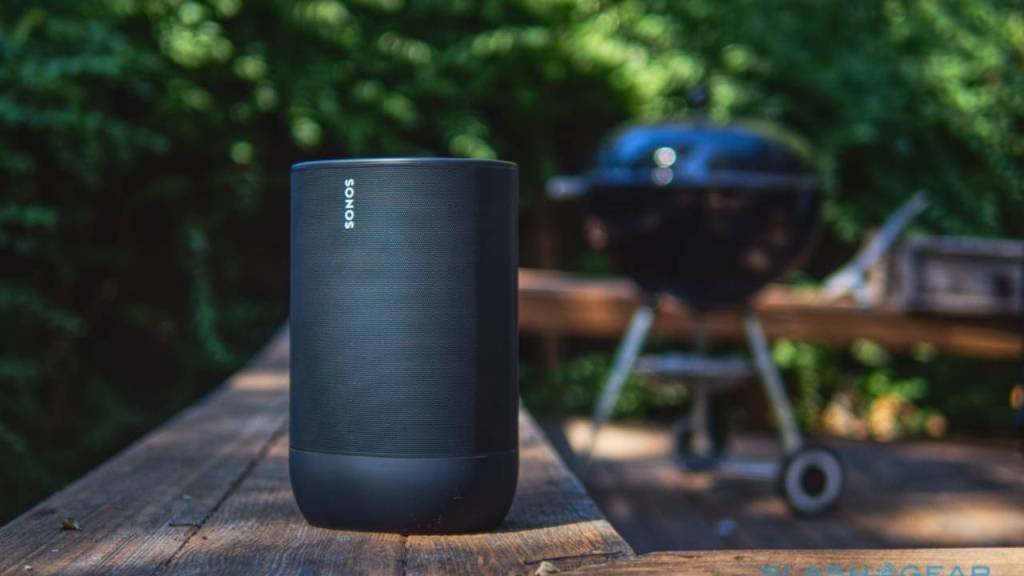 AUDIO QUALITY
Sonos Move
The Move does not sound like your ordinary portable speaker. If you have some experience with Sonos speakers for home use, then the move sits somewhere between the Play: 5 and Sonos One in terms of both fidelity and volume. Its mid-range drivers provide space-filling and forceful low ends, even when battling the acoustics of spaces that are wide open. Also, some portable speakers usually have drop-offs in vocal clarity but that's not something you have to worry about with the Sonos Move. Such speakers are usually moved around a lot, both inside and outside the house, and it's going to find itself in places that have differing acoustics. The TruePlay system is there to ensure it provides quality sound in all scenarios. This feature is very effective at reworking audio outputs to suit the different environments the speaker will find itself in.
The speaker does incredibly well when being used in the great outdoors as well. You're sure to turn some heads when playing Coldplay tracks in your local park with the volume set at high. Again, none of the low-end punch and clarity is lost. In fact, you can still clearly hear the music over sirens and cars that pass by. Yes, it's size won't allow you to move it around as often but when it does find itself in your garden or in an outdoor setting, it has enough power to fill a modest field quite comfortably.
Sonos One
The Sonos One speaker also has pretty fantastic audio quality, as is expected with Sonos. It offers a lot of energy and has a real punch to it. For a small speaker, it provides its user with a sufficient amount of power. It even does exceptionally well with music that's a tad bit on the complicated side.
Unfortunately, though, it doesn't offer the separation from a pair of stereo speaker units with way squashes sound into one channel. With that said, it does actually do a solid job, especially for that price and size. Furthermore, the natural ability it has to pair with other Sonos speakers helps better its sound even further.
SMART FEATURES
Sonos Move
Sonos has been manufacturing connected and wireless sound systems for quite some time now, and just because the Move is the first time they've gone portable doesn't mean that they're sacrificing their connectivity capabilities. The Move, just like its other Sonos counterparts, has been designed to be able to work as part of multi-room groups or in stereo pairing. If you want to play the Move system both in your garden and in the house simultaneously, it can do so without skipping a beat.
The Move will work with almost any kind of connected audio source or online store. If you want to use Spotify Connect to fire up a Spotify playlist, just use the Sonos app. Once it connects to the internet, all the sources you're looking for will appear over Wi-Fi. If you find yourself out of Wi-Fi range then you can fall back on Bluetooth. Its connectivity is the standard 4.2 version and not the newer 5.0 one. While Sonos hasn't quoted any Wi-Fi and connectivity ranges, they've stated that both things can be controlled. At the base, you'll find four Wi-Fi antennas while the Bluetooth module is found at the top to allow for the best coverage possible.
Sonos One
One of the most outstanding things about the Sonos One is its wonderfully executed voice control integration. In fact, some might even say it's near perfect. Being able to request your favorite songs using the sound of your voice is way more appealing and convenient than having to use the applications on your smart device. The addition of Spotify to the Sonos One helped take this smart speaker to the next level. Not only are they impressively featured multi-room speakers with the backing of the Sonos application that's been experiencing continuous development and improvement but it can now integrate with almost all the popular music streaming services out there.
The Sonos One is basically what you'd expect from a Sonos smart speaker. It does everything you'd want a smart speaker to do. It integrates well with most of the smart home products in the market and doesn't dent the pocket too much. Also, the new Sonos Alexa skill will allow you to get music playing through voice command. Both the Sonos One and Sonos Move do this exceptionally well, however, the Move takes it when it comes to this. The Sonos One's voice integration isn't as smooth and effective as its Move counterpart.
VERDICT
There are several key differences between these two speaker devices. The most obvious of them all is that the Move is a portable Wi-Fi smart and Bluetooth speaker in one. This is in itself already a very big win for the Sonos Move. You can remove it from its charging cable and move it about however you please. Another advantage that the Move has over the Sonos One is that it has an evolved Sonos Trueplay feature that now works automatically.
They both have inbuilt smart assistant functionality, with Google Assistant and Alexa available according to user preference. Though, it's worth noting that the smart assistant feature on the Move is Wi-Fi dependent. This means that when it's switched from Bluetooth to Wi-Fi, Bluetooth playback is what the user will be limited to, with no assistance from Google or Alexa.
Anyway, if this is your first time buying a Sonos speaker, then going with the Sonos One would still be a very sensible move. It's a good place to start and it's plenty modular. However, if you're more of the party type and are prone to booming sounds in open spaces, then the Move is definitely what you need to be looking at.
Truth is, there's really no wrong choice between the two. As far as we're concerned, this here is a tie.