Although we no longer hear the clicking of the typewriter keys when we type on modern computers and laptops, it may be highly satisfying to feel our fingers speeding across a keyboard while in the zone of writing. Consider the vast choice of computer keyboards available to maximize your everyday typing experience. Typing comfort and a convenient, efficient essential arrangement are two primary considerations when deciding which keyboard to buy. Consider the following computer keyboard kinds to fit your typing, comfort, and convenience requirements. In this article we will go through all Types of Keyboards.
Computer keyboards are often classified into two types: primary and expanded keyboards. There are many distinct types of keyboards within these two classifications, each with its features. There are several keyboard technologies, including scissor switch keyboards (popular on notebooks and netbooks) and full press membrane keyboards (standard for desktop computers). Different keyboard technologies provide varied user experiences, such as how hard a keys must be pressed in order to transmit a message or type a character.
QWERTY Keyboards
The most general keyboard layout is QWERTY, modeled after old-fashioned typewriters. Generations of typists have grown accustomed to the QWERTY keyboard, and most pupils learn to type using this layout.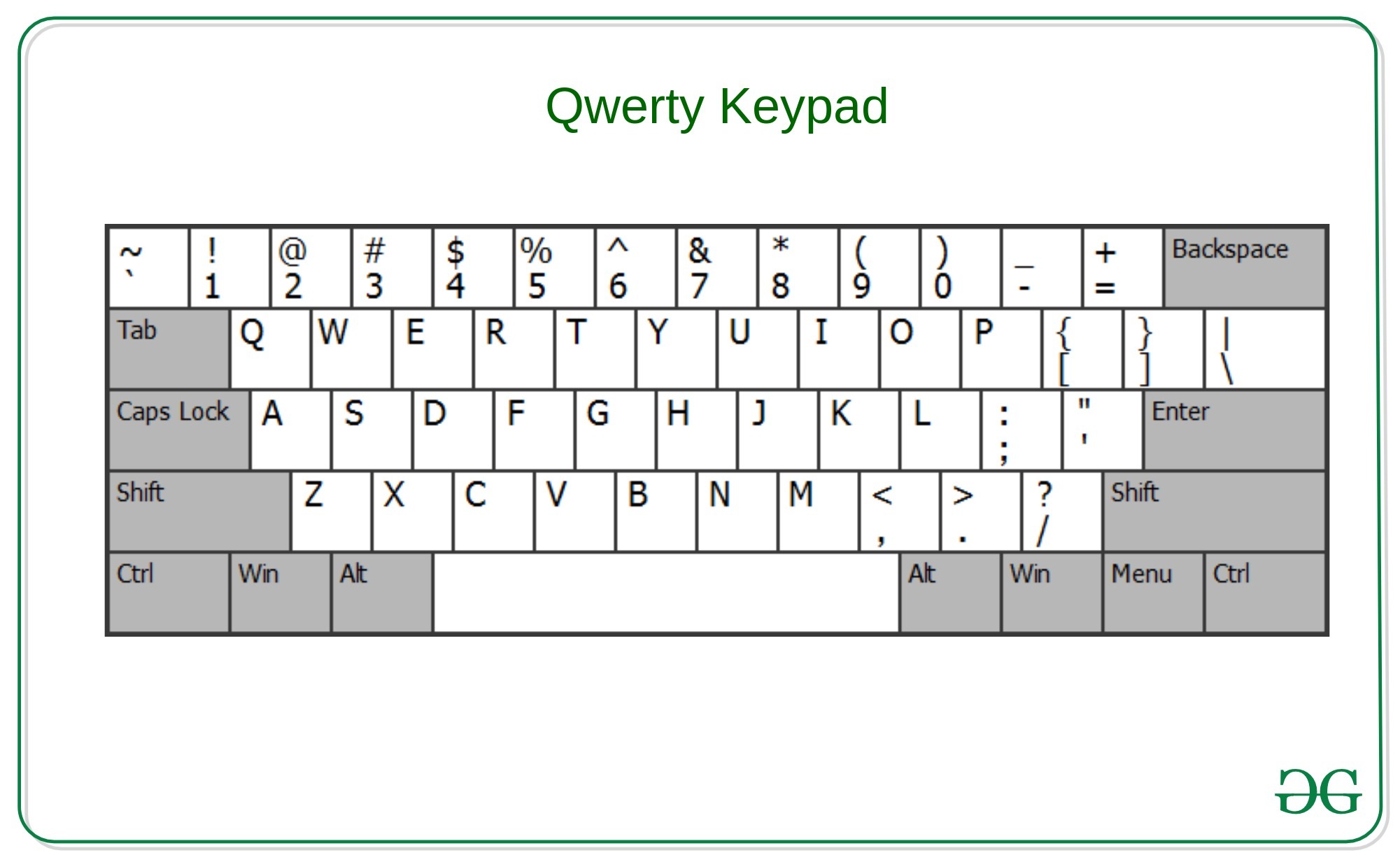 Where It Shines
The QWERTY keyboard layout is very comfortable, familiar, and time-tested, making it excellent for day-to-day typing. If your word-per-minute typing rate on a QWERTY keyboard is satisfactory, you will not need to learn new system on a keyboard with a slightly different layout.
Why to Pick
Select this if you dislike change and are satisfied with your typing experience. You can also feel okay about having a QWERTY keyboard on a shared family computer because this is how youngsters often learn to type.
Wired Keyboards
If you want a keyboard style that meets your demands, wired keyboards provide an economical and straightforward swap.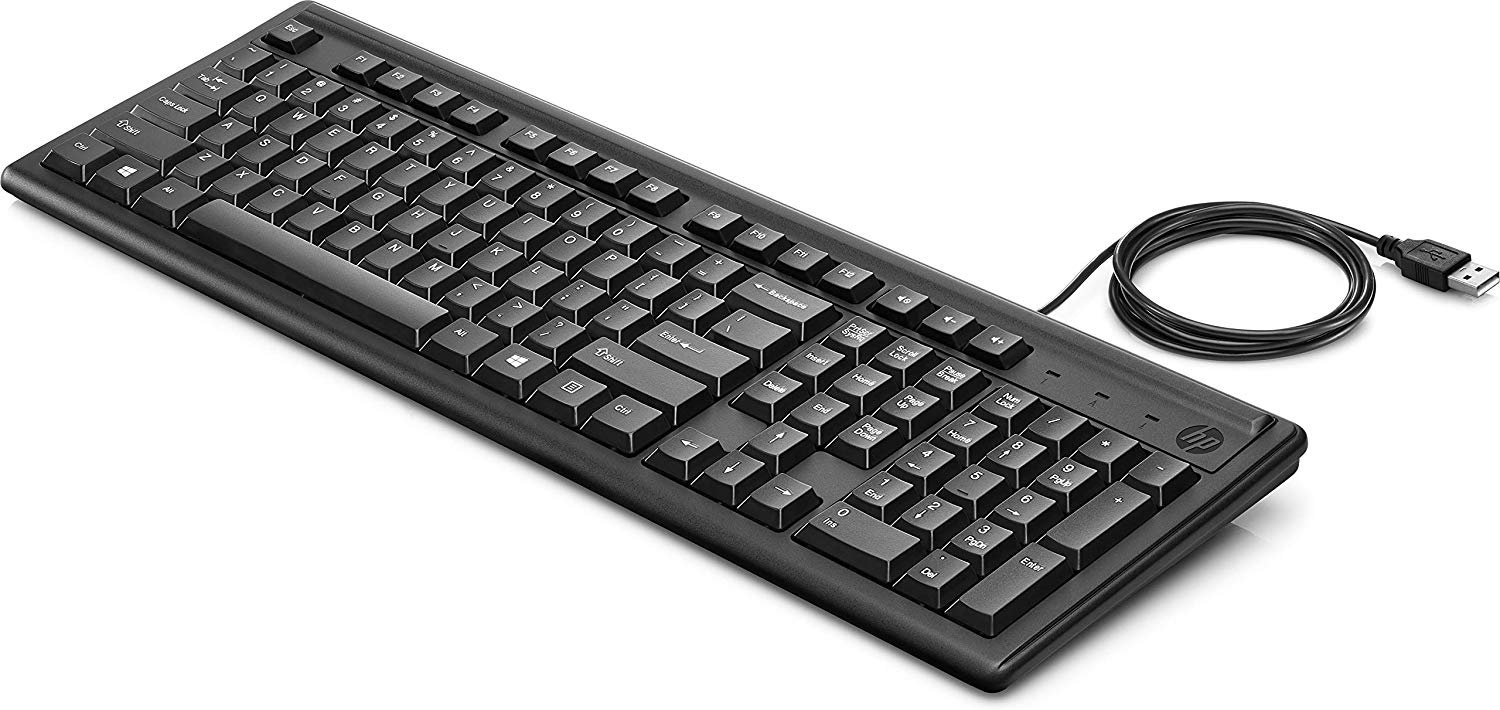 Where It Shines
USB keyboards easily attach to an existing USB port. These add-on devices are also faster than their wireless counterparts.
Why to Pick
You can live without one of your USB ports for an extended period and value the ability to draw power from your computer rather than batteries that will eventually need replenishment.
Numeric Keypads
Not all computers come with keyboards that have the number pad. The numeric keyboard is an easy solution for that.
Where It Excels
This convenient gadget bridges the gap between a built-in minimalist keyboard and what you need to accomplish your work.
Why to Pick
Your existing keyboard is missing the number pad, and you want easy access to numbers and mathematical functions on demand.
Ergonomic keyboards are designed to reduce stress on the body from the typing. These types of keyboards are often laid out so you can relax your hands in a more comfortable, natural position as you keep typing.
Where Does It Excels
Because ergonomic keyboards are designed to reduce stress on your hands, arms, and also wrists while you are typing, they can be an excellent choice for the ones who are concerned about posture, hand, arm, or shoulder ache, or the possibility of developing typing related medical conditions like the Carpal Tunnel Syndrome .
Why to Pick
You care about reducing strain on your body while you are typing, and you're willing to spend a bit more for a comfortable typing experience.
Wireless Keyboards
Wireless RF keyboards provide independence in your computing operations by relying on a radio frequency aerial or infrared to keep you linked.
Where It Shines
Wireless keyboards allow you to move around while working on a computer without being constrained by unnecessary wires. Because these keyboards are wire-free, they are also ideal for taking with you on the road because there will be no cords to tangle in your work bag.
Why to Pick
You want the freedom of a wireless keyboard, but the price of a more expensive Bluetooth keyboard model appears prohibitively costly.
USB Keyboards
This type of wireless keyboard communicates with your computer via a little device known as a dongle, which you can plug into one of your laptop's USB ports. To enable wireless typing, the dongle sends a signal between your computer and the keyboard.
Where It Shines
Because a USB keyboard does not require Wi Fi or Bluetooth connectivity, you can connect it to your device whenever you choose.
Why to Pick
You're looking for a low-cost wireless keyboard that doesn't require internet access to function. USB keyboards are an excellent solution for folks who need a keyboard on the go.
Keyboards with Bluetooth
Bluetooth keyboards are slightly more expensive than other wireless keyboard variants, but they provide several functions and benefits. As you might have already guessed from the name, these keyboards link to a laptop via Bluetooth.
Where It Shines
Bluetooth keyboards provide a wide variety of functionality and versatility. These keyboards will also not occupy a USB port on your computer, allowing you to connect to other devices.
Pick This If:
You will pay a little more for a convenient keyboard that provides unrestrained versatility. You also won't have to worry about losing a dongle with a Bluetooth keyboard; you may connect the keyboard to the laptop at any moment without any additional equipment.
Magic Keyboards
Apple's Magic Keyboard features a refined appearance and a rechargeable battery. These Bluetooth-enabled keyboards immediately connect to Mac computers. The "Magic," like any other Apple device, comes at a cost; these are some of the most costly everyday keyboards on the market.
Where It Shines
The Magic Keyboard works as effectively as possible, enabling good battery power economy and immediately pairing with your Mac. Magic Keyboards are a terrific option for Mac users because they are intended to work perfectly with your beloved Apple machines.
Why to Pick
You own a Bluetooth-enabled Mac and enjoy simple, stylish computer accessories.
An ambient glow from your keyboard makes it easier to type in low-lighting situations and provides a magnificent "wow" factor.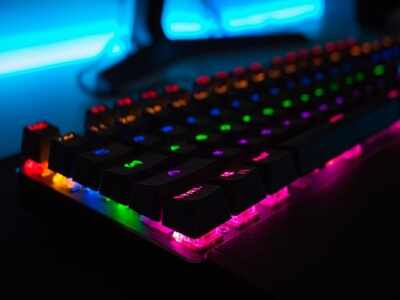 Where It Shines
Backlit keyboards, both wired and wireless, add brilliance to your gaming and computer work. While backlit keys are not required, they can be a good alternative for folks with vision problems because they make it easier to see all keys on the keyboard.
Why to Pick
You desire maximum visibility on the keyboard and the ability to see your keys in low-lighting conditions. Backlit keyboards are another visually appealing choice for taking your online gaming to the next level.
Gaming Keyboards
These keyboards are intended for PC gamers that require increased durability and the quickest key reaction rates for split-second action. If you're looking for a gaming mouse, read our buying guide.
Where It Shines
Gaming keyboards are made to be used for extended periods so that you may play your favorite games without interruption. These keyboards frequently have upgraded characteristics from other keyboard types, such as backlit keys and also ergonomic layouts.
Why to Pick
You want a keyboard specifically intended to match your gaming needs, and you're prepared to spend a premium for the best experience. It's game time!
Flexible Keyboards
These keyboards have the same functions as normal QWERTY keyboards, but they are more portable. Flexible keyboards are often composed of silicon and can be rolled up and carried anywhere.
Where It Shines
Flexible keyboards are developed specifically for portability and durability. Because they are made of silicon, they are also easy to clean and resistant to water and dust.
Why to Pick
You want a keyboard that you can take everywhere without worrying about destroying it.
Membrane keyboards
Membrane keyboards have no gap between the individual keys. The keys are pressure-sensitive, with the various characters highlighted flatly.
Where It Shines
Membrane keyboards can be fairly affordable due to the low cost of the materials required. They're also quieter than mechanical keyboards, making them an excellent choice for individuals who dislike the "click-clack" of keys.
Why to Pick
You want a quieter typing experience on your keyboard that is yet reasonably priced.