Design
Many e-readers out there use a mini-tablet design, however, the Kindle Oasis (2019) does not. One-half of the tab is kind of thicker than the other, giving rise to somewhat of a ridge at the back designed to make it easier for the user to hold. Unfortunately, in practice, the ridge isn't really thick enough to provide this comfortable hold Amazon was looking for. In fact, some might even find that the ridge makes it a lot harder to hold.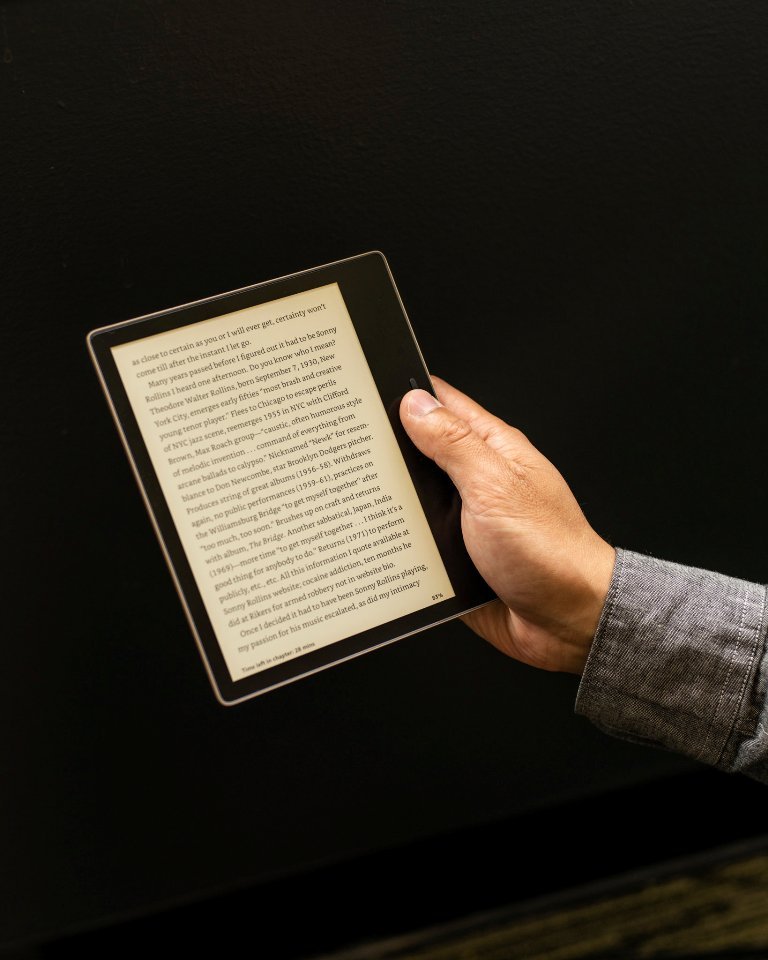 Anyway, one of the device's more interesting premium features is its metal build. This is something that's not there in other Amazon Kindles. This gives the device a much hardier feel, which might be an attempt to neutralize the fact that it's only 3.4mm thick. It's also a relatively lightweight tablet device weighing in at about 188grams, however, this can give it a slightly delicate overall feel. All in all, the end result is a tab that both feels and looks sleek. 
It's also a water-resistant device that has a IPX8 rating, which theoretically means that it can last about an hour or so two meters underwater. Okay, we're not sure why anyone would want to submerge their e-reader two meters underwater for an hour, but hey, I guess it's good to know you can. Anyway, the point is your Kindle will certainly be fin if accidentally exposed to drops of water from say the bathtub where you were using it to read. 
Something that's a little less interesting about the Oasis is its micro USB charging feature. Most smartphones and phones have gotten rid of such ports and replaced them with the more favorable USB Type-C connection, which charges faster. That being said, e-readers often don't require a lot of power so that part won't be such a big issue, however, the inconvenience of having to swap out cables could've been done away with. Another downside is that it doesn't have a 3.5mm jack nor does it have loudspeakers. This means that, if users want to listen to their audiobooks they'd need Bluetooth speakers or headphones. 
The two buttons found on the right are what you'll use to skip backward or forward through pages. It feels faster turning through pages using these two buttons rather than having to touch your screen because, one, they're placed naturally under your fingers and, two, button presses on this Kindle turn pages faster than swiping does. Although, there are times won't register your touch while other times it will but the tablet will stutter a bit before it loads the next page. This usually happens when the tab is being used to read books that have complicated designs or overall layouts, such as graphic novels, comic books and the like. You won't notice this issue much when reading text-based books.   
Display
This Kindle Oasis' main improvements are seen on the display. There are quite a number of changes and new additions Amazon has made improving the reading experience and overall quality of the device. The display screen measures seven-inches diagonally, much bigger than the six-inch displays found on other Kindles, such as Kindle Paperwhite. It allows you to fit more comic book frames or words on the display at once. Also, the content itself looks way better and is of much higher quality because of the 300 pixels per inch thing they have going on. 
Twenty-five LEDs backlight the screen, which is a huge jump from the twelve LEDs that were used in the Kindle Oasis 2017 version. It has a very high maximum brightness which allows you to read in many different scenarios and environments, and there is better contrast between the dark and light which helps display comic books in a particularly more vivid manner. Brightness levels can be changed via its easily-accessible settings menu, however, you also have the option of having it change automatically depending on the environment you happen to be in. 
Furthermore, the settings menu is still where you'll find another interesting new feature the Kindle Oasis 2019 has, and that's its "warmness" light setting feature. This is what gives the screen the orange hue designed to make it a little more comfortable for you when using the device to read at night. It's also what will protect your eyes when you using it during those long reading binges. Amazon came up with this feature primarily to allow users to read more comfortably at night. 
The screen also has an appropriate refresh rate, for an e-reader display that is. Of course, you can't expect the snappy refreshes you'd get from a smartphone display screen, however, it's far from being a slow one. You can also clearly see zoom increments when zooming into documents. 
Features
The software that powers the Kindle Oasis 2019 is one that's very tightly linked to the Amazon Store. This software is so tightly integrated until you can get confused between the books you actually own in your library and the ones suggested by Amazon. Though, once you fully understand how to work the software, finding your way between the store, the settings, your library, the homepage, and everything else will be much easier. 
E-readers are generally not the snappiest devices on the planet. It can take some time to scroll through menus. This sluggish nature can sometimes be very annoying, especially when you are typing with it. However, this is the price you'll have to pay for using something that's specifically designed for reading books and not to provide for smooth user interface experiences. 
The Kindle Oasis 2019 also comes with all the same fantastic features found on all Amazon Kindle devices, including allowing users to listen to their favorite Audible audiobooks if they have an account. Although, you'll need Bluetooth speakers and earphones to listen in. The tab also has an X-Ray feature, which scans the texts on a page to users contextually relevant and accurate information about settings, nonfictional/fictional characters, and so on. Also, not sure about a word? You can access the dictionary by just tapping and holding the same word. 
If you're someone that reads several books a month, you might want to consider taking a look at Kindle Unlimited. When you purchase the new Oasis 2019, Amazon will give this service for free for about 6 months. With this, you'll get unlimited access meaning you can pick from select books and read them for free. Prime subscribers can access Prime Reading. This means that they can access the Prime Reading catalog and borrow books from there. 
Performance
The Kindle Oasis 2019 is generally one of the most responsive devices on the Amazon Kindle roster and there's a high chance this is all thanks to its high-quality processor and the inclusion of the new, updated E Ink technology. It's quick to react to all interactions, well, quick enough for those that are using it to read e-books. There's no ghosting while you read. It has 8GB of internal storage, but you can access an Oasis version that has 32GB as well. All in all, both of them will allow for the storage of thousands of books. However, if you're more of the audiobook type, then the 8GB version will allow you to store only about 30-35 Audible audiobooks or so, which isn't that much no? Some can crush 20 audiobooks in just one month. In 2019, maybe the standard should be the 32GB version, especially because of how common ebooks have become and how they often occupy quite a lot of space. 
Battery Life
Amazon claims that the battery on the Oasis 2019 should last about 6 weeks or so, however with a couple of caveats here and there. To achieve this figure, the user will need to limit their reading time to 30-minutes a day, keep brightness on setting 13 (roughly half the brightness) as well as keep the Bluetooth off. 
Okay, while this might sound limiting to some folks, in practice, if the device is going to be used daily for reading for around an hour with the screen benign a tad bit brighter than what Amazon recommends you use, then your Oasis e-reader device will still run for a few weeks before the battery goes dead. In short, it has quite an impressive battery life because this tab will last you "forever". 
Verdict
If you're looking for something that'll provide you with luxury reading experiences, and you're trying to avoid those high-priced, huge chunks of deceased trees also known as 'books', then the Kindle Oasis 2019 from Amazon is what you should be setting your sights on. The Oasis 2019 has a wide variety of features, some of which you will not find in the many other lesser ereaders out there. Some of these features include the wide array of customization options for brightness and skin color as well as its high-quality display screen. Furthermore, the fact that you have Amazon Store integration doesn't hurt either. 
So, who's it for and why should they buy it? It's for people that prioritize high-quality reading experiences and are willing to break the bank to get their hands on a device that'll deliver these experiences to them. There are many premium e-readers available on the market but not many of them can do what they do better than the Oasis 2019 does it. 
What's a Kindle Oasis used for?
Kindle Oasis devices are often mostly used for reading. In fact, they're usually even referred to as e-readers. The new Oasis 2019 has been upgraded and Amazon have added a brand-new color-adjustable integrated light feature that's a tad bit zippier and lighter. If you don't want to use your phone or tablet to read books or long documents, then this is definitely the device you need in your life right now.