INTRODUCTION
Logitech G Pro X
Logitech's G Pro X board is a comfortable, compact and elegant gaming keyboard product that has a colorful overall appearance featuring a very creative central concept. This gaming peripheral isn't your regular-old, run-of-the-mill tournament-grade board. It's customization capabilities are really up there allowing the user to swap out each and every key on the board in order to get the most desirable set up. Okay, you'll have to fork out a lot for this product, especially for a tenkeyless board, however, the performance it offers is actually above-average. As far as the gaming experiences it offers goes, the G Pro X keyboard does superbly.
Creative Sound BlasterX Vanguard K08
Sound Blaster was first recognized for their gaming mice, however, they're taking things a notch higher and have decided to flex their muscles in the mechanical gaming keyboard world. Mechanical gaming keyboards are more fickle beasts when compared to gaming mice. The layout is what usually determines how popular the product will be. That and the type of switches the keyboard is using. Sound Blaster decided to get their inspiration from Logitech and have used similar design-styles. However, they also stepped out of the box a little by making use of the much less known Omron mechanical key switch.
DESIGN
Logitech G Pro X
Logitech's G Pro X gaming board looks a lot like how its predecessor did. It's a tenkeyless model that contains full RGB backlighting alongside a chassis with a plain black color scheme. This particular peripheral doesn't have a column of extra keys, or anything like that. It only has two key functions next to the top that helps the user customize the brightness and access the Game Mode functions. Also, the detachable USB functionality it comes with helps make it a lot more portable. Although, there's way more for you to see once you take out the keyboard's caps and switches. Before this product, Logitech didn't have a keyboard that gave its user the chance to switch out all the keys on the device. Allowing you to do this means that you can make the switches feel exactly how you want them to.
If this is the first product from Logitech you're looking to buy, then you'll want to keep in mind that you've got the option of choosing your desired mechanical key switches. This can be anything from, GX Blue key switches that are loud and tactile, GX Brown key switches that are quiet and tactile or GX Red switches that are quiet and linear. However, Logitech also gives you the chance to purchase sets of Browns, Blues and Reds separately These sets will have ninety switches each and the sets have an individual price tag of $90 each. If you want your board to have a mixture of all three key switches available, then you'll have to be willing to spend around $250 or so.
Creative Sound BlasterX Vanguard K08
The Vanguard K08 gaming keyboard looks like an offspring of the Das Keyboard 4 Pro and Corsair K95 Platinum at first glance. However, there are a few things it has different from the two which is what helps give it its own unique identity. Anyway, the Sound BlasterX Vanguard gaming peripheral is a full-sized keyboard that's currently only available in all black and in an ANSI layout. At the top-right you'll find a volume wheel and media key functions. There's also the presence of a Windows lock button in the same area designed to help confine all the extra button features in one area. One of the buttons in this place can be used to access the board's software driver, the Sound Blaster Connect. It's far enough to ensure the user doesn't accidentally press it, although it's not something that you'll end up using that much in all honesty.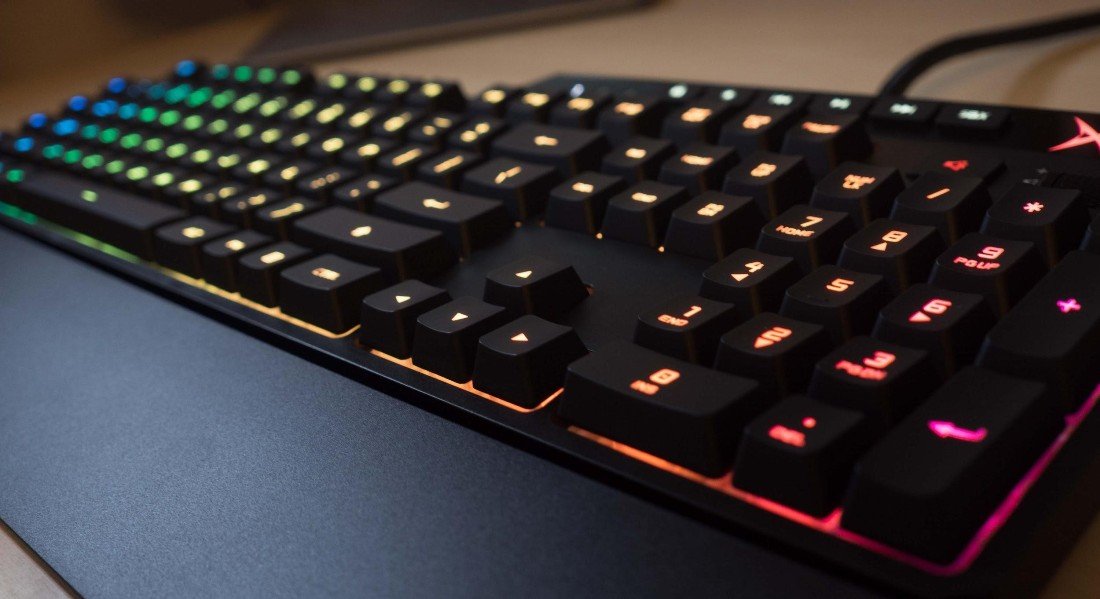 One of the board's downsides comes in the form of its keycap legends. They're way tinier than one would expect, and its primary legends are placed right at the center of the caps' surfaces. The light beneath them backlights them directly. This off-centers all the secondary legends leaving large amounts of empty space on its keycaps. Also, the front-side looks like a confused blend of professional and gamer aesthetics, with letters way thicker than they really ought to be. Anyway, it also has a non-removable, thick cord with two USB-A connectors attached at the end. Both are clearly labeled to ensure you know which is for the USB pass-through and which is for the board itself.
KEYS
Logitech G Pro X
When you go the G Pro X route, you'll have the chance to choose between three types of mechanical keys. But, there's plenty more. Logitech also went further by giving you the option of customizing the keyboard even more via the additional extra key sets you can buy and put in. The keys Logitech has manufactured in-house have a little more of a resistant and stiffer overall feel, especially when you compare them to the popular Cherry MX mechanical switches. However, that's not to say they're not comfortable products. Although, with that said, the Logitech GX mechanical switches used on this device will still need some getting used to before you can be properly at ease with them.
Creative Sound BlasterX Vanguard K08
The Vanguard K08 doesn't use Cherry MX style mechanical keycaps and switches but it does use Cherry OEM profiles. The keycaps have a considerably thick ABS, with a wall-thickness measuring in at about 1.19 millimeters accompanied by laser-etched legends. The PRE key switches from Omron look very similar to Romer-G key switches, also from Omron, that Logitech uses on their keyboard products.  Just like their Romer-G counterparts, they also use central light "pillar" systems where the RGB backlighting shines through. Centrally located legends, as such, often get the most uniform RGB illumination and the Vanguard K08 is no exception to this
FEATURES
Logitech G Pro X
Logitech's target audience, when it comes to the G Pro X keyboard, was the eSports gaming community. This tenkeyless keyboard model comes with removable micro USB functionality to help make for easier travel and transportation. You can also switch out all the keys if you want, something that wasn't there in all the models that came before it. If all you currently can get your hands is one that has GX Red switches and your heart truly desires one with GX Blue switches, don't fret. All is not lost. You can get the product with the Red switches and replace them with Blues at a later date. You won't be forced to get an entirely new board. Getting a full set of new Blue keys will only set your pocket back about 50 bucks.
The G Hub software product, manufactured by Logitech themselves, is what powers the G Pro X peripheral. It's far from being a complicated software tool and it's actually pretty simple to use. It allows the user to come up with their own unique profiles for certain apps and game titles, create function key features and customize RGB illumination. The G Hub's biggest downside, however, is that it can't be used to fully reprogram each and every key on the gaming keyboard. You can only use it to create certain function key features.
This is a disadvantage that's not present in most of the other Logitech gaming keyboard products found on the market. In fact, it's quite disappointing considering the fact that they give the ability to physically take out all the keys and replace them with others. They might as well have allowed you to be able to fully reprogram them too, don't you think?
Creative Sound BlasterX Vanguard K08
The Vanguard K08 gaming keyboard is powered by the Sound Blaster Connect software which has a fairly straightforward installation process. If the keyboard isn't connected, the software audio controller is given control. There's also the inclusion of some social media functions. Anyway, the most touted feature on the Sound Blaster Connect software is the Aurora Reactive Lighting setting, and the software prominently displays all the backlighting features. The "Personal" default option is a rainbow color scheme that flows across the whole board at a brisk speed. This lighting mode can be customized to fit the user's preferences; including travel speed, the seven segmented color wheel and the direction of motion.
It also has a Performance Tab which has 3 options; keyboard polling rate, switch repeat rate and switch repeat delay. The first option is self-explanatory. It has a macro section that isn't as intuitive and looks like it could've used the help of some particular tools. All in all, it has fairly simple and basic features, however, the software doesn't really match up to what Creative's competition has on offer. Although, Creative claims they still need HID commands and Windows inbox class drivers to ensure everything runs as it should.
PERFORMANCE
Logitech G Pro X
You can expect performances that are way above-average when you buy the Logitech G ProX board. The mechanical key switches on this gaming peripheral from Logitech are incredibly responsive and very fast as well, be it when using them to construct buildings in strategy-based games or gunning-down your foes in FPS games. Since Logitech allows users to pick the type of mechanical keys that best fit their individual playing style, all true PC gamers (and volume typists as well) should be able to find the type of key switch that'll help make them the most productive they can be. If this keyboard was to stand alone as it is, the biggest downside you'll find with it is that you can't really consider it a productive device as such that can accomplish mundane, day-to-day duties effectively, especially if you'll need to use a numpad and media keys to accomplish these said tasks.
Creative Sound BlasterX Vanguard K08
The key switches on the device measure 1.5mm in actuation distance, which is roughly 0.5mm shorter than what you'll find on most of the mechanical key switches out there. It's actuation force measures about 45 g. Creative claims that, in practice, the switches will perform much faster and that they'll actuate quicker because of the shorter actuation distance. Shorter bottoming-out distances result in key switches bouncing back much quicker too. Creative has gone with a switch type that's rarely used on other similar gaming keyboard products and that in itself has the potential of ensuring it gets all the attention it needs.
VERDICT
There's nothing a true gamer will lack when they go the Logitech G ProX route. It's the ideal peripheral for those that take part in high-octane eSports tournaments. In fact, Logitech was specifically targeting competitive eSports gamers. There are not many tenkeyless mechanical gaming keyboards that can say they do it better than the G Pro X from Logitech. On the other hand, the fact that the Vanguard K08 is the first of it's kind yet still quite impressive is something that can't be overlooked. Their PRE switches from Omron is a unique touch to them. It also has quite a lot to offer and picking between the two in this review was a hard one. That being said, we only pick the G Pro X because Logitech have been doing this for longer.